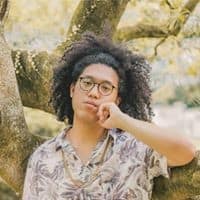 · 5 May 2020
RATINGS
TYPE OF MEAL
Desserts
DIFFICULTY
Intermediate
SPEED
Moderate
RECIPES
Hazelnut Praline Profiterole
Makes 10 profiteroles
Prep time 1 hour 30 minutes
Cook time 40 minutes

hazelnut mousseline cream

italian meringue
50g water
145g sugar
75g egg white
Place water into sauce pan, and add the sugar. Heat to combine into a simple sugar syrup. Heat the sugar syrup to 115°C.
Place egg whites into a mixer with a whisk attachment. Whisk on medium speed until soft peaks form, roughly 2 minutes.
Change to high speed, and gradually add the sugar syrup to the egg whites. Whip until stiff peaks form.
buttercream
112g milk
112g sugar
88g egg yolk
500g butter
Italian meringue
Bring milk to a simmer in a sauce pan. Remove from heat.
Whisk the sugar and egg yolks together to combine. Gradually whisk the heated milk into the mixture.
Return mixture to pan and place on low heat. Stir constantly until it thickens and coats the back of a spoon, about 5 minutes.
In a mixer, whip up the mixture and add the butter, mixing until well incorporated. Remove from mixer, and gently fold in the meringue.
pastry cream
405g milk
45g cream
1 vanilla pod
80g egg yolk
80g sugar
21g custard powder
21g flour
50g gelatine mass (bloomed)
45g butter
30g mascarpone cheese
Heat up the milk and cream in a sauce pan. Scrape out the vanilla pod, and add to the sauce pan. Heat until it reaches a gentle simmer. Remove from heat.
Whisk together egg yolk, sugar, custard powder and flour together until well combined.
Gradually add in half of the heated milk to the above while whisking constantly. Add the mixture back in to the sauce pan, and whisk vigorously while heating over medium heat.
Once the custard thickens and comes to a boil, remove from the heat and add in the gelatine, butter, and mascarpone. Whisk until well incorporated.
Pour out into a bowl, cover with cling wrap and let it cool.
70g praline paste
To make the hazelnut mousseline cream, mix 270g of pastry cream with 200g of buttercream and the praline paste together.
profiterole
55g butter
130g water
2g sugar
2g salt
10g milk powder
72g flour
130g whole egg
craquelin
50g butter
63g brown sugar
64g flour
3g cocoa powder
In a sauce pot, melt butter with water, sugar, salt and milk powder. Once completely melted, add in the flour and cook while stirring with a paddle. The choux pastry will be ready when a layer of film sticks to the bottom of the pan.
Transfer the choux pastry into a mixer with the paddle attachment. Add in the eggs and mix until well combined. Place choux pastry into a piping bag.
To make the craquelin, mix all the ingredients together to form a dough. Roll it out until it reaches a thickness of 1mm, and cut our circles using a ring mould.
Pipe out the choux onto a baking sheet covered with baking paper. Place a ring of craquelin onto each piece.
Bake at 160°C for 40 minutes.
Once profiteroles have been properly cooled, pipe the hazelnut mousseline cream in them.
SHARE