Grilled red pepper wrapped with Mahón cheese
Taking its name from the Spanish island of Minorca, Mahon cheese is a soft to hard white cheese produced from cow's milk, and its rind goes perfectly with oil or paprika. Here, the peppers are marinated in garlic-olive oil for a richer Mediterranean-inspired flavour. Serve this as an antipasto platter.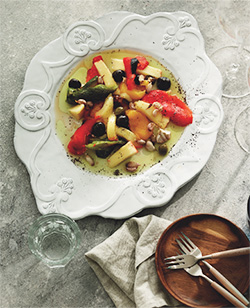 Serves 2 Prep time 5 minutes
Cook time 15 minutes
4 red peppers
1 tbsp olive oil
Pinch rock salt and pepper
120g Mahon cheese, available from Greengrocer, cut into 1.5cm by 7cm long strips
garlic-olive oil marinade
3 tbsp olive oil
2 tbsp small baby garlic, peeled and halved
pinch rock salt
pinch red peppercorn
pinch sweet Spanish paprika powder
garnish
10g sweet parsley leaf
Lightly oil and season the red peppers with salt and pepper.
Heat up the stove, then place red peppers over the stove, charring the red peppers until they turn black.
Place the charred red pepper into a metal whisking bowl. Cover the bowl with cling film and let the charred red pepper sit in the bowl for 5 minutes.
When the red peppers have cooled down, take them out of the bowl and lightly peel off its charred black skin.
Cut the skinless red peppers into bite-size pieces.
Heat up a non-stick pan with olive oil to low heat and lightly fry the garlic until soft and fragrant. Set it aside to cool down.
Cover the strips of Mahon cheese with the bite-sized red peppers and place them onto a baking tray.
Glaze the red pepper covered Mahon cheese with the garlic infused olive oil, and season them with rock salt, red peppercorn and paprika powder .
Bake the tray in a preheat oven of 185°C for 5 to 7 minutes.
Serve the baked cheese with a sprinkle of sweet parsley leaf.