Grilled Ibérico pork collar with white bean ragout and chorizo
Enjoy these grilled thick pork collar slices mixed with herbs for extra flavouring.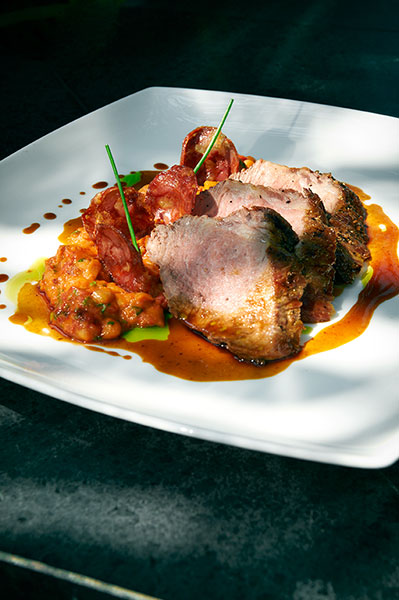 Serves 1
Prep time 30 minutes
Cook time 30 minutes
200g ibérico pork collar
salt and pepper, to taste
10g onions, chopped
2 garlic cloves, chopped
80g canned white beans
100g tomatoes, freshly blended
30g chorizo, chopped
10g butter
10g mixed herbs, finely chopped
Season the pork collar with salt and pepper, and cook the meat over a grill until it has an internal temperature of 60°C (check with a thermometer). Remove and let it rest for 10 minutes.
In a pan, sweat the onions and garlic till fragrant, add the white beans, season with salt and pepper, and stir well.
Add the freshly blended tomatoes and chorizo, and braise for 10 minutes. Add water if it becomes too dry. Finish the ragout with butter and herbs.
Scoop the ragout out onto a plate. Slice the pork collar into three thick slices and place them on top of the ragout.