Gâteau of braised Dutch veal cheek with bush tomato marmalade
I borrowed the idea from the classic French gâteau and transformed the cake concept into a savoury dish. Veal cheeks are stacked up and topped with a layer of sweet tomato bush marmalade. Bush tomatoes are one of the many indigenous Australian produce we like to use at Osia.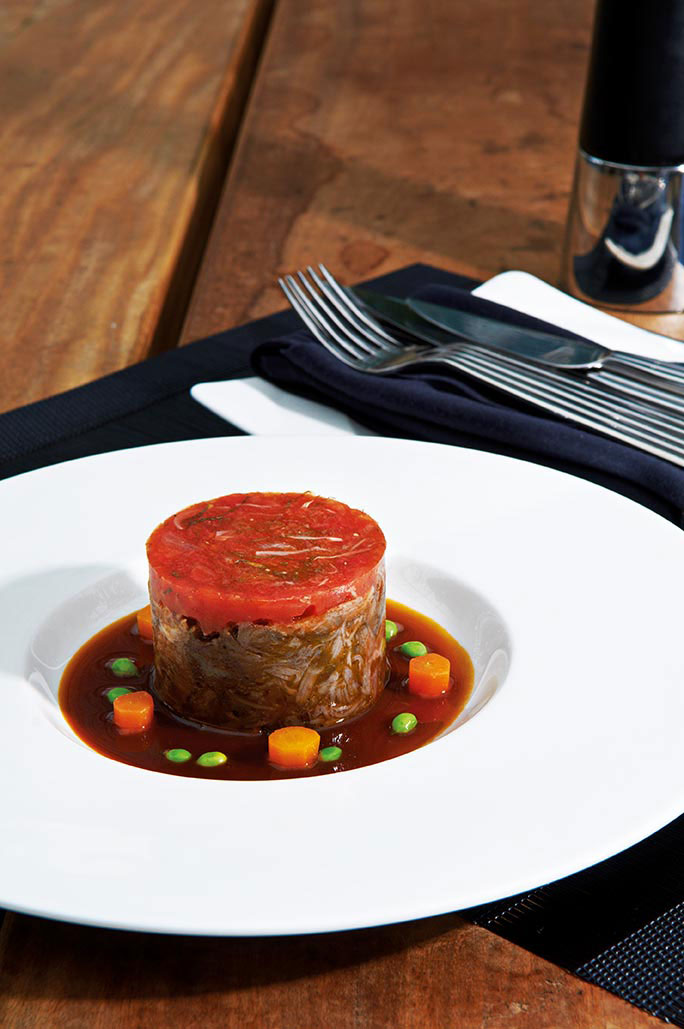 Serves 10 Prep time 25 minutes
Cook time 120 minutes
bush tomato marmalade
6 large vine tomatoes, peeled, deseeded and diced
15g dried bush tomatoes, grounded
35g white sugar
177ml canned tomato juice
100ml white wine
35ml extra virgin olive oil
4 sprigs basil leaves, sliced
60g shallots, peeled and sliced
40ml raspberry vinegar
1 dried bay leaf
cracked white pepper, to taste
• Place all ingredients into a pot and cook at low heat until it has reached a jam-like consistency.
gâteau of braised Dutch veal cheek
2kg Dutch veal cheek, trimmed
25g plain flour
50ml vegetable oil
120g carrots, peeled and diced
120g onions, peeled and diced
60g celery, diced
60g celeriac, peeled and diced
4 cloves garlic
2 dried bay leaves
crack of black pepper to taste
150g streaky bacon
20g tomato paste
50g unsalted butter
250ml red wine
150ml tawny port
1 litre veal stock or beef stock
8 sprigs fresh thyme
• Dredge veal cheeks in flour and brown it in a hot pan with a little oil. Reserve for later use.
• Heat up a pot with vegetable oil. Sweat carrots, onions, celery, celeriac, garlic, bay leaves, black pepper and bacon.
• Add in tomato paste, the rest of the flour and butter, and continue to cook.
• Add in red wine and tawny port, and reduce to half.
• Add in veal stock and bring to a boil. Simmer down for another 10 minutes.
• Place browned veal cheeks into the sauce.
• Cover the pot and roast in the oven at 140°C for approximately 90 minutes until the meat is soft.
• Remove meat and strain sauce through a fine strainer.
• Place strained sauce back to the stove and reduce by half.
• Shred the cooked veal cheek into chunks and season with salt, black pepper and thyme.
• Add in some of the reduced sauce into the mixture.
• Shape the veal cheek chunks into desired shape.
• Spread the bush tomato marmalade over the top of the compressed veal cheek and serve with a drizzle of sauce.
Tay says: "I borrowed the idea from the classic French gâteau and transformed the cake concept into a savoury dish. Veal cheeks are stacked up and topped with a layer of sweet tomato bush marmalade. Bush tomatoes are one of the many indigenous Australian produce we like to use at Osia."