Gambas al ajillo by My Little Spanish Place
Soak up the seafood flavours with thick slices of rustic bread.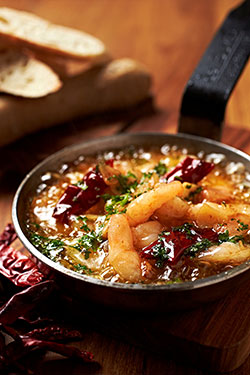 Serves 4 Prep time: 20 minutes
Cooking time: 15 minutes
150ml extra virgin olive oil
6 cloves garlic, sliced
15 large raw prawns, peeled and deveined (set aside heads)
1 fresh red chilli pepper, sliced or cayenne pepper to taste
½ tsp sweet paprika
pinch salt and pepper
parsley, chopped
4 thick slices rustic bread, toasted
4 lemon slices (optional)
Heat oil in frying pan. Add garlic and prawn heads then infuse for 2 minutes. Remove prawn heads.
Combine prawns with red chilli pepper and sweet paprika, and season with salt and pepper. Add to pan and cook quickly, until the prawns turn bright red, about 2-3 minutes.
Transfer prawns to four small and heated serving dishes, then pour the hot oil from the pan over them.
Top with parsley and serve with rustic toasted bread.
Garnish with lemon slices.
Note: If using cayenne pepper, sprinkle very little over the prawns before serving either hot or cold.