Fish curry capellini
This creation was a hot favourite at Ujong when Shen Tan was executive chef. She shares the full recipe for the first time with all the fixings for regular fish curry - just deconstructed and reinvented as a mod-Sin pasta dish.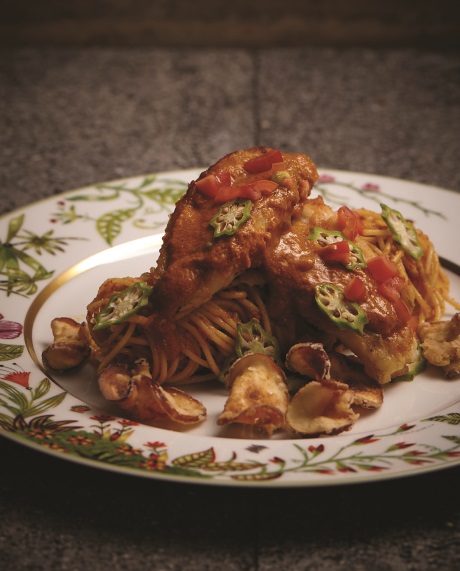 Serves 8 Prep time 45 minutes
Cook time 55 minutes
fish curry rempah
10 cloves garlic, peeled
10 shallots, peeled
1 piece ginger (about 3cm length), peeled and thinly sliced
8 tbsp fish curry powder
Combine all ingredients in a food processor and blend until smooth, adding a tablespoon of water at a time to thin out the consistency if necessary.
seasoning
6 tbsp vegetable oil
1 stalk curry leaves
1½ tbsp tamarind pulp (seeds removed), mixed into 250ml water
3 tbsp fish sauce
1 tbsp sugar
1 tsp sea salt
1 tbsp tomato paste
500ml fresh coconut milk
3 large tomatoes, quartered
In a wok, heat 6 tbsp vegetable oil over high heat. Add the stalk of curry leaves to hot oil. Fry rempah until the oil separates or splits from the paste.
Add tamarind water, fish sauce, sugar, sea salt and tomato paste and continue frying over low heat for 10 minutes.
Add coconut milk and tomatoes. Bring to a boil, then reduce heat and simmer for 15 minutes. The gravy should be of a thick consistency.
pasta toppings
5 tbsp plain flour
1 tsp salt
1 tsp white pepper
1 brinjal
100g ladies' fingers
vegetable oil, for deep-frying
8 firm white-fleshed fish fillets (snapper, barramundi etc)
800g capellini
Make a seasoned flour mix by combining plain flour, salt and pepper and mixing well.
Using a mandoline, thinly slice brinjal and ladies' fingers into thin chips. Dust generously with seasoned flour and deep-fry until golden brown and crunchy.
Dust fish fillets generously with seasoned flour and shalllow-fry in a pan, skin side down, for about 7 minutes on each side.
To assemble, boil capellini according to package instructions. Toss through with fish curry gravy and top with brinjal chips, ladies' fingers and crisp fish fillets. Serve immediately.
Credits:
Alain Thomas Dinner Plate, Haviland