Dips with pita wedges
Ho says: "An easy-to-prepare starter, this dish allows friends and family around the table to experiment with the different dips and condiments. The iman bayaldi literally means 'the fainted monk'—the name supposedly derived from a tale of a Turkish imam, who swooned with pleasure at the flavour when presented this dish by his wife."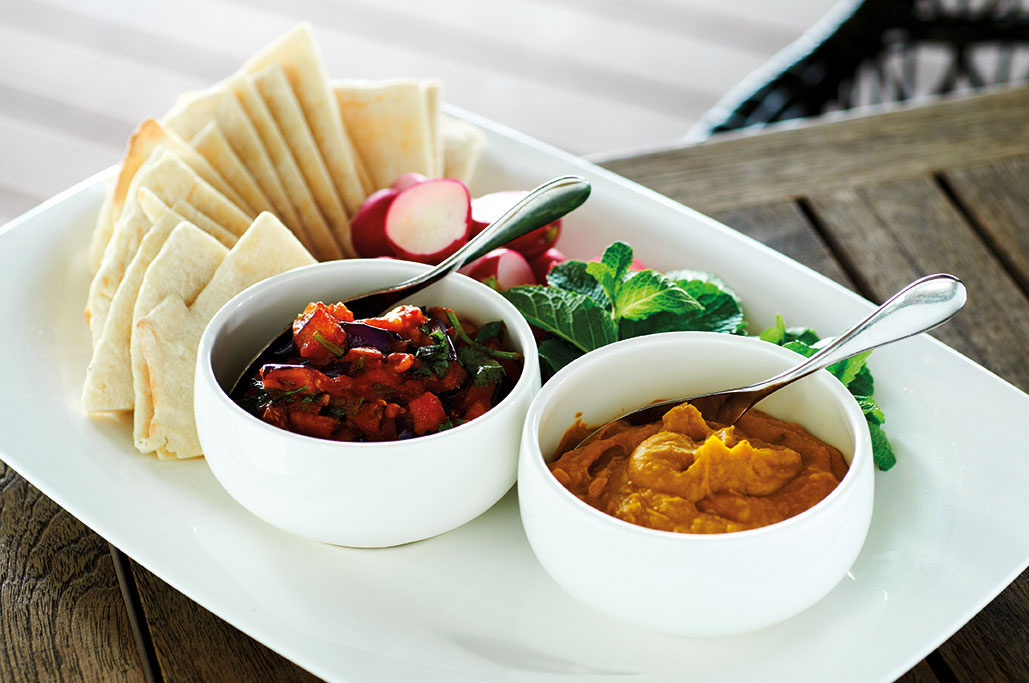 Serves 4 Prep time 30 minutes
Cook time 30 minutes
curried cumin hummus
30g extra virgin olive oil
3 cloves garlic, chopped
15g curry powder
5g cumin seeds
50g water
juice of 1 lemon
salt to taste
480g canned chickpeas (garbanzo beans), rinsed and drained
• Heat oil in a small skillet over medium heat. Add garlic and cook for 30 seconds whilst stirring constantly.
• Add curry and cumin seeds; cook until fragrant, stirring constantly.
• Place garlic mixture, water, and remaining ingredients in a food processor; process until smooth.
iman bayaldi
2 large eggplants, sliced lengthwise and diced
salt for degorging
100ml olive oil
2 large onions, sliced
1 clove garlic, peeled and left whole
10g coriander, ground and toasted
10g cumin, ground and toasted
400g canned tomatoes, chopped
1 tsp cinnamon
salt and freshly ground black pepper to taste
30g fresh coriander
30g fresh mint
pita bread, toasted
• Sprinkle the sliced eggplant with salt and allow to drain on kitchen paper for 1-2 hours.
• Rinse off any liquid and salt, then dry thoroughly.
• Heat half the olive oil in a frying pan. Sweat onions, garlic, coriander and cumin, sauté half the eggplant, and deep fry the other half until golden brown.
• Add the tomatoes and cinnamon and season with salt and freshly ground black pepper.
• Simmer gently until slightly thickened. Finish by adding the fried eggplant.
• Garnish with fresh mint and fresh coriander, and serve both dips with toasted pita bread.
Ho says: "An easy-to-prepare starter, this dish allows friends and family around the table to experiment with the different dips and condiments. The iman bayaldi literally means 'the fainted monk'—the name supposedly derived from a tale of a Turkish imam, who swooned with pleasure at the flavour when presented this dish by his wife."