Deep-fried prawns with shredded potatoes
Deep-Fried Prawns with Shredded Potatoes
Wine Pairing Scharzhof Riesling Egon Muller Mosel, Germany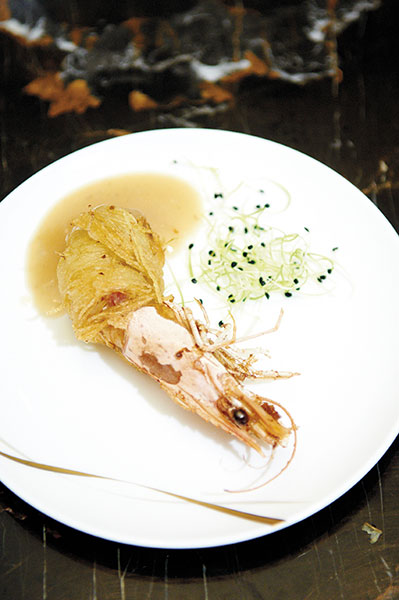 Serves 5
Prep time 20 minutes
Cook time 25 minutes
1kg russet potatoes, scrubbed and peeled
10 fresh tiger prawns, approximately 60g each, shelled with heads on.
10 slices ham, sliced to approximate length of prawns
10 stalks spring onion, white portion only
vegetable oil, for deep frying
pureed potato sauce
1 russet potato
300ml clear chicken stock
50g corn starch
dash oyster sauce
10g sugar
dash white pepper
Immerse peeled potatoes into boiling hot water for 20 seconds. Remove and let cool. Using a mechanical apple peeler, shred potatoes into noodle-like strings.
Sandwich each prawn between a piece of sliced ham and spring onion, then wrap them together with the potato strings to secure. Fry the prawn rolls in 80°C oil for 5 minutes.
To make the pureed potato sauce, boil or steam the potato till soft and blend with chicken stock to form a runny paste. Transfer the potato paste to a saucepan and warm through with corn starch to thicken. Season with oyster sauce, sugar and pepper to taste. Serve on the side of the prawns as a dipping sauce.