Deep-fried marble goby with pomelo
Serves 1 Prep time 40 minutes Cook time 20 minutes lime jelly 100ml water 500ml lime juice 5 tbsp sugar 1 tbsp ice jelly powder Combine all the ingredients for the jelly. Pour the mixture into a thin tray and chill it in the fridge for 30 minutes. Thai chilli sauce* 18g fine sugar ½ […]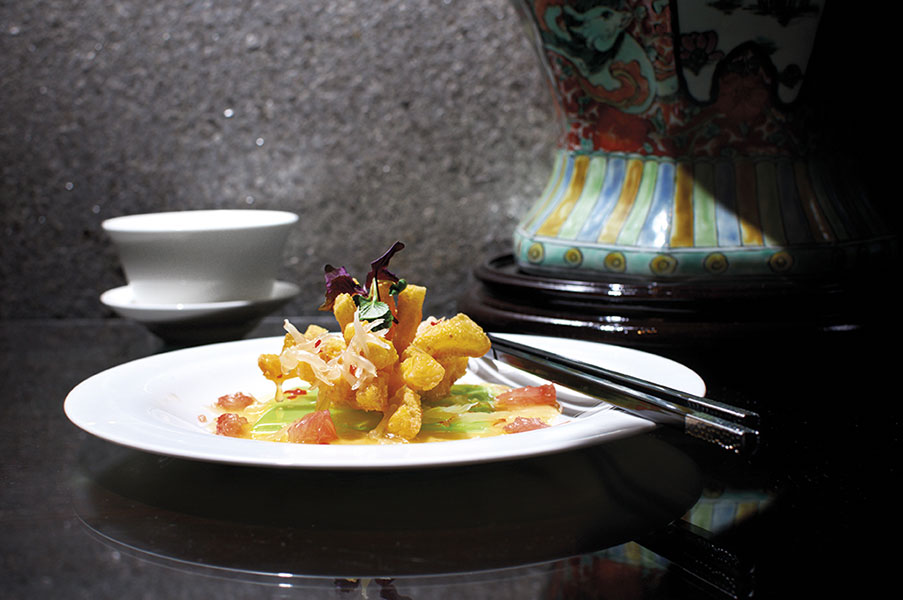 Serves 1
Prep time 40 minutes
Cook time 20 minutes
lime jelly
100ml water
500ml lime juice
5 tbsp sugar
1 tbsp ice jelly powder
Combine all the ingredients for the jelly. Pour the mixture into a thin tray and chill it in the fridge for 30 minutes.
Thai chilli sauce*
18g fine sugar
½ lemon, juiced
t tbsp custard powder
150ml water
30ml Thai sweet chilli sauce
*Reserve about half the amount of sauce for the next recipe.
50g marble goby or Soon Hock fillet
salt, to taste
1 egg, beaten
50g flour
500ml oil
20g red pomelo flesh, shredded
garnish
green shiso
red shiso
Mix all the ingredients for the sauce into a pot, and cook till it boils. Set aside.
Lightly dust the fillet with salt, dip it into the beaten egg and coat it with flour.
In a wok, heat up the oil till it sizzles. Deep fry the fillet till it turns golden brown. Remove and drain excess oil.
Put a layer of lime jelly onto a plate and place the fillet on top. Add pomelo flesh into the sauce. Drizzle the sauce over the fish, add garnish and serve.