Deep-fried lobster with butter and pomelo
Deep-Fried Lobster with Butter and Pomelo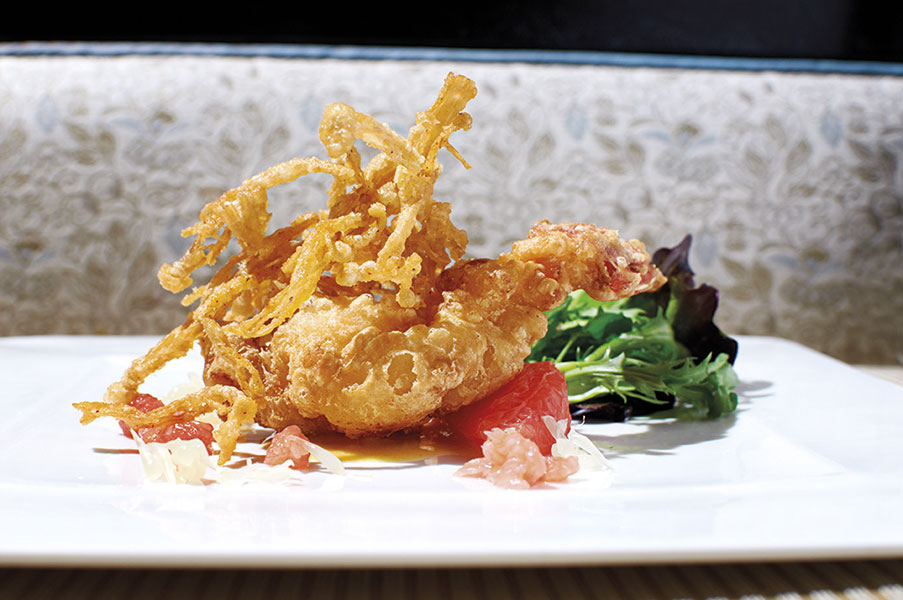 Serves 1
Prep time 10 minutes
Cook time 15 minutes
butter sauce
10ml orange juice
20ml carnation milk
20g butter
20g red pomelo flesh, shredded
Place orange juice, carnation milk and butter into a pot, and cook till the butter melts. Add pomelo flesh and about 50ml of Thai chilli sauce from the previous recipe (Deep-fried Marble Goby with Pomelo) into the sauce. Mix them and set aside.
200g lobster, de-shelled with tail intact
salt, to taste
1 egg, beaten
50g flour
500ml oil
10g enoki mushrooms
10g mixed salad
Lightly dust the lobster with salt. Dip the lobster into the beaten egg and coat it with flour.
In a wok, heat up the oil till it sizzles. Deep-fry the lobster till it turns golden brown. Remove and drain excess oil.
Coat the enoki mushrooms with flour and deep-fry them till they turn golden brown. Remove, drain and lightly salt the mushrooms.
Plate the lobster and drizzle the butter sauce over it. Add mushrooms on top, place the mixed salad on the side and serve.