Deep-fried golden pearl stuffed with prawns and salted egg yolk
Deep-Fried Golden Pearl Stuffed with Prawns and Salted Egg Yolk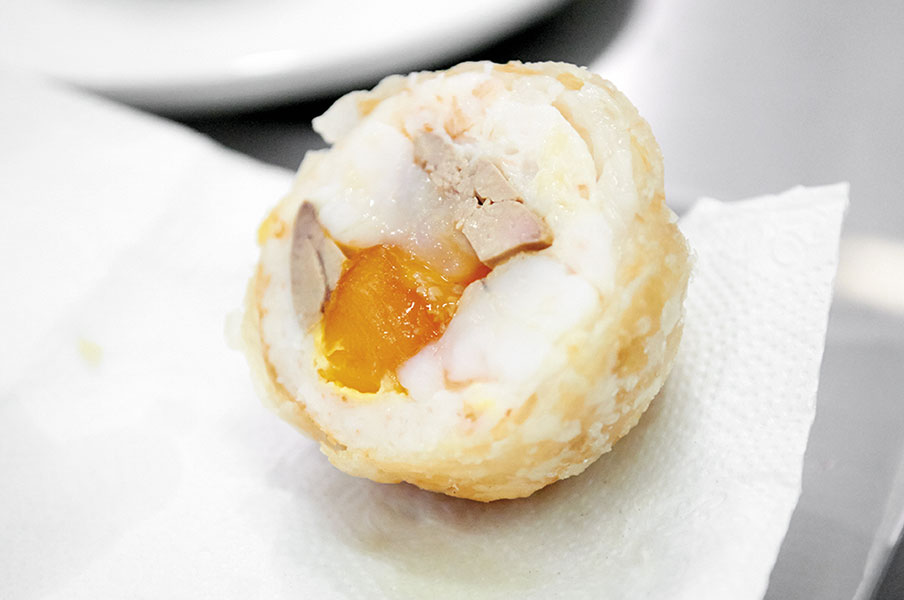 Makes 1 large pearl (4-6 wedges)
Prep time 30 minutes
Cook time 20 minutes
2 mid-sized prawns, approximately 30g, shelled
70g shrimps, shelled
30g squid, fish or prawn paste
1 piece cooked chicken liver
600g caul fat, available at wet markets
1 salted egg yolk (approximately 10g)
1 packet potato flour
Remove shells and tails of prawns, butterfly cut them after rinsing with water and set aside for use.
Chop shrimps and add to salted squid paste. Mix well and set aside.
Blanch chicken liver in boiling water and slice into two pieces. Then, line a chopping board with caul fat.
Place approximately 50g of mixed squid paste and 1 one prawn on the paste.
Top with salted egg yolk and finish with the other prawn. Place one slice of chicken liver on each side and wrap the remaining mixed squid paste around it.
Wrap the entire parcel into the shape of a ball with the caul fat. Trim away excess fat and dust evenly with a layer of potato flour.
Heat cooking oil into a deep-frying pan to 150-160°C and deep fry the parcel for 15-17 minutes. Remove from oil, drain and cut evenly into 4 portions.
Serve with kumquat oil and/or sweet BBQ sauce.