Deep fried buttermilk crocodile cutlets
The flavour and texture of crocodile meat is a cross between fish and chicken so it makes sense that it is great material for deep frying. Garlic aioli adds a robust punch to this crowd pleasing dish.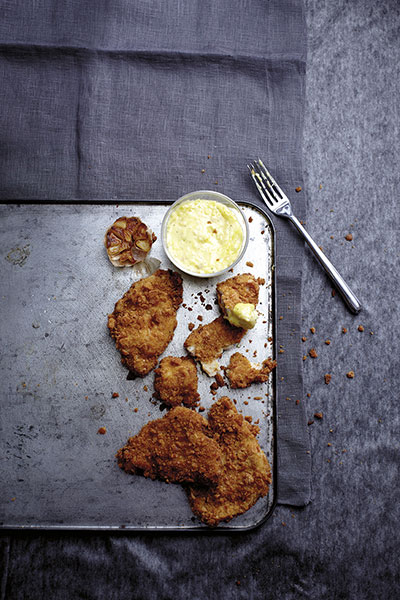 Serves 2
Prep time 10 minutes
Cook time 25 minutes
2 cups buttermilk
300g crocodile meat chunk, slice against the grain to 3cm thickness
marinade
pinch rock salt
pinch black peppercorns
1tbsp plum salt
3tbsp minced ginger
1 cup corn flour, for panning
3 eggs, lightly beaten
3 cups fresh breadcrumbs
1 pot olive oil, for deep frying
garlic confit
1 bulb garlic, halved
2 cups olive oil
In a pot, slow cooked the garlic for 20 to 30 mins until softened.
garlic aioli
3 tbsp egg yolk mayonnaise
1 tbsp garlic confit
pinch salt and pepper
2 tsp lemon juice, freshly squeezed
2 tsp whole grain brown mustard
Pour buttermilk over crocodile meat and allow it to marinate overnight in the fridge.
Take the meat out of the buttermilk mix, and season with the marinade ingredients evenly over the meat.
Lightly coat the meat with the corn flour and pat off the excess.
Dredge the meat through lightly beaten egg and coat evenly with the fresh bread crumbs.
Heat up a pot of olive oil to about 130 to140°C. The oil is hot enough when you drop a piece of onion in and there are small bubbles and a sizzling sound. Lightly fry the breaded crocodile cutlet until crispy and brown, about 3 to 5 mins.
Quickly whisk the garlic aioli ingredients together until the mixture becomes a creamy emulsion.
Serve the crocodile cutlet with garlic aioli.