Crispy mongolian lamb
Marinated with fresh ginger, Sichuan pepper, hoisin sauce and five-spice powder, these lamb tenderloins from The Barbie Girls deliver a heady burst of Asian flavours.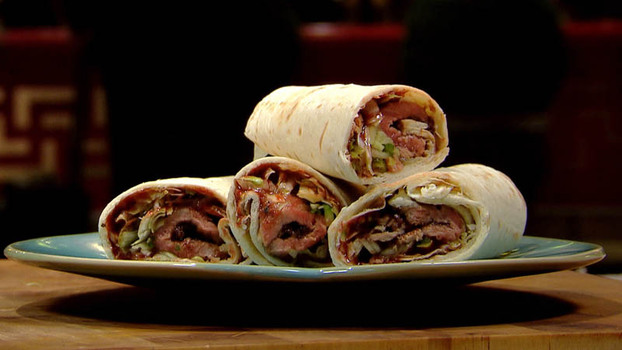 Sevres 4
Ingredients
500g lamb tenderloin steaks from The Barbie Girls
Wheat flour tortillas or Mexican-style fajitas to serve
For the marinade
1 tablespoon freshly grated root ginger
1 tablespoon rice wine
1 spring onion, finely chopped
1 teaspoon ground Sichuan pepper
½ teaspoon salt
1 teaspoon light soy sauce
1 teaspoon yellow bean sauce
1 teaspoon hoisin sauce
1 pinch of Chinese five-spice powder
To serve
cucumber strips
spring onion slicee
iceberg lettuce, torn into shreds
hoisin sauce
1. Put all the ingredients for the marinade into a bowl and stir to combine. Add the lamb and turn to coat, then cover the bowl and leave to marinade for at least 20 minutes, or overnight if possible, in the fridge.
2. Preheat the oven to 140ºC/275ºF/ gas mark 1, then put the tortillas or fajitas in to warm through.
3. BBQ the lamb steaks for 4 minutes on each side – or to your taste.
4. To serve, place some lamb in a tortilla or fajita, add some cucumber strips, spring onion and lettuce, spoon over some hoisin sauce and enjoy.
Recipe from The Barbie Girls, www.thebarbiegirls.com