Coffee sausages
Turn your KitchenAid mixer into a mean sausage-making machine. The stuffer kit attaches to the KitchenAid Food Grinder and comes with narrow and wide tubes to create small breakfast sausage links, large bratwursts, and everything in between. These are made with double strength espresso with plenty of bitter notes to cut through the fatty meat.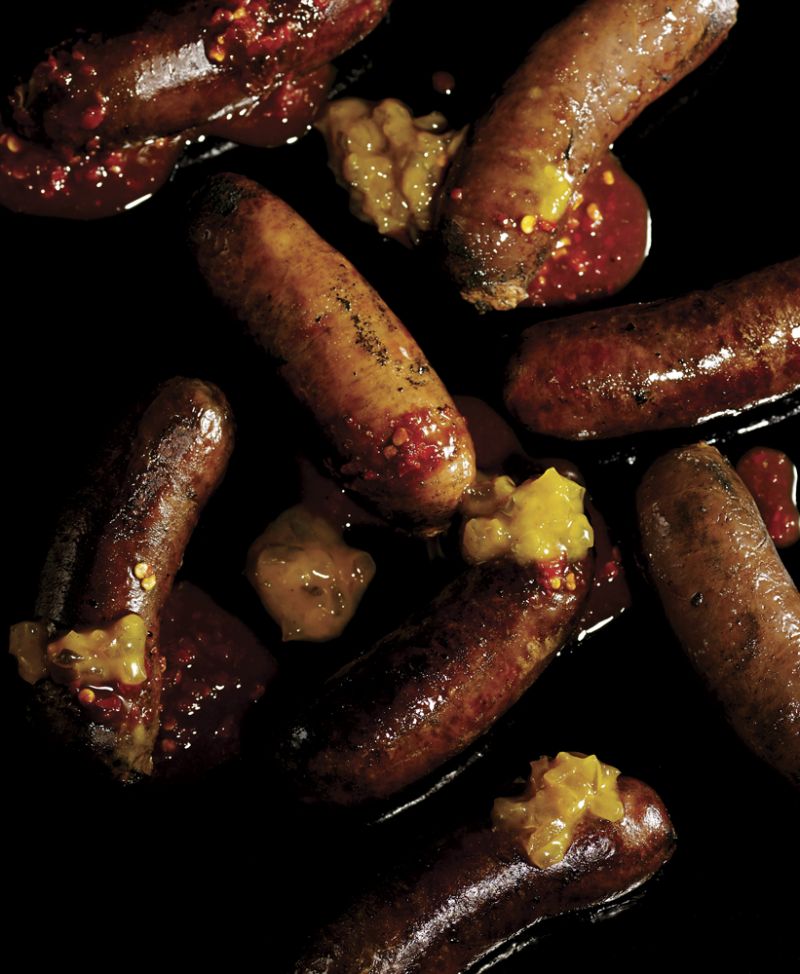 Makes 25 Prep time 45 minutes
Cook time 10 minutes
200g beef rump, chopped into bite-size pieces
150g pork neck, chopped into bite-size pieces
30g white onions, diced
30g carrots, diced
30g celery, diced
30g prunes, diced
3 tbsp garlic, minced
2 tsp runny honey
1 tbsp green olive tapenade
2 tbsp sweet paprika
pinch sea salt and freshly ground black pepper
½ cup double strength espresso
1 tsp coffee liqueur
1 tbsp olive oil
1 tsp charcoal powder
100g sausage casings
gherkin mustard dip
80g gherkins, chopped
55g English mustard
1 tbsp basil-infused oil
Cut casings to lengths of 50-60cm. Soak them in warm water overnight to soften.
Attach the food grinder attachment to the power hub of your KitchenAid mixer. Using the coarse plates, grind the beef rump and pork neck on low speed. Repeat the grinding process two more times and transfer the meat to a large mixing bowl.
Add the remaining ingredients (except the casings) to the mixing bowl and mix until the ingredients are well incorporated.
Attach the sausage stuffer's wide tubes to the food grinder. Rinse the casings and feed a piece onto the stuffer, leaving approximately 5cm of the casing to hang. Tie a knot at the end of the casing.
With the mixer on the lowest speed, take small balls of the ground meat mixture and feed through the hopper of the grinder to fill the cases. Press any air bubbles out of the casing and leave about 10cm of empty space towards the end. Slide the casing off the tube.
Starting with the knotted end, measure your desired length of sausage and squeeze to mark the end of the first. Measure a second sausage and squeeze to mark its end. Twist the empty space between the two sausages to secure tightly.
Repeat with remaining sausages, alternating the directions in which you twist. At the end of the chain, tie a knot after the last sausage.
Repeat with remaining casings until all the ground meat mixture is used up.
Poach the sausages in a large pot of boiling water with a pinch of salt.
Let cool totally before pan-searing in a non-stick pan over high heat.
To make the gherkin mustard dip, mix the chopped gherkins with the mustard and basil-infused oil. Serve on the side of the sausages.
Excerpt from the July 2014 issue of epicure.