Coddled eggs
Strain the mix and do a reduction till you get half the amount of liquid. Add butter, salt and pepper. Blend the foam until you get an emulsion.
Serves 1 Prep time 5 minutes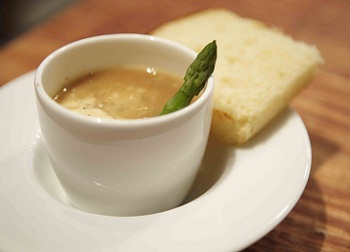 Cook time 15 minutes
1 egg
1 tsp crème fraiche
salt and pepper, to taste
1 asparagus tip
bread emulsion
200g farmer's bread
1 litre clear chicken stock
50g butter
salt and pepper
• Place cracked egg, crème fraiche, asparagus tip and salt and pepper in an oven-proof cup or ramekin.
• Bake in a steam oven for 5 minutes at 100ºC.
• Bake the bread in the oven for 10 minutes until slightly golden, then soak the bread in the chicken stock for 2 hours.
• Strain and reserve the liquid. Reduce the chicken stock till half its original amount remains. Add butter, salt and pepper and blend until it reaches a thick emulsion.
• When the egg is ready, top with homemade bread emulsion and serve.