Chocolate bundt cake
The central tube of a bundt pan lets more of the cake mixture come into surface contact with the pan, allowing for faster and more even heat distribution. For this reason, it's best to turn the temperature down halfway during baking so the cake doesn't 'overcook'.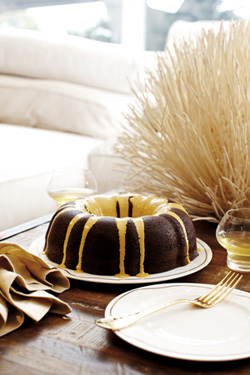 Serves 8 to 10
Prep time 15 minutes
Baking time 55 minutes
chocolate bundt
420g self raising flour
100g cocoa powder
1 tbsp baking powder
1½ tsp baking soda
600g condensed milk
200g butter, melted
1 tbsp vanilla essence
450ml water
gold syrup
3 cups white chocolate, melted
3 drops gold colouring
2 cups gula melaka, melted
½ cup whipping cream
Preheat the oven to 200°C. In a medium bowl, whisk together flour, cocoa powder, baking powder and baking soda. Sift the mixture.
Add the condensed milk, butter, vanilla essence and water to the dry ingredients. Whisk well. Grease and flour a 10-cup bundt pan.
Bake for 15 minutes, then turn the temperature down to 150°C and bake for a further 25 minutes. The cake is ready when it leaves the sides of the tin and is springy to the touch.
Invert the tin over a plate and tap sharply to remove. Transfer to a cooling rack to let cool completely.
Combine the ingredients for the gold syrup in the bowl of an electric mixer and beat till smooth and runny.
Drizzle over the bundt cake, letting the syrup trickle down the sides.
Excerpt from the September 2013 issue of epicure.