Chicken pot pie
CHICKEN POT PIE
CHICKEN POT PIE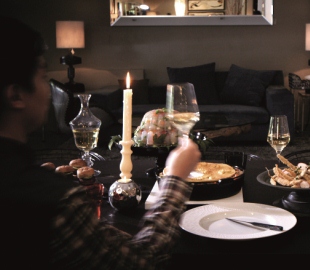 Serves 4
Prep time 10 minutes
Cook time 35 minutes
300g button mushrooms
30g unsalted butter
900g lightly cooked chicken cubes
680g flaky pastry
2 eggs, beaten
sauce
150g unsalted butter
100g plain flour
400ml chicken stock
2 cups thickened cream
½ lemon, juice extracted
3 sprig fresh thyme
Preheat oven to 200˚C.
Lightly sauté the button mushroom with butter for 5 minutes, then add in the chicken and cook for another 3 minutes, set aside thereafter.
Melt butter in a heavy-bottom cast iron pot, add the flour and cook slowly over a low heat until the mixture turns light brown.
Add in the chicken stock and bring the mixture to a boil while stirring constantly. Add the cream and reduce until the sauce thickens. Add lemon juice, thymes, chicken cubes, peppers and mushrooms to the pot.
Roll out the pastry on a floured work surface, to a thickness of about 1cm. Place the pastry over the filling and trim the edges. Use the trimmings to make cut-out shapes to decorate the surface of the pie.
Create a couple of air holes with a knife to allow steam to escape. Brush the pastry with the beaten eggs.
Bake the pie in the preheated oven for about 20-30 minutes. The pie top should be nicely browned and the filling piping hot. Set aside and allow to cool slightly before serve.
Excerpt from the March issue of epicure.