Chendol creme brulee
Call this the Southeast Asian interpretation of the French classic. Crème brulee is given a twist with the addition of squiggly green chendol jelly.
Serves: 4
Prep time: 10 minutes + 4 hours chill time
Cook time: 10 minutes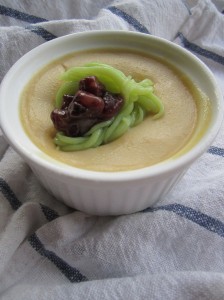 1 cup red beans
1 cup water
2 tbsp caster sugar
400ml coconut cream
150ml double cream
50ml water
6 egg yolks
150ml palm sugar syrup
chendol jelly, blanched
Boil red beans in 1 cup of water till soft, then add sugar and mash. Fill 4 ramekins with 1 tbsp of mashed red beans each.
Pour coconut cream, double cream and 150ml of water into a saucepan. Stir well and heat till it is just about to boil. Remove from heat.
Whisk egg yolks and palm sugar syrup for 1-2 minutes till smooth. Using a fine sieve, strain cream mixture and add to sweetened yolks. Return to saucepan and using low heat, simmer for about 6 minutes, ensuring the mixture doesn't come to a boil.
Pour cream mixture into ramekins with red bean base. Leave to cool and set in the refrigerator for at least 4 hours.
Top with palm sugar syrup and chendol jelly to serve.