Chả cá (pan-fried turmeric fish)
It's said that you haven't really had a taste of Vietnam until you've visted Cha Ca La Vong in Hanoi for its signature dish of cha ca. Trying the turmeric-marinated fish, bolstered by the warmth of ginger and fronds of fresh dill, has been hailed as an important rite of passage. Until you get there, try your hand at the basic recipe here.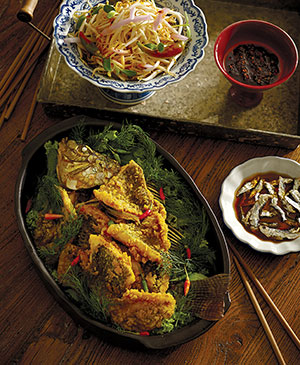 Serves 4 Prep time 40 minutes + 1 hour marinating time
Cook time 20 minutes
950g white fish fillets, traditionally catfish or sea bream
1 tsp turmeric powder
½ tsp galangal or ginger powder
2 tbsp minced garlic
2 tbsp minced shallots
½ tsp salt
½ tsp sugar
1 tsp fish sauce
4 tbsp olive oil
2 tbsp vegetable oil
1 large white onion, thinly sliced
handful fresh dill, coarsely chopped
Slice fish into large chunks and set aside.
Combine all remaining ingredients except vegetable oil, white onion and fresh dill. Mix well. Pour over fish chunks and marinate for at least 1 hour in the fridge.
Heat up a heavy bottomed pan with vegetable oil over medium heat. When hot, pan-fry marinated fish till crisp and golden brown, about 3-4 minutes on each side. Set aside.
In the same pan, add vegetable oil and sauté white onion until softened. Transfer to a serving platter. Serve fish on the bed of onions and top generously with fresh dill.
anchovy dipping sauce
2/3 cup lime juice (from approximately 3-4 limes)
2 tbsp fine sugar
½ cup water
55g ready-to-use dried Vietnamese anchovies
1 tsp minced garlic
Place all the ingredients for anchovy dipping sauce into a shallow saucepan and bring to a boil. When it comes to a boil, reduce heat and simmer for 2-3 minutes until sauce is thickened and reduced. Adjust seasonings to preferred taste.
Serve with pan-fried fish on the side.