Carpaccio of dutch veal tenderloin and tuna mayonnaise
This is inspired by the classic Italian dish of Vitello Tonnato where roasted sliced veal is served cold with creamy tuna flavoured sauce.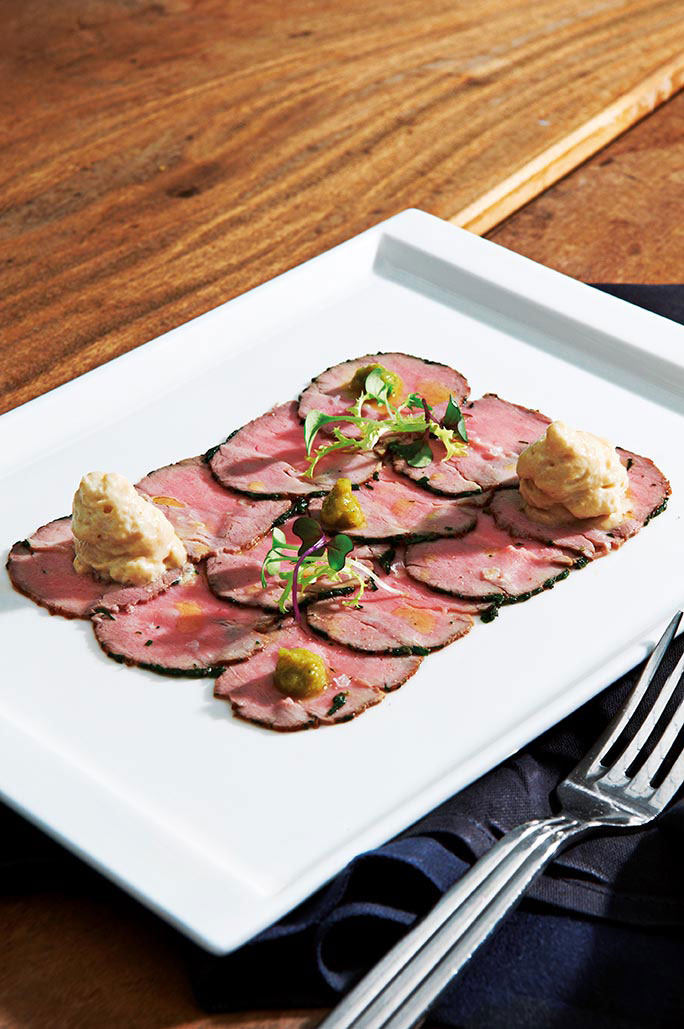 Serves 10 Prep time 20 minutes + overnight marinating and chill time
Cook time 25 minutes
veal marinade
1kg Dutch veal tenderloin, trimmed and tied
100g shallots, peeled and sliced
50g garlic, peeled and sliced
4 sprigs fresh thyme
crack of black pepper to taste
sea salt flakes to taste
30ml olive oil
vegetable oil
Marinate veal loin with all ingredients except vegetable oil and leave overnight.
Heat up a pan with a little vegetable oil and sear the veal loin on all sides until nicely browned.
Cook in a hot oven at 140°C for approximately 20 minutes until medium rare.
herb mantle for veal
20g Dijon mustard
4 sprigs fresh thyme, chopped
6 stalks fresh chives, chopped
6 sprigs fresh Italian parsley, chopped
4 sprigs fresh chervil, chopped
Coat the cooked veal tenderloin with Dijon mustard and roll it over chopped herbs until evenly coated.
Wrap and roll the veal tightly with cling film. Tie with butcher's twine on both sides.
Keep chilled in the fridge overnight.
Slice veal into 2mm thickness with a sharp knife.
Lay the slices on a parchment paper and store in the fridge for later use.
tuna mayonnaise
75g onions, peeled and sliced
100g whipping cream
25ml U.H.T milk
75ml chicken stock
10ml extra virgin olive oil
20g Dijon mustard
50g mayonnaise
100g canned tuna flakes in oil
crack of white pepper
sea salt flakes
Sweat onions in a pot until very soft.
Add in whipping cream, milk and chicken stock, and bring to boil. Remove from heat and allow to cool.
Place the cooled mixture into a food processor and add in the rest of the ingredients, except tuna flakes, white pepper and sea salt flakes.
Whiz until a fine and smooth consistency is achieved.
Drain off excess oil from tuna then roughly chop into small pieces and fold into the mixture. Keep in the fridge for later use.
Arrange carpaccio on a plate; season with sea salt flakes and white pepper.
Pipe tuna mayonnaise onto veal carpaccio to serve.