Cannoli from The Godfather
CANNOLI FROM THE GODFATHER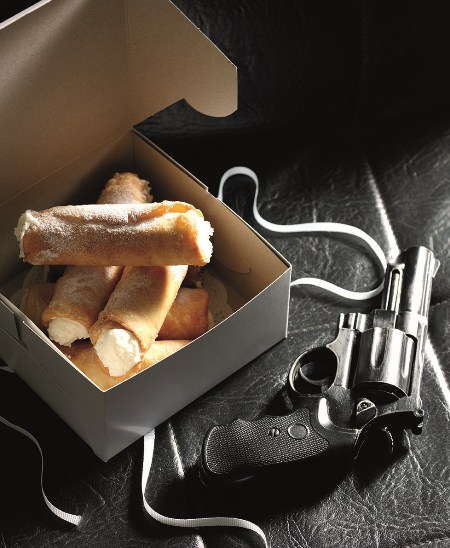 Makes 8-10 pieces
Prep time 15 minutes
Cook time 35 minutes
special equipment
metal tubes measuring 2.5cm in diameter and 13cm in length, available at Phoon Huat
dough
450g plain flour
2½ eggs
60g fine castor sugar
60g vegetable shortening
(Crisco)
pinch sea salt
pinch ground cinnamon
4 tbsp Marsala wine
egg wash
1 pot or ½ litre soya bean oil for deep frying
• Mix together all the ingredients except the Marsala wine. Add the Marsala, as needed, to form a stiff dough.
• Roll the dough out on a lightly floured surface to about 3mm thick.
• Cut the dough into ovals, roughly 7.5cm by 12.5cm.
• Wrap the dough around the metal tubes and seal the ends together well with egg wash.
• Let rest for an hour or two before frying.
• Preheat the deep fryer filled with soybean oil to 180°C.
• Lightly fry the pastry shells until golden brown, 10 to 15 minutes, and drain on a paper towel-lined sheet pan. Once cool, remove the metal tubes and store in an airtight container until ready to use.
ricotta cream cheese filling
1kg ricotta cheese
570g fine castor sugar
½ cup double cream, add in a bit more as needed
1 tsp vanilla extract
1-2 drops cinnamon oil
30g candied citron
30g white chocolate chips
• In a mixing bowl, fold ricotta cheese with the sugar and cream as needed. Add the vanilla extract, cinnamon oil, candied citron, and chocolate chips. Refrigerate until needed.
• Fill a pastry bag with ricotta cream cheese filling and pipe into cannoli pastry tubes from both ends.