Broccolini Cavatelli Aglio Olio
Serve broccolini cavatalli from south Puglia aglio olio style to bring the vegetable's subtle sweetness to the fore. Zucchini flowers add textural dimension and a delicate squash flavour.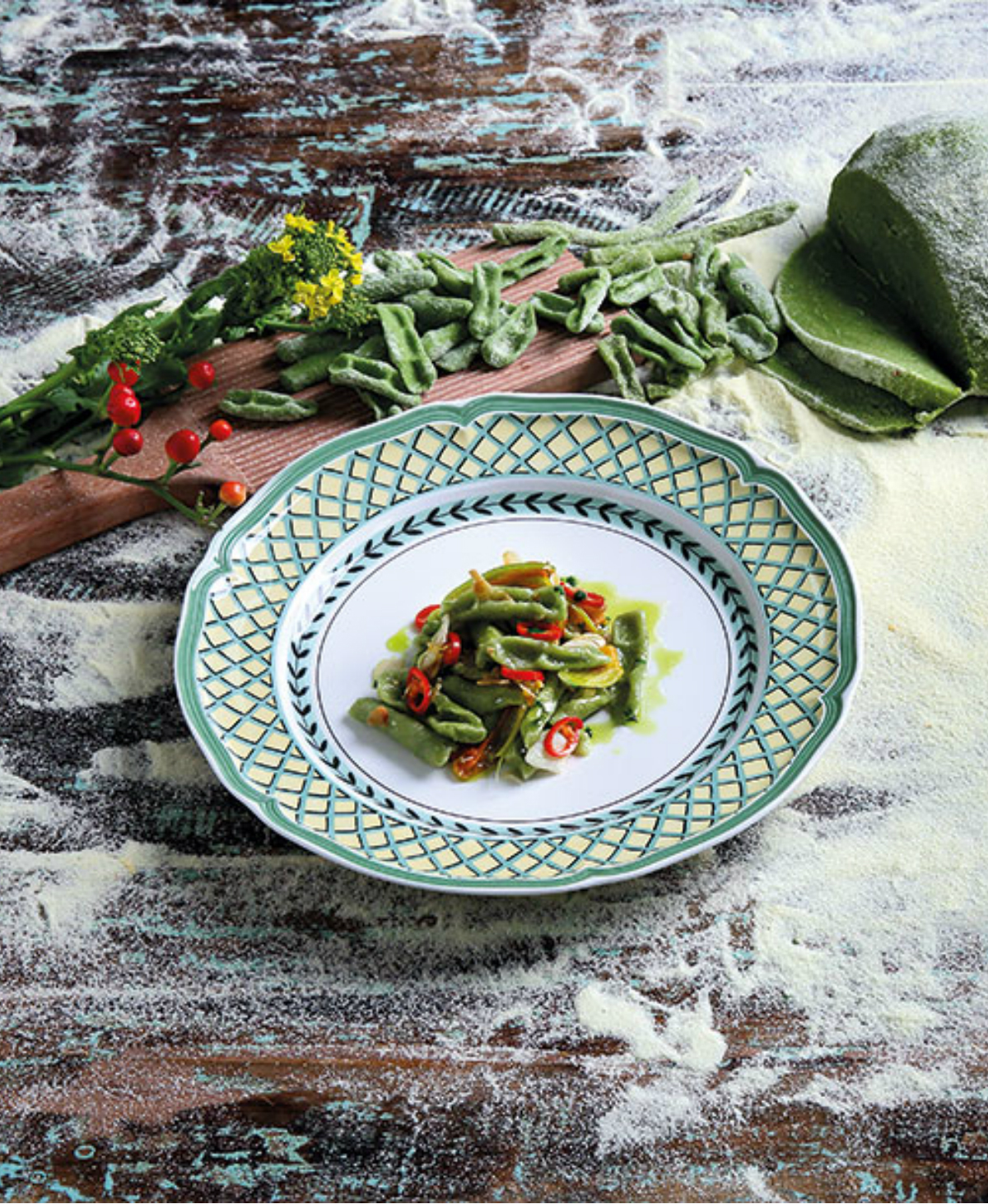 Serves 4
Prep time 20 minutes + 1hour resting time + 45 minutes drying time
Cook time 30 minutes
broccolini cavatelli
1-2 tbsp water
150g broccolini leaves
200g semolina or ground durum wheat flour
25g regular or soft wheat flour
pinch of salt
125ml warm water
Add water to a pot over medium-high heat. Add broccolini leaves and cover the pot. Cook for 2-3 minutes, or until wilted and tender. Drain leaves in a colander. When the leaves are cool enough to handle, use your hands to squeeze out as much liquid as possible.
Add broccolini leaves and a little water in a food processor and blend to make a smooth purée. Scoop mixture into a bowl.
Mix flours together in a bowl, then add broccolini purée, salt and warm water. Mix well.
Transfer dough to a surface and knead, adding more flour or water if required. Knead until the dough is smooth and springy, about 8-10 minutes. The dough should be firm but not hard. Wrap the dough in cling wrap and allow to rest for at least 1 hour.
Roll dough into a long strand as thin as a pencil. Cut into pieces as long as a thumb.
Shape cavatelli by using your thumb to push each piece of dough forward and up. The dough should spring upwards and form a curve.
Transfer cavatelli to a parchment paper-lined baking sheet, then sprinkled with semolina flour. Make sure that no two pieces of cavatelli touch each other. Allow pasta to dry for 30-45 minutes.
In a large pot, bring lightly salted water to a rolling boil and drop in cavatelli. Boil for 4-6 minutes, or until al dente. Drain cavatelli and reserve some pasta water.
aglio olio with zucchini flowers
40ml extra virgin olive oil
5 cloves garlic, sliced
3 peperoncini, sliced (available from Bottega; alternatively, use mild red chilli)
100g zucchini flowers
5g parsley
freshly ground black pepper, to taste
Heat extra virgin olive oil and fry garlic and peperoncini until garlic starts to turn a light golden colour.
Add cavatelli, zucchini flowers and parsley to the pan and toss until well combined. Add a splash of pasta water if needed to loosen the cavatelli. Season with black pepper and serve.