Braided Challah
Braided Challah is a Jewish bread that traditionally doesn't contain any dairy and is the choice loaf for breaking chabat (fasting period).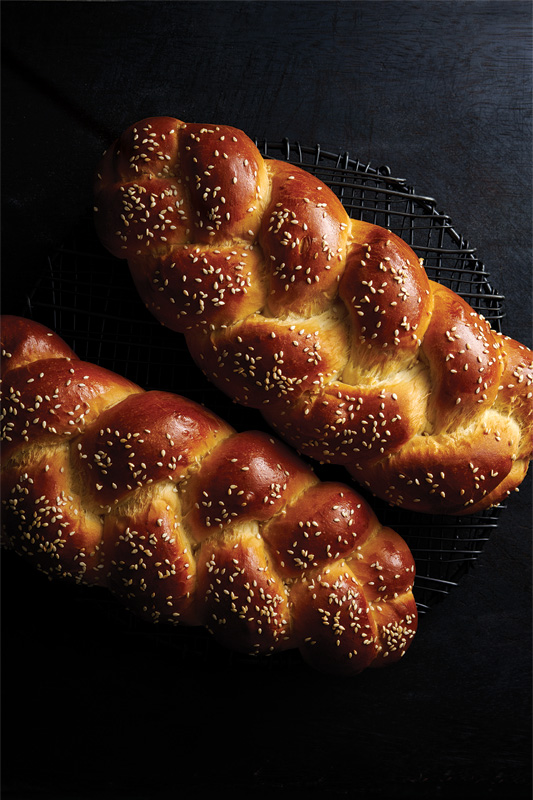 Makes 1 loaf

Prep time 40 minutes + 15 minutes rest time + 2 hours 15 minutes proof time

Bake time 15 minutes
300g bread flour

6g salt

6g instant dry yeast

45g grapeseed oil, plus more for greasing 75g eggs

75g water

30g honey

1 egg, beaten for egg wash

1 tbsp white sesame seeds
Place all ingredients except egg wash and sesame seeds in the bowl of an electric mixer fitted with a dough hook.
Knead on low speed until dough
is elastic enough to stretch without breaking. To determine this, conduct a windowpane test: take a small piece of kneaded dough (about the size of a golf ball). Hold it between your thumbs and two index fingers then stretch it apart
as widely and thinly as you can. If the dough stretches without breaking and forms a slightly translucent centre (the windowpane), the dough is ready.

Transfer dough to a mixing bowl lightly greased with olive oil, cover loosely with cling wrap and proof for 11⁄2 hours.
Divide dough into three equal balls of 170g each. Let rest for 15 minutes.

Roll each ball to a rope approximately 30cm long. Set the ropes side by side and braid them (the way you would braid hair or yarn), and squeeze the ends together when complete.
Proof for 45 minutes at 25°C. Brush evenly with egg wash and sprinkle with sesame seeds.

Transfer to a deck oven and bake at 170°C for 15 minutes.