Black pepper lump crabmeat in pie tee shells with macadamia nuts
Black Pepper Lump Crabmeat in Pie Tee Shells with Macadamia Nuts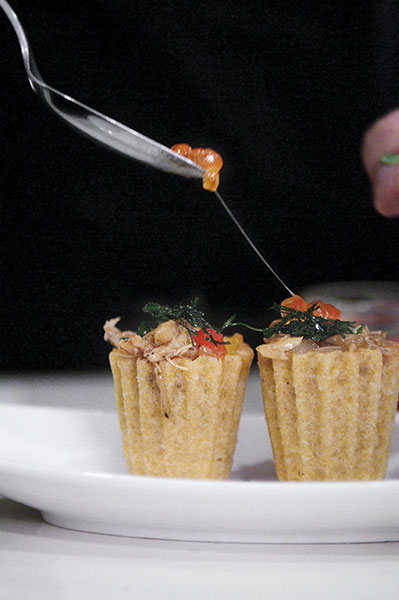 Serves 20 mini shells
Prep time 15 minutes
Cook time 10 minutes
4 tbsp vegetables oil
1 tsp garlic, finely chopped
1 tbsp ginger, finely chopped
1onion, finely diced
1 small red bell pepper, diced
1small green bell pepper, diced
300g lump crabmeat, blanched
1 tbsp coarse ground black pepper
3 tbsp light soya Sauce
2 tbsp oyster sauce
1 tsp Worcestershire Sauce (Lea and Perrins)
1 tsp sugar
50g macadamia nuts, lightly toasted
20 pie tee shells
salmon roe
fried curry leaves
Heat oil in pan, sauté garlic, ginger and onions till fragrant. Add the bell peppers and cook for two minutes.
Toss in crabmeat and sprinkle black pepper over the crabmeat. Cook for another two minutes. Mix in soya, oyster and Worcestershire sauces. Adjust to taste with sugar.
Add nuts to the crabmeat and mix well. Fill mixture into pie tee cups and garnish with some salmon roe and fried curry leaves.