Beef burgers with guacamole
Red onions, fried in bacon fat till caramelised, give these burgers sweet and smoky undertones, but it's the chunky homemade guacamole that takes them to a whole new level.
Serves: 4
Prep time: 20 minutes + 10 minutes standing time
Cook time: 15 minutes
beef burgers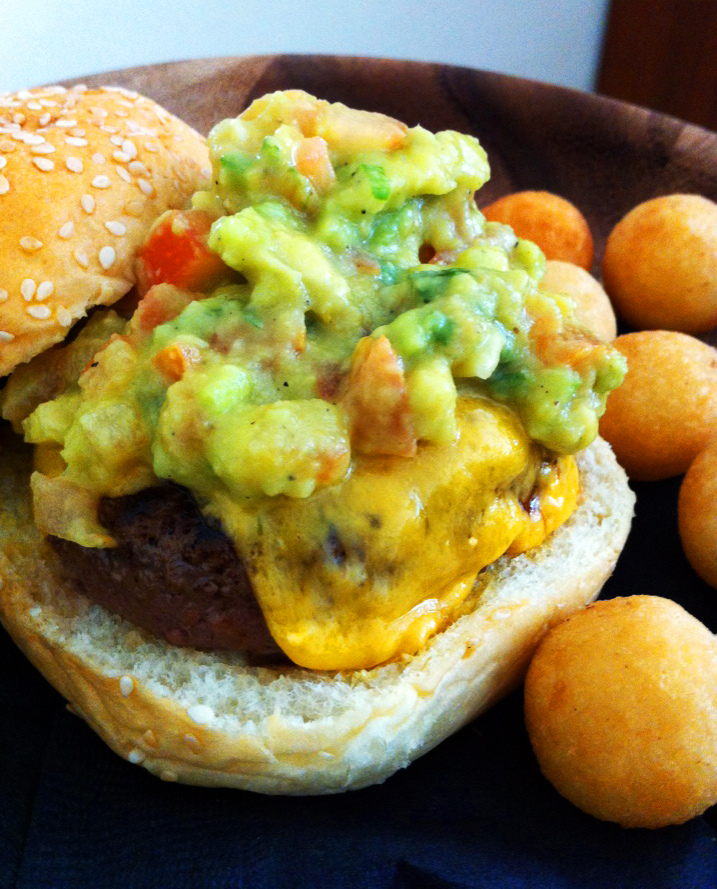 3 tbsp grapeseed oil
4 slices streaky bacon
1 large red onion, finely diced
1½ tbsp Worcestershire sauce
2 sprigs rosemary leaves, finely chopped
400g minced beef
pinch salt and pepper
4 slices mature cheddar cheese
4 sesame burger buns
• Heat up 2 tbsp of oil in pan and fry the bacon. Add onions and fry till caramelised.
• Add Worcestershire sauce and rosemary leaves. Fry for 5 minutes till fragrant and let sit till ready to add to minced meat.
• Place beef in a big bowl. Add the caramelised onions, salt and pepper. Mix the ingredients with your hands.
• Divide the mixture into 4 parts. Roll each into a ball.
• Heat up the pan with the remaining oil. Pat each ball flat and place into the hot pan.
• Fry till brown (about 2 minutes) on each side.
• To melt the cheese on top, heat up the oven's top grill to 160°C. Place the meat patties on a tray with the bacon and cheese slices on top. It takes about 3 to 4 minutes for the cheese to melt.
• Serve them on sesame buns.
guacamole
1 avocado
1 tomato, finely diced
2 stalks spring onions, finely diced
juice of half a lemon
pinch salt and pepper
• Mash up the avocado with a fork. Add tomatoes and spring onions.
• Pour in half the lemon juice and taste. Add more if required and salt and pepper to taste.
• Let it sit in the fridge for half an hour for the flavours to combine.
• Scoop onto burgers and serve.