Bamboo shoot soup with beancurd & meat strips
Get acquainted with the length and breadth of China's regional specialities. This recipe for a light, refreshing broth will bring you a step closer to understanding the wondrous complexity of Chinese cuisine.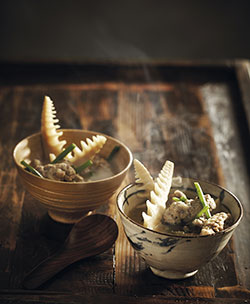 Serves 4 Prep time 10minutes
Cook time 35 minutes
100g pork loin (cut to strips)
seafood paste mix
250g cuttlefish paste
100g minced prawn
1 tbsp good quality soya sauce
2 egg yolk
1tsp sesame oil
Pinch salt and pepper
1tsp corn flour
soup base seasoning
2 springs spring onion stalk
4 whole garlic
4 springs coriander root
5 dried mushroom (sliced)
¼cup fresh black fungus
¼cup carrot strips
2cups chicken stock
1tbsp good quality Soya sauce
2tsp shallot oil
1tbsp black vinegar
1tsp sugar
dash salt and pepper
1cup cornstarch
garnish
35g coriander leaf
dash shallot oil
Mix seafood paste mix ingredients and leave to marinate for 2 hours.
Coat pork strips with a thick layer of seafood paste. Put a pot of water to the boil and blanch the seafood paste coated pork strips. When the strips float up in the water, it is cooked.
Heat up a pot with oil and fry the spring onion and garlic till fragrant.
Add in mushroom, black fungus and carrot. Stir-fry them.
Add in chicken stock, soya sauce, shallot oil, vinegar, sugar, salt and pepper.
Bring mixture to boil.
Thicken soup with cornstarch and to serve, add in the seafood meat dumplings.