Bamboo clams 'panggang' with sambal belachan, eggplant chincalok 'salsa' and anchovies
To bring out the sweet flesh of the tubular bambook clam, pair it with spicy sauces and avoid citrusy, acidic juices.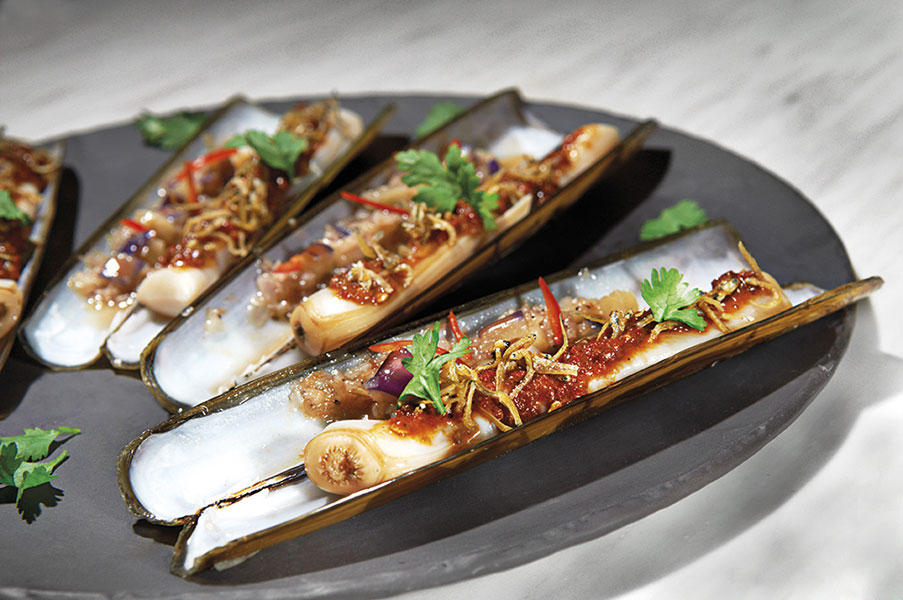 Serves 4
Prep time 1 hour 20 minutes
Cook time 30 minutes
4 large bamboo clams (140g each)
Soak bamboo clams in clean water for an hour. Set aside.
sambal belachan
3 red chillies, finely blended
8 shallots, finely blended
30g belachan, toasted and mashed
20g fine sugar
salt, to taste
Mix all the ingredients, heat oil in a pan, and sauté ingredients till fragrant and red oil is released from the mixture.
eggplant chincalok 'salsa'
50g eggplant, finely diced
50g onions, finely diced
50g chincalok
30g fine sugar
1 kalamansi (juice only)
Heat up a pot of water and blanch the eggplant for 30 seconds. Mix all the ingredients with the eggplant and place it in the refrigerator for an hour.
garnish
crispy anchovies
red chilli, finely sliced
Grill bamboo clams till their shells open, and add 1tablespoon of sambal belachan to each bamboo clam. Grill them for another 5 minutes.
Arrange the clams on a plate, top them with eggplant chincalok 'salsa' and sprinkle crispy anchovies over them. Garnish with sliced chilli.