Bak zhang porchetta
For intense flavour, add crab and lobster shells to your fumet or seafood stock.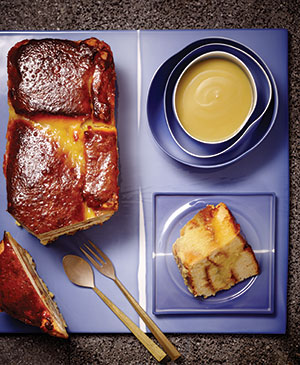 Think of this as a reverse dumpling, where sticky glutinous rice is encased in pork belly instead of the other way round. The secret to perfect crackling: dousing the skin in a baking soda solution, rubbing it with salt and letting it dry completely before applying a final blast of heat.
Serves 8 Prep time 1 hour + 24 hours chill time & 4 hours soak time
Cook time 3 hours 45 minutes
glutinous rice stuffing
3 tbsp vegetable oil
50g dried mushrooms, soaked for 2 hours (reserve soaking liquid)
50g dried prawns, soaked for 2 hours (reserve soaking liquid)
1 cup glutinous rice, soaked for 4 hours
3 tbsp oyster sauce
1 tbsp soy sauce
In a pan, heat vegetable oil. Add drained dried mushrooms (without soaking liquid) and stir-fry for 3 minutes. Add drained dried prawns (without soaking liquid) and stir-fry for another 3 minutes.
Add glutinous rice, oyster sauce and soy sauce. Fry until sauces are well combined throughout the rice.
Add soaking liquids from both mushrooms and dried prawns. Reduce heat and cook until liquid has completely evaporated. Remove from heat and let cool.
porchetta
1 tbsp baking soda
250ml hot water
1 piece boneless pork belly, approximately 3kg, skin-on
3 tbsp white vinegar
3 tbsp sea salt
50g chestnuts, cooked and peeled
4 salted egg yolks
Dissolve baking soda in hot water. Score the skin of your pork belly using a paring knife. Place the pork belly skin side up on your board, and pour baking soda solution over, followed by the vinegar.
Pat the skin of the pork belly dry and rub sea salt over it. Carve out a hollow recess in your pork belly to prevent stuffing spillage.
Place glutinous rice stuffing into the recess of your pork belly, studding it with chestnuts and salted egg yolks.
Roll the belly tightly and secure with butcher's twine. Pat skin dry and place in a fridge for at least 24 hours to dry out the skin.
Before cooking, remove pork belly from the fridge and bring to room temperature. Preheat the oven to 160°C in the meantime.
Place porchetta on a roasting rack so the skin doesn't come into contact with its drippings during the roasting process. Cook for 3 hours.
Increase temperature to 200°C. Continue rotating porchetta in the oven so its skin is evenly exposed to the grill and turns a blistering brown, about 10-15 minutes.
Remove from oven and let rest for 15 minutes on a cooling rack.
Read more in the August 2015 issue of epicure.