· 23 September 2020
RATINGS
TYPE OF MEAL
Mains
DIFFICULTY
Intermediate
SPEED
Long
RECIPES
Ayam Buah Keluak by Candlenut
Considered a classic traditional dish for special occasions,  Head Chef Malcolm Lee elevates it with his personal touch at one-Michelin-starred Candlenut. Chef Lee gets his ingredients from either Tekka Market or Geylang Serai Market for the freshness and the convenience of being able to get everything at a go, and he serves it simply, garnished with strands of Togarashi red hair. Home cooks may serve it with some garlic or finely cut lemongrass.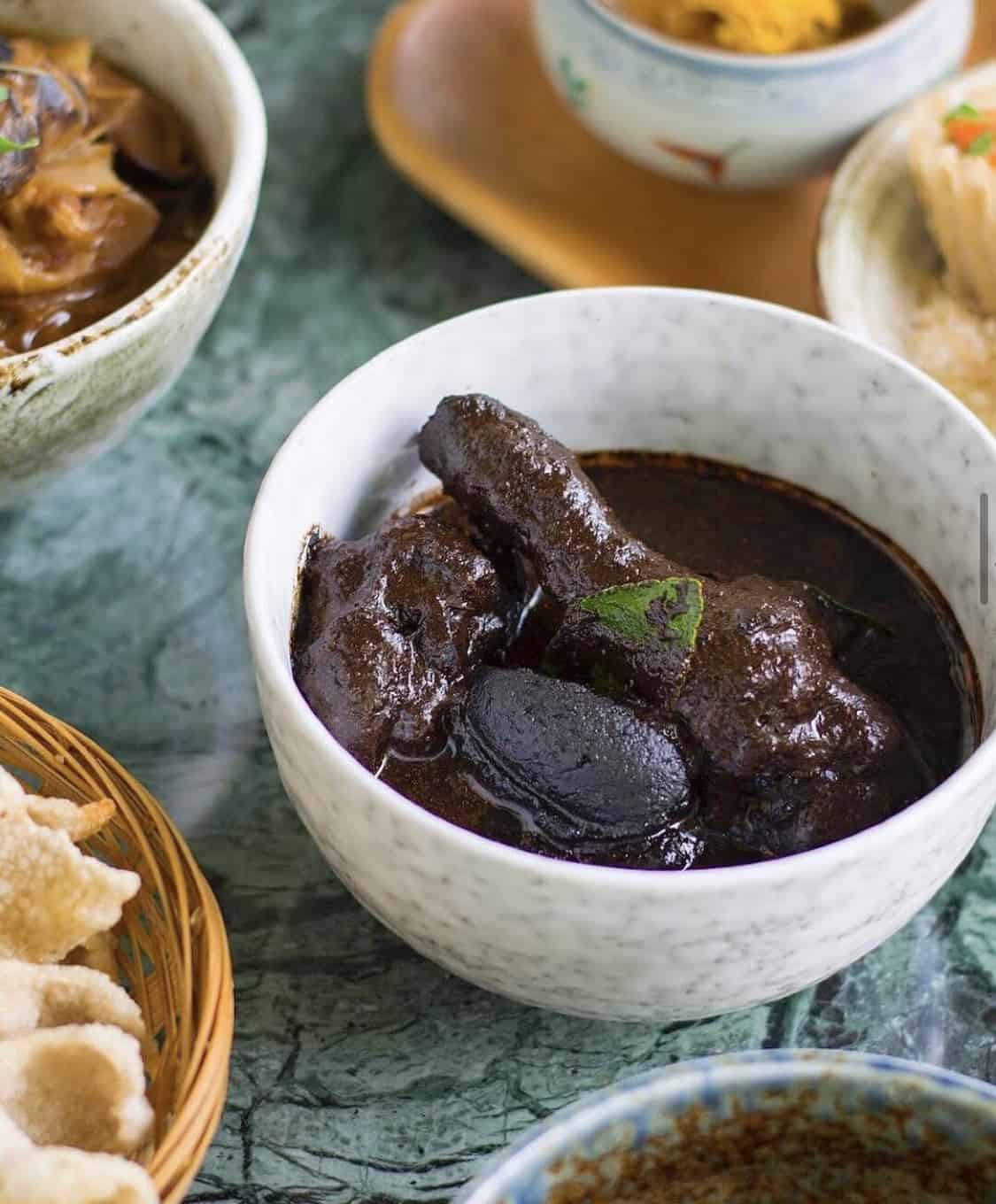 Buah Keluak Rempah
Serves 6 to 9
Prep Time: 1 hr 15 min
Cook Time: 1 hr
Ayam Buah Keluak

Serves 2 to 3
Prep TIme: 1 hr
Cook Time: 45 min
Buah Keluak Rempah

12g Galangal
30g Turmeric
30g Candlenut
150g Shallot
55g Garlic
20g Belachan (raw)
25g Lemongrass (Bottom third part only)
100g Dried Chilli
250g Oil
• Peel and chop galangal, turmeric, candlenut, shallot, garlic.
• Boil dried chilli in hot water for 15 min, drain and chop finely.
• Pound all ingredients with a mortar and pestle or blend in a food blender until a fine paste is formed.
• Heat oil over medium heat and fry the paste till dry, fragrant and oil split from the paste.
• Put aside to use for later.
Tips:
• Cut the rempah ingredients finely so that it'll take much lesser time to pound them into a spice paste with a pestle and mortar. The finer the paste, the more the flavours will be released and the more aromatic the dish will be.
• When frying, stir constantly to prevent it from burning – till it's nicely caramelised and fragrant.
Whole Buah Keluak Nuts, 6 pcs

500g Chicken
50gBuah keluak rempah
50g Buah keluak meat
2 tbsp Oil
400ml Water
15g Tamarind Paste (Assam)
2g Salt
2g Sugar
2 pcs Kaffir lime leaf
1 pc Lemongrass (bruised)
• Crack open the whole buah keluak nuts from the "lips" with a pestle or a small hammer. Remove small bits of shell. Set aside.
Tips:
• Choose buah keluak nuts that are heavier, as the light ones tend to be dry and don't have much meat.
• As it is poisonous when raw, make sure to scrub thoroughly and to soak for 5 days in the chiller, with water changed daily.
• When opened, it should smell like dark chocolate or coffee.
1. Heat oil over a medium low heat, fry rempah and the buah keluak nut meat for 1 minute till fragrant.
2. Add in the chicken, bruised lemongrass and kaffir lime leaf and stir fry for another 2 minutes.
3. Add in water, salt and sugar, tamarind and the reserved whole buah keluak nuts.
4. Simmer for 15 to 20 minutes. Adjust seasoning accordingly.
5. Ready to serve.
Tips:
• For more flavour, marinate the chicken with salt and turmeric powder.
• Fry the chicken in the rempah for deeper flavours.
• Simmer the chicken in just enough water. If there's too much water, the chicken will turn out bland.
• Be careful not to overcook the chicken. The flesh should be just about cooked through and firm, not fall-off-the-bone tender.
• For more rounded flavours, let the chicken rest before serving. For the best results, keep the Ayam Buah Keluak in the fridge for at least a day, reheat and serve.
SHARE