Spaghetti with mushrooms and vodka cream sauce
A splash of vodka adds a pleasant smoothness to the lovely pink sauce. This dish can be beefed up with herbed chicken or smoked salmon for a substantial dinner.
Serves: 3
Prep Time: 10 minutes
Cook Time: 20 minutes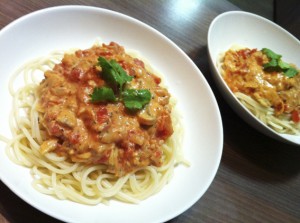 4 tbsp olive oil
450g dried spaghetti
1 red onion, diced finely
5 cloves garlic, minced
5 white button mushrooms, thinly sliced
1 can Hunt's diced tomatoes
250ml plain vodka
1 can Nestle cream
1 tsp dried oregano
1 tbsp dried basil
1 tsp cayenne pepper flakes
1 tsp salt
1 tbsp brown sugar
fresh parsley, to garnish
Heat olive oil in a pan over medium heat. At the same time, place the spaghetti into a pot of salted boiling water and cook according to package instructions.
Sauté onions, garlic and button mushrooms, stirring occasionally, until caramelised.
Pour in the tomatoes, vodka and cream, and gently stir in herbs, pepper, salt and brown sugar.
Bring the mixture to a simmer, while constantly stirring, till it reduces into a thick sauce (about 10 minutes).
Toss cooked spaghetti in the mushroom sauce and garnish with fresh parsley before serving.