Meliá Bali is the Place to Be for This Year's Christmas Celebrations
· 13 November 2023
·
Bali
Family-friendly activities and culinary offerings can be found at Meliá Bali, just in time for Christmas celebrations on December 2023.
In about a month, we will enter the long-awaited holiday, where family and friends gather in merriment to celebrate the Yuletide. Drawing from that spirit, the gem of everything plush in Nusa Dua returns as the home of Christmas feasts. Find a gamut of Christmas celebrations at Meliá Bali and create meaningful moments with your dearest.
Meliá Bali Christmas Celebrations: Tree Lighting Ceremony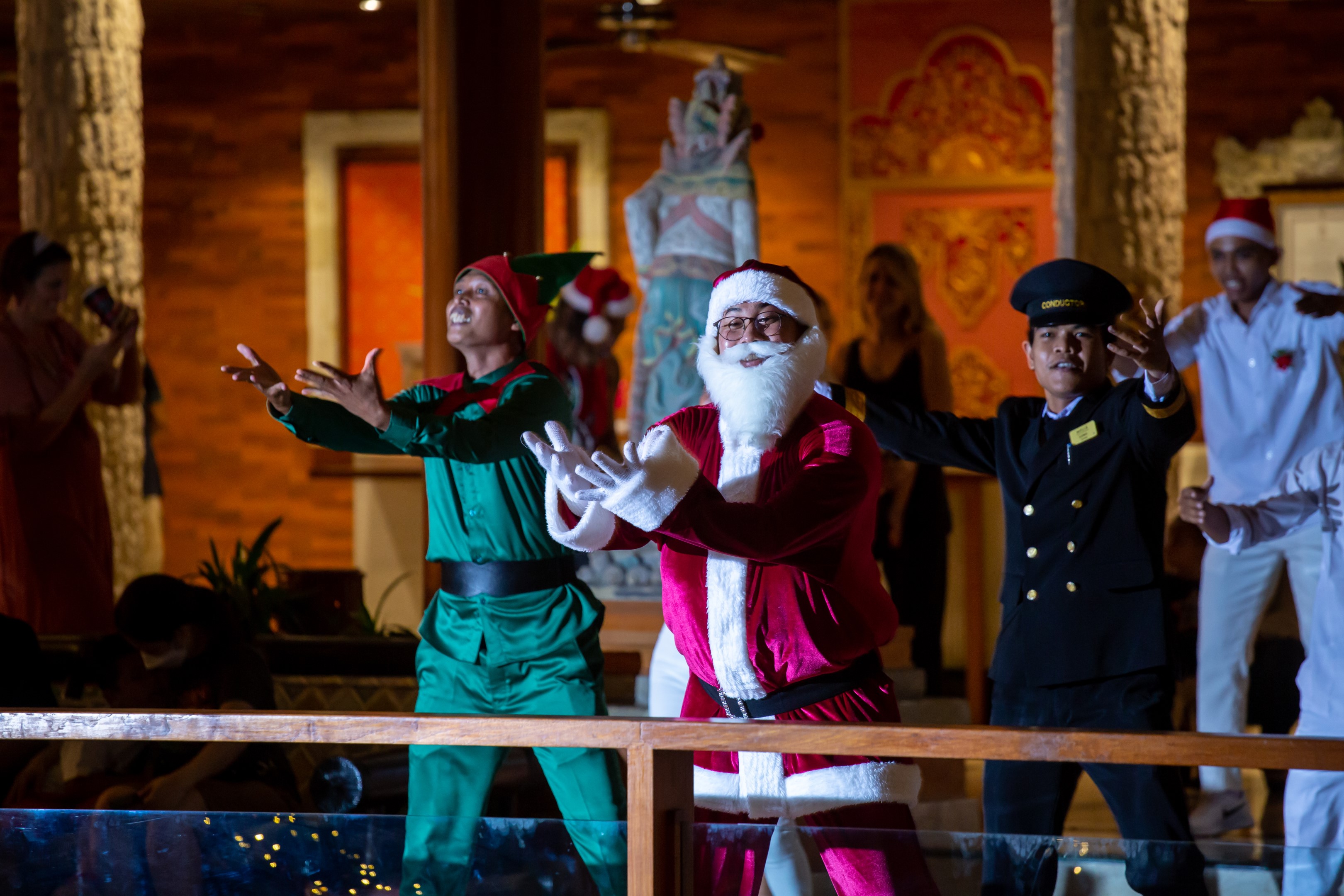 The resort will illuminate the symbolic Christmas tree in the lobby area on 9 December 2023, from 6pm to 7pm, to mark the start of the holiday season. Take your family and friends to the magical Christmas Tree Lighting Ceremony, accompanied by a musical performance by kids' church chorale as well as Santa & Elves dance.
Have a bite of pleasant cookies and cocktails, or treat your little ones on a journey around the resort's premises with the Christmas Choo Choo Train, operating daily between 10am – 12pm and 1pm – 7pm for Rp75,000/person.
Paint & Joy: Ginger House Painting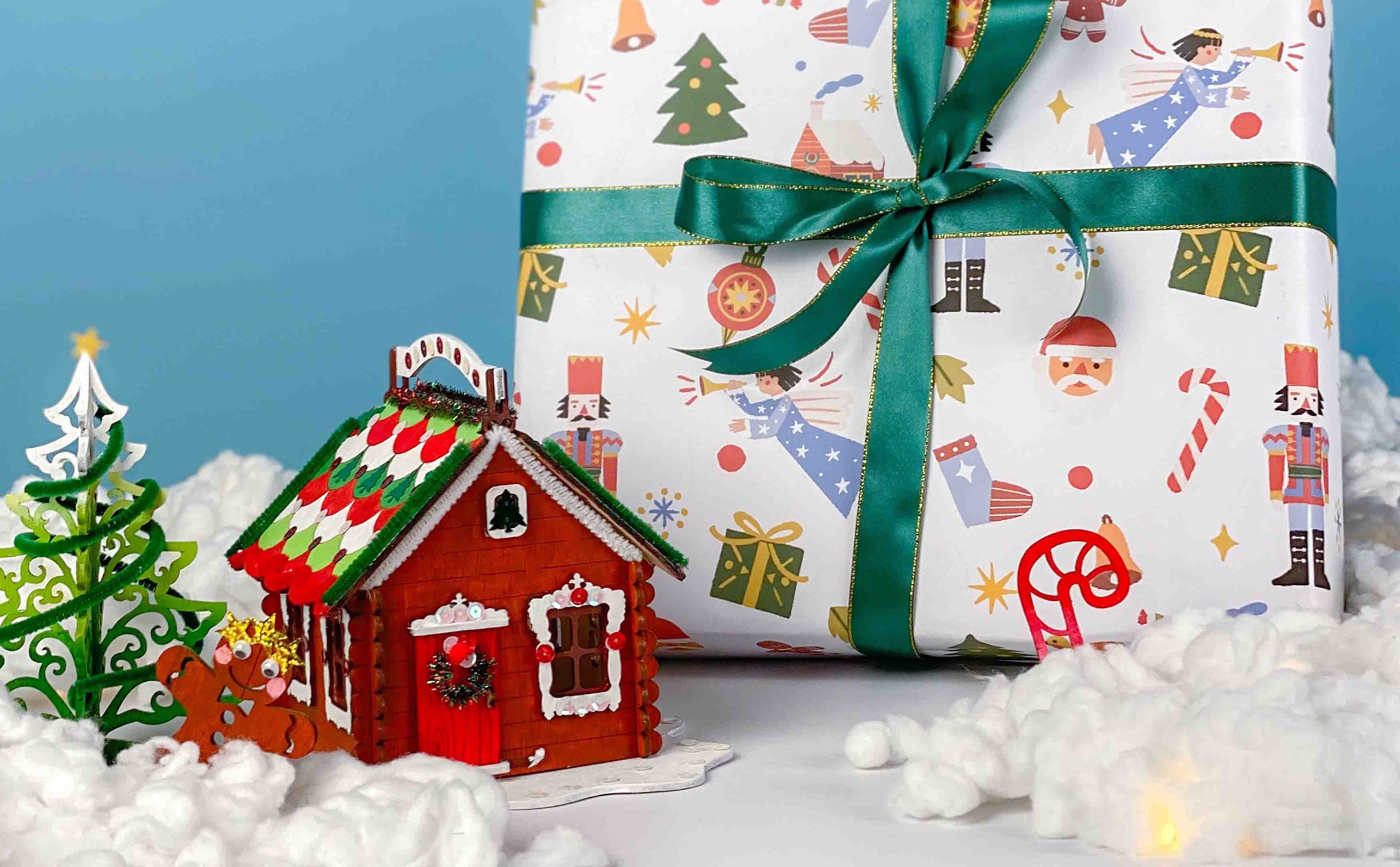 As Christmas day approaches, the resort's Sateria Beachfront Restaurant invites guests to get artsy while basking in the festive spirit through a ginger house painting session. The Paint & Joy: Ginger House Painting takes place at the oceanside restaurant on 20 December 2023 from 3pm – 6pm and is available to book for Rp450,000/person.
Little Master Chef: Cookies Decoration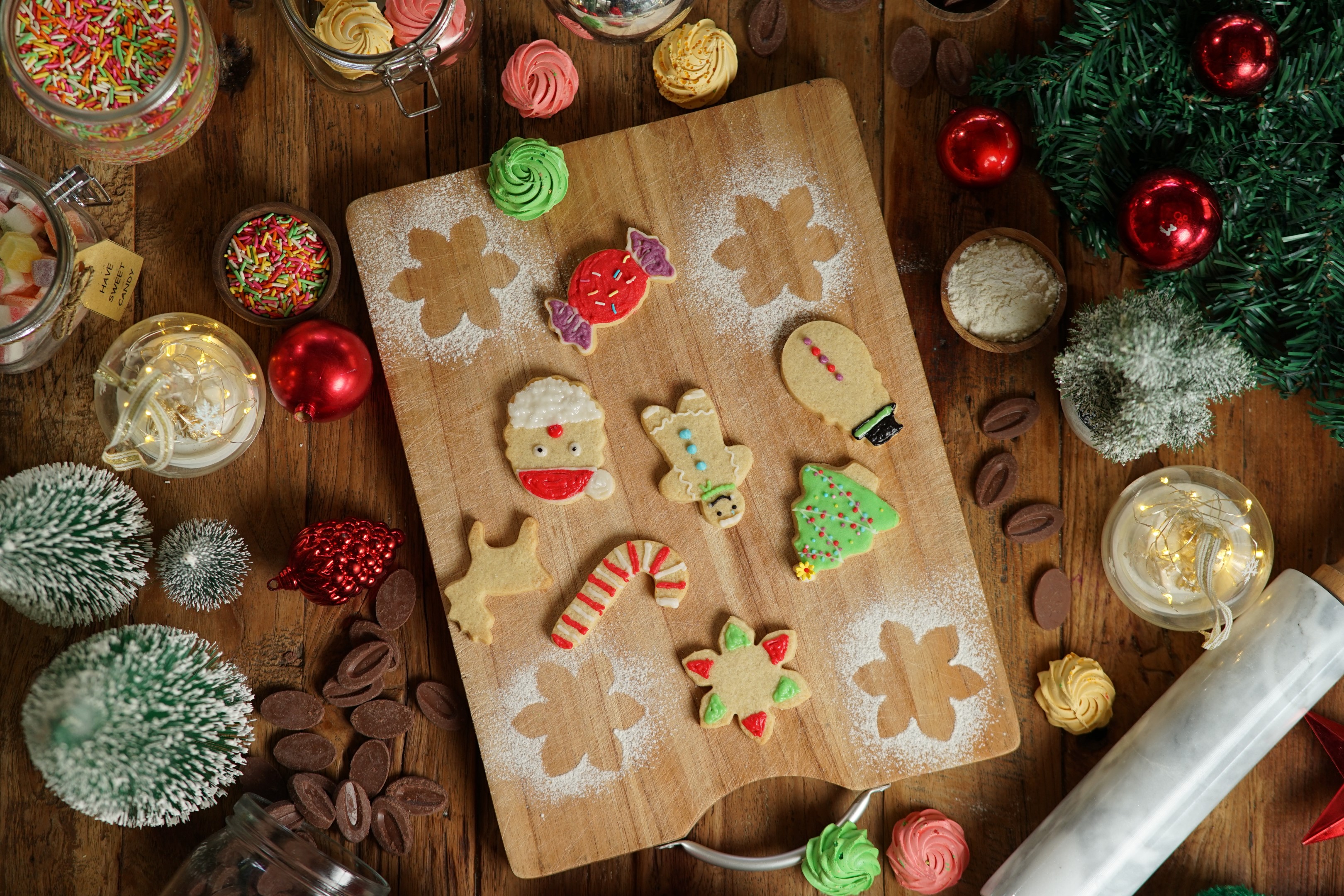 A decadent and well-decorated batch of cookies is an important feature when it comes to Christmas celebrations, and that is why Meliá Bali will host a cookies-decorating session for the little ones to partake in.
On 21 December 2023, take your little merrymakers to Sorrento Restaurant at 3pm for the Little Master Chef: Cookies Decoration. Let them get creative with colourful hundreds and thousands, melted chocolate, and snowy icing sugar. This fun session is available for Rp350,000/person for in-house guests.
Merry Joy Christmas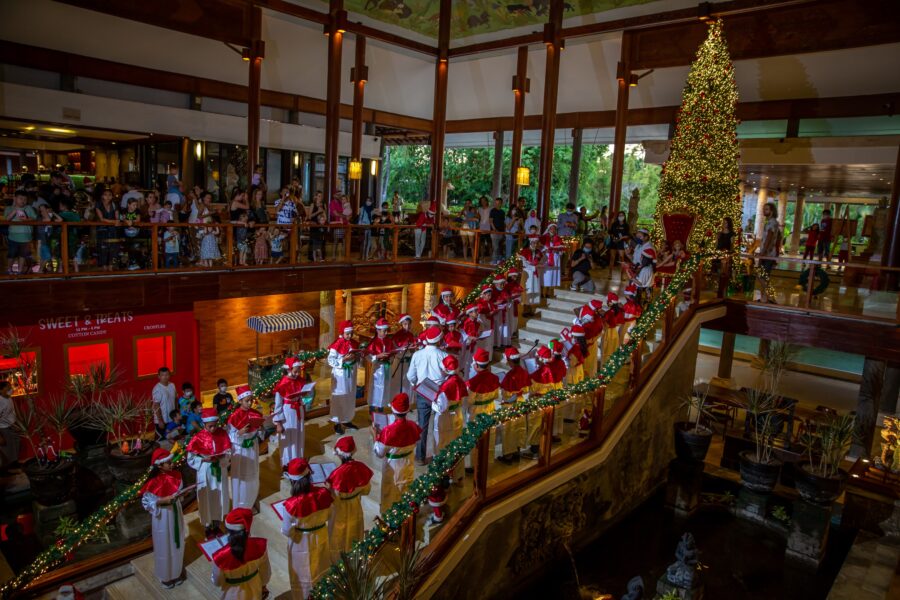 The resort offers a series of family-friendly activities. The Merry Joy Christmas starts on 24 December 2023 with the Kidsdom Joy Christmas Party at 3pm – 4pm, followed by Christmas Movie Night at 6.30pm. At dinner, a Christmas Choir performance will be held from 7pm to accompany guests while savouring their Christmas Eve dinner. Afterwards, catch the Santa and Elf for their gifts as they roam around the restaurants at 8pm.
On Christmas Day, Merry Joy Christmas activities kick off with a Magic Show at 11am and a Santa Parade with Barong at 12pm. The resort's iconic Bird Show will take place at 3pm, and finally, another Christmas Movie Night at 6.30pm to round out the day.
Christmas Eve Dinner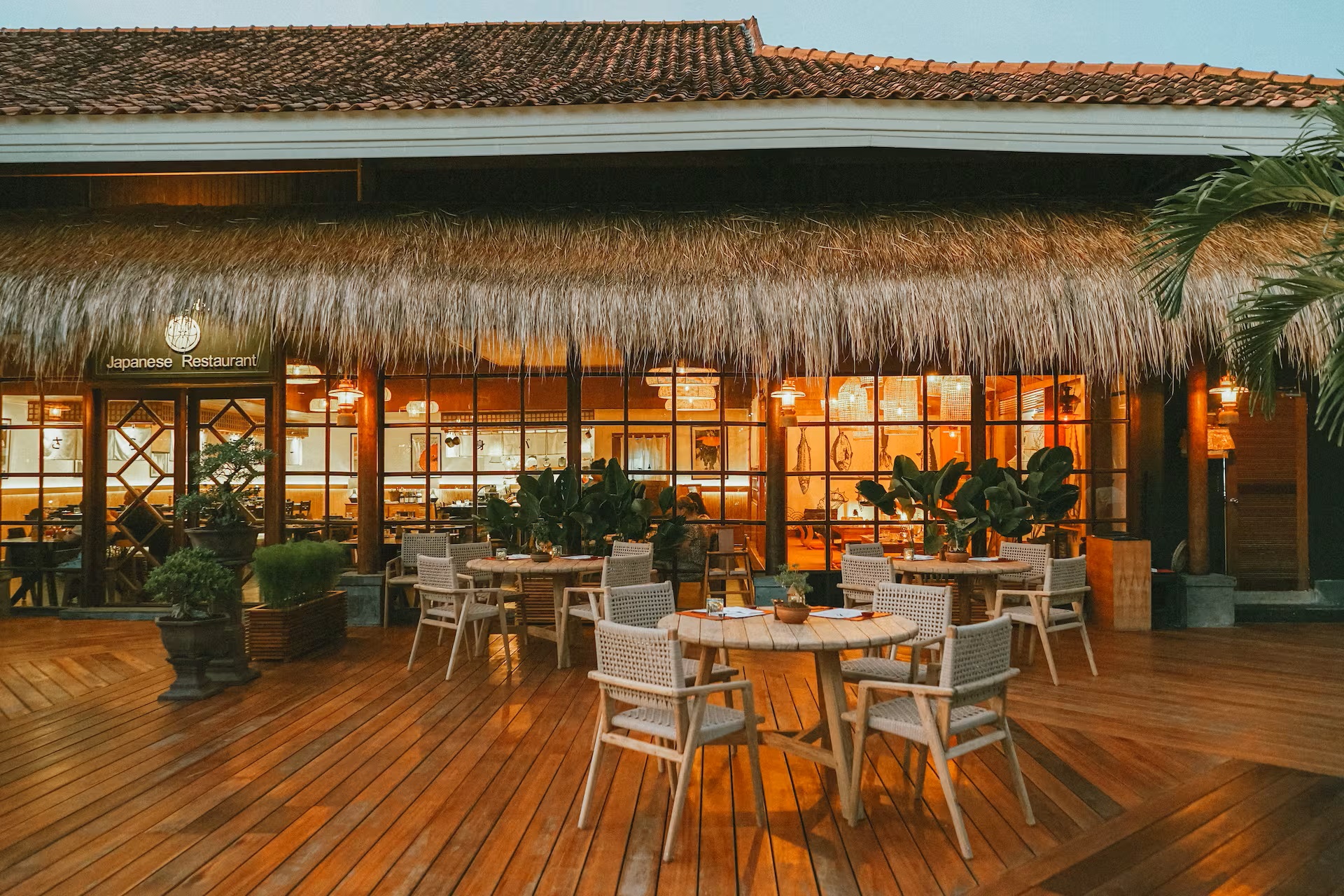 The night before Christmas, the resort's culinary team has prepared a bountiful of magical delicacies at three of its signature restaurants. The El Patio Restaurant Magical Christmas Eve Buffet presents a Christmas-exclusive spread with a lovely live music performance from Kids Church Coral and a magician performance to spice up the ambience.
For those who prefer a more intimate setting with elegant and traditional surroundings, opt for the four-course gourmet dinner at Sorrento Restaurant, accompanied by a pleasant violin performance. Otherwise, Sakura Japanese Restaurant is also open for Christmas Eve dinner with a four-course authentic Japanese cuisine.
All the Christmas Eve Dinner offers at Meliá Bali's signature restaurants will be held on the evening of 24 December 2023. Prices start from Rp980,000/person, including soft drinks, selection of wines, and signature cocktails.
Christmas Brunch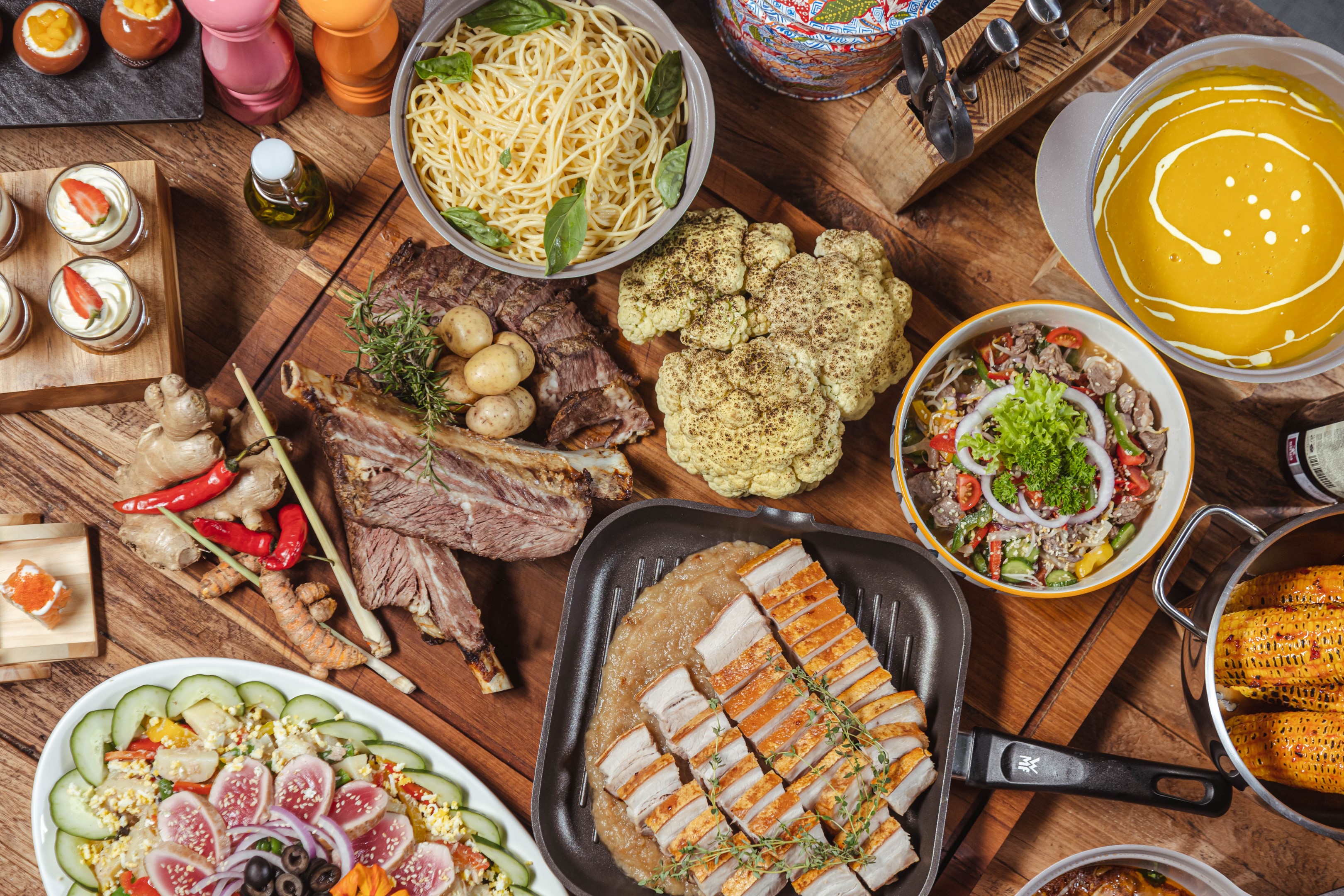 For this year's Yuletide, the resort welcomes guests to celebrate Christmas over a festive buffet brunch at El Patio Restaurant. Indulge in a scrumptious Christmas special with a live music performance on 25 December 2023 from 12pm – 3pm. With a price starting from Rp980,000/person, the brunch includes soft drinks, a selection of red, white, and sparkling wines, and signature cocktails. The brunch will also be available on 1 January 2024 for New Year celebration.
YHI Sparkling Treatment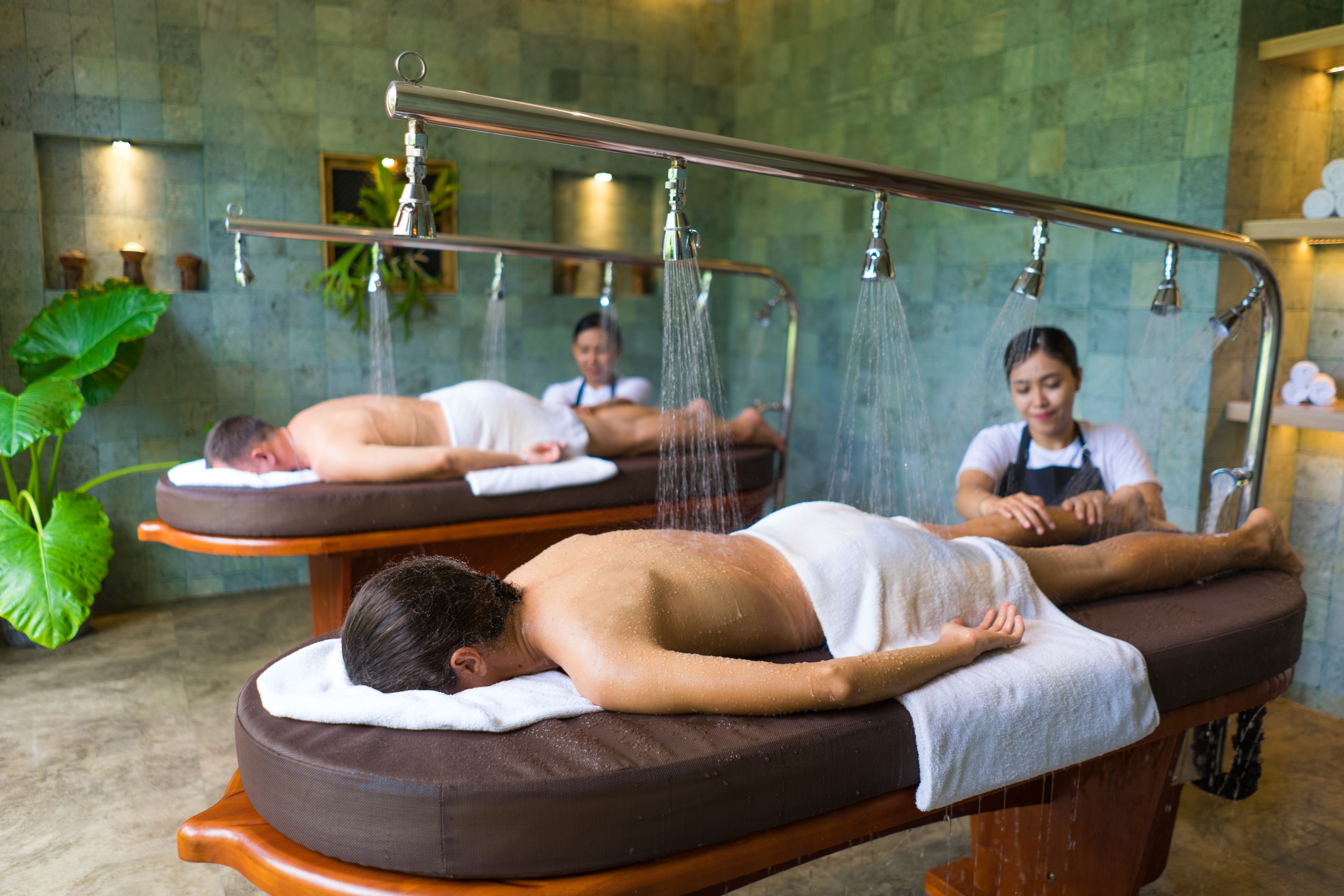 To ensure you make the most of the festivities in complete comfort, the YHI Spa offers treatments that will leave you looking and feeling more relaxed and luminous throughout the festive season, available from 1 – 31 December 2023.
Book for a 50-minute Rejuvenating Facial featuring OxygenCeuticals technology to enhance collagen production for Rp950,000/person. The Healing Sound Therapy is also a popular choice to realign your body frequencies to harmony for Rp650,000/person.
Take it up a notch with The Blissful Harmony rain forest treatment, where relaxation is guaranteed with every drop of water flowing on your back, followed by a stress-relieving massage, Asian-style scalp massage, and warm oil poured on the third eye. The rainforest treatment is priced at Rp2,600,000/couple and Rp1,350,000/person. Otherwise, have a simple session of Nail Gel to get your nails professionally done for the festive season at the spa from 2pm – 5pm, priced at Rp350,000/person.
For more information and reservation, please WhatsApp +62 811 3867 789 or email reservation.meliabali@melia.com
SHARE