15 places in Bali to celebrate the festive season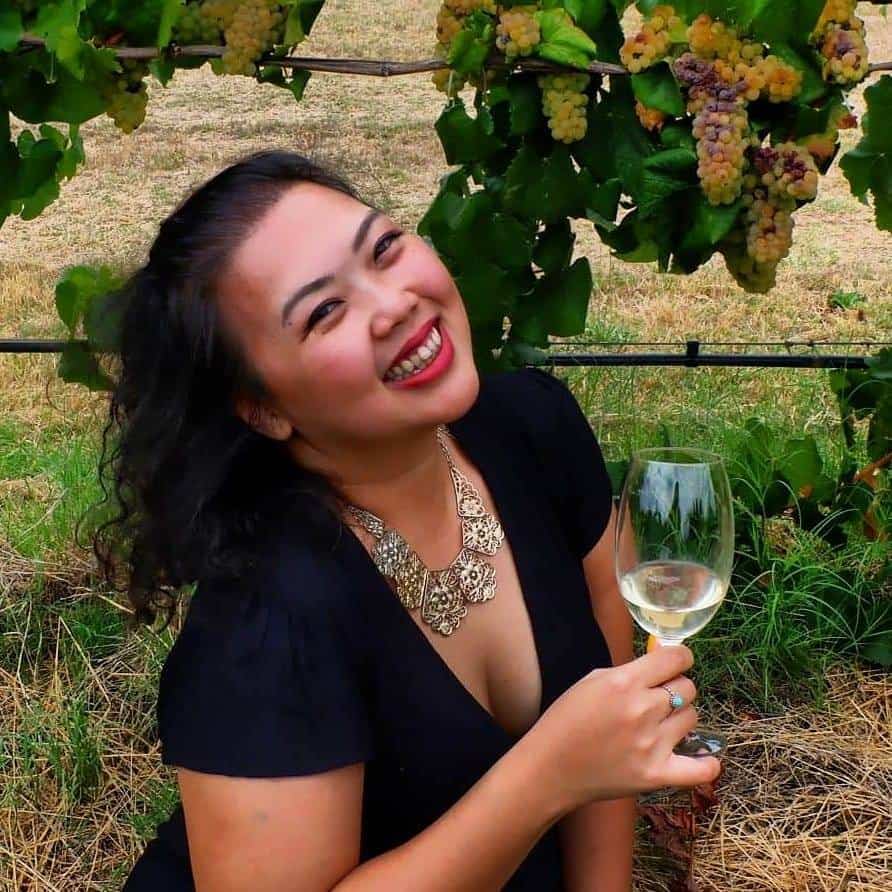 · 7 December 2018
·
Bali
Live music, fireworks display and stunning sunsets to accompany an array of gourmet treats? We definitely like the idea. Here are the hotspots in Bali where you can celebrate Christmas and New Year to the max.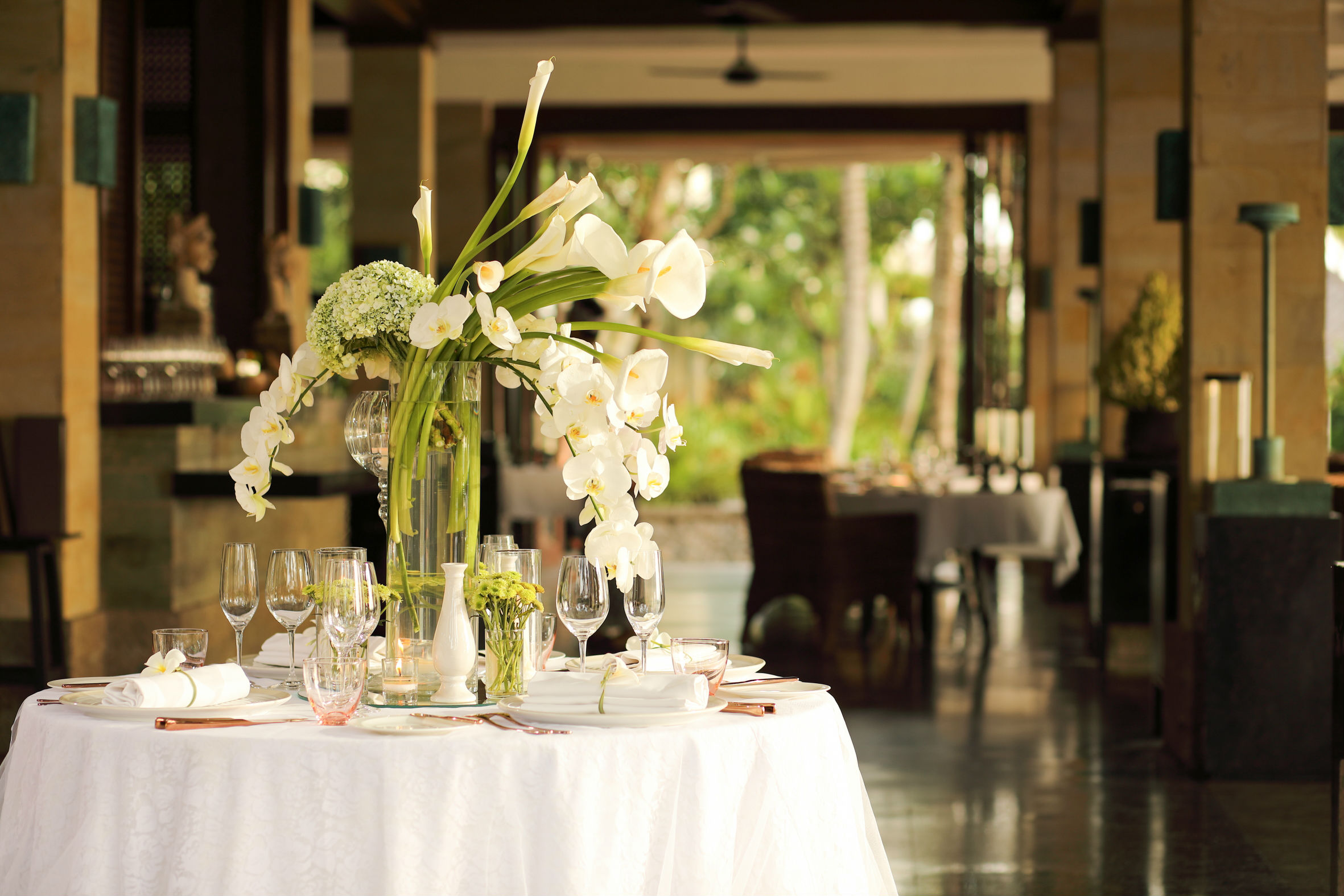 The Legian Bali
Notwithstanding the stunning beachfront view, The Restaurant at The Legian Bali offers French dishes inflected with Southeast Asian flavours. For Christmas Eve dinner, it will be preparing a six-course dinner (Rp 1,250,000 or Rp1,950,000 with wine pairing/person), guests will be entertained by an ethereal children's choir on the same evening and a live piano performance on Christmas Day. Book a table for a white-themed party featuring cocktail and canapé reception, a six-course dinner menu, live jazz band, fireworks, and a DJ performance for the countdown celebration (Rp3,888,888 or Rp4,888,888 with wine pairing/person). Follow up on on the first day of 2019 with a seafood lunch buffet featuring freshly caught fish and crustacean delights (Rp1,500,000 or Rp2,800,000 with a bottle of Champagne/couple). Jalan Kayu Aya, Seminyak, Tel: +62 361 730622
Ayodya Resort Bali
Save a VIP table or a day bed at Ayodya Beach Club and Grill to celebrate the end of the year. From December 20, 2018 – January 1, 2019, get ready to join Big Shots: Road to New Year 2019 beachside celebration. Starting from 1pm every day, you are invited to chill on the beanbags, taste different grilled and smoked dishes from 15 food stalls (price starts from Rp100,000 per portion) and let the island's talented artists and DJs entertain you. Ticket price is Rp200,000/ person/ day, including complimentary two bottles of Bali Hai Beer. Special price applies for VIP table or day bed, including a bottle of sparkling wine or vodka (from Rp1,500,000). Reservation is recommended. Jalan Pantai Mengiat, Nusa Dua. Tel: +62 361 771102
Padma Resort Ubud
Party like the golden era of the 1920s at Padma Resort Ubud. In an attempt to recapture the era's glamour, the tranquil resort on top of a river valley is hosting Serene Christmas Eve Dinner at the Puhu Restaurant and Lounge (Rp500,000/person) as well as The Charleston Christmas Lunch (Rp399,000/person) and Roaring Christmas Buffet dinner (Rp650,000/person). The little ones will have their own special 1920's Kids Party (Rp350,000/child) where they can meet Santa Claus and meet new friends at Wolly Kids Club.
Meanwhile, on New Year's Eve, head to The Puhu Restaurant and Lounge for The Last Supper New Year's Buffet dinner (Rp1,250,000/person) where you can feast on the lavish buffet spread while being entertained by a guitar and percussion performance. Alternatively, indulge on a lavish set menu at The Pool Cafe & Bar for The Prohibition New Year's Eve Dinner (Rp750,000/person) and dance the Charleston at the poolside Ultimate Golden Flapper Countdown, where live music and fireworks and a dessert buffet let you to end the year with style. Banjar Carik, Desa Puhu, Payangan, Ubud. Tel: +62 361 752111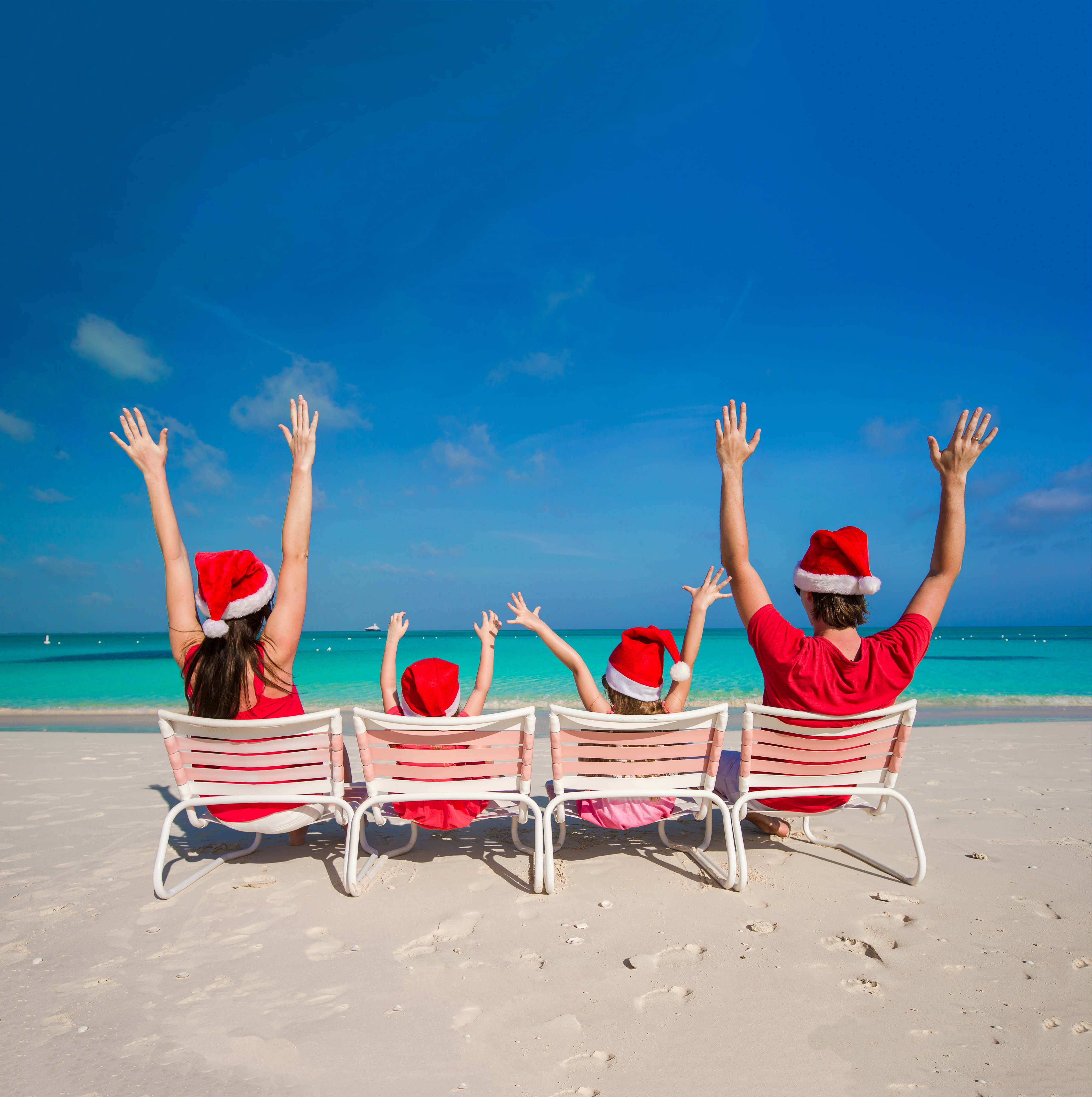 Karma Kandara
Look out for the festive 12 Days of Karma celebration which takes place from December 23 to January 3. Food, music are part of the experience. Have a taste of different gourmet and cocktail creations, enjoy international DJ performances, and activities at Three Monkey Kids Club for the little ones while their parents enjoy the grooves at Karma Beach Club Bali.
Remember to book your table early for the three-course Christmas Eve Dinner (Rp695,000/person), Christmas Day Brunch Buffet (Rp495,000/person), Christmas Day Family Style Dinner (Rp550,000/person) and check out the different daily a la carte specials. Sign up for the decadent five-course New Year's Eve feast (Rp3,575,000/person) that comes with live band and DJ performances as well as fireworks by the beach to ring in the new year. Check out the full programme at https://karmagroup.com/12daysofkarma/ Jalan Villa Kandara, Banjar Wijaya Kusuma, Ungasan. Tel: +62 361 8482202
Anantara Seminyak Bali Resort
Expect Santa Claus and his missus to make a visit when you are having a Christmas Eve dinner at S.O.S -Sunset on Seminyak. While the little ones get thrilled, parents can indulge on a four-course dinner (Rp398,765 or Rp888,000 with wine pairing/person). A choir and an acoustic band will add to the entertainment. On December 25, join the Christmas Day Brunch (Rp 456,789/person) that comes with traditional Christmas fare and activities to keep your children occupied while you take a dip in the beachfront pool. A Christmas Day buffet dinner is also available (Rp398,765/person).
How about a beachside party (Rp 1,987,654/ person) with an all-night DJ performance on New Year's Eve? Tuck into a dinner buffet and work off all that food by dancing at the beach with the sand under your feet. Alternatively, head to the rooftop of MoonLite Kitchen & Bar for Christmas Day and New Year's Eve Asian fare and choose from the a la carte menu. Enjoy an unbeatable view of the Double Six Beach and wait for the exciting fireworks display. Jalan Abimanyu (Dhyana Pura), Seminyak. Tel: +62 361 737773
Rumah Luwih Bali
The elegant beachside resort is ready to host a classic White Christmas celebration at the Andrawina Restaurant. Be it a Christmas Eve four-course dinner (Rp350,000/person) or the Christmas Day Buffet Lunch (Rp225,000/person), you will be spoiled with a mix of traditional festive fare (36 Hours Sous Vide Turkey Breast Rollade anyone?) and international dishes. Meanwhile, a lavish New Year's Eve BBQ Buffet Dinner is also available for Rp550,000/person. With a salad, live grill, satay, carving, and dessert stations, there will be a wide variety of food to keep you satiated. Jalan Prof. Dr. Ida Bagus Mantra Km 19,9, Pantai Lebih, Gianyar. Tel: +62 361 2005899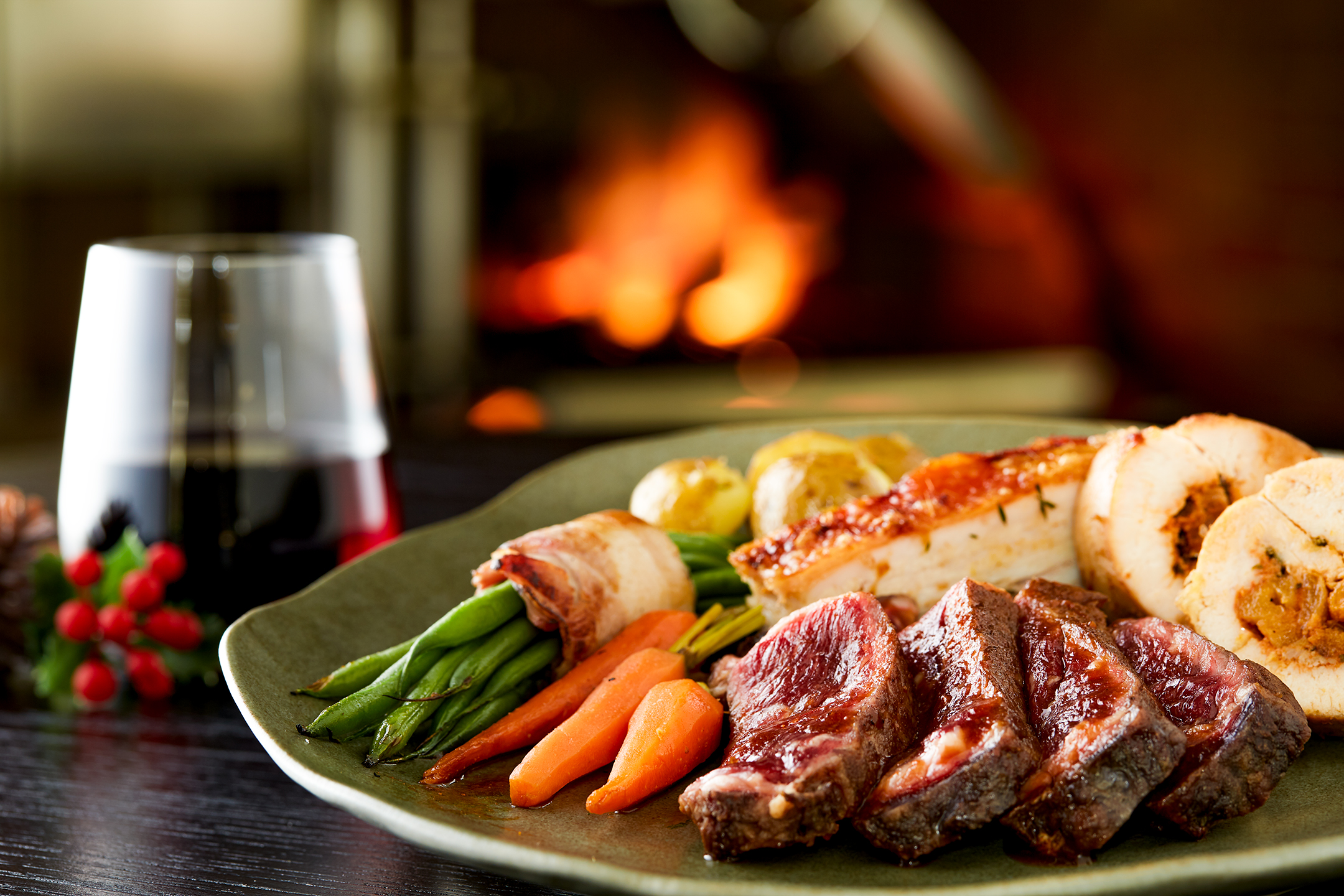 Aryaduta Bali
Meat lovers, don't miss the feast at Henry's Grill & Bar for a Christmas Dinner and Christmas Brunch set menu (Rp450,000/person). Delve into their popular dry-aged fillet steak, crispy pork belly, roasted bone marrow, and turkey roulade. On December 31, the Rooftop Pool & Bar will be the venue for a laid-back barbeque selection (Rp350,000/person). Add pool party (Rp250,000/person), a DJ performance and cocktail creations that will power your dancing feet past midnight. Jalan Kartika Plaza, Lingkungan Segara, Kuta. Tel: +62 361 4754188
Settimo Cielo
True to its name, you will be taken to seventh heaven with Christmas and New Year feasts at this contemporary Italian restaurant. For Christmas Eve dinner, indulge on six- or 10-course (Rp310,000 or Rp 490,000/ person) delicious journey to Italy through dishes like risotto with caviar, orange and nasturzio; beef steak with truffle and sautéed asparagus, as well as tiramisu for dessert. On December 25, splurge on a hearty Christmas Lunch (Rp490,000/person, wine pairing option available) featuring Porchetta and truffle and guanciale Risoni. You also don't want to miss their seven-course Venetian Masquerade Gala Dinner on December 31. For Rp690,000/ person, where you can feast like you've never been before on oyster, scallops, tagliolini, risotto, prawns, and Wagyu steak. Jalan Pangkung Sari 10 A, Seminyak. Tel: +62 361 4741117/ 4741118
The Anvaya Beach Resort Bali
The beachside Sands Restaurant will serve a five-course dinner (Rp750,000/person), including dishes such as Salmon Carpaccio and Herb-Crusted Lamb Rack on December 24 Rp750,000/person. Delight in choir and live acoustic performances as Santa Claus comes bearing gifts table to table. A five-course Christmas Day dinner set menu is also available with the same price, featuring dishes like Pan Seared Duck Breast and Mint-Manjari Chocolate.
Enjoy a special Balinese Dinner Artvaganza (Rp950,000/couple) on New Year's Eve 950,000/couple and artful performances at Kunyit Restaurant. Let the staff come round and serve you a cornucopia of rice with flavourful meat and vegetable dishes called Megibung. Watch dramatic Balinese dances, such as Kecak and Legong, then head to the beach where you are invited to join the New Year's countdown. Jalan Kartika, Tuban, Kuta. Tel: +62 361 759991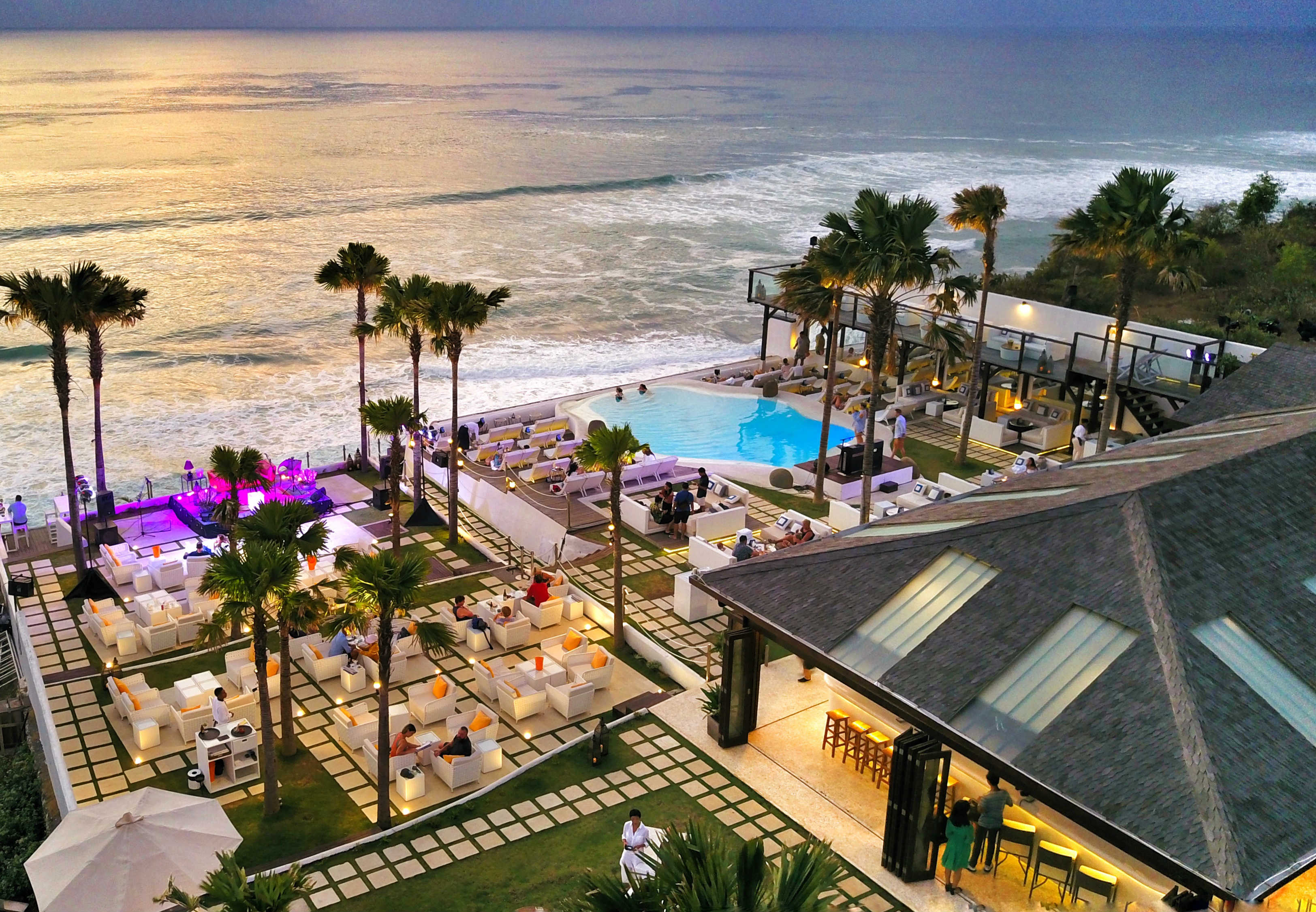 El Kabron Cliff Club
The stunning cliff-edge beach club in Pecatu offers one of the best vantage points to watch sunsets. El Kabron Cliff Club has upped their gastronomic offerings for Christmas with Specials available on December 24 & 25. Celebrate by the pool with a decadent Royale Seafood Platter (Rp1,400,000) that comes with oysters, crab, sea urchin, mussels, salmon caviar and more. Their New Year's Eve Gala dinner (Rp1,200,000/person) includes dishes like Marinated Sea Prawns with Smoked Codfish and Calvisius Siberian Caviar, and Wagyu Beef Tenderloin with Foie Gras, Wholegrain Mustard Mash and Balinese Organic Vegetables. Expect potent drinks, fireworks, DJs and tasteful live music as you say goodbye to 2018. All prices are before tax and services. Reservations by email info@elkabron.com. Pantai Cemongkak, Pecatu, Kuta Selatan. Tel: +62 821 4437 0139
Renaissance Bali Uluwatu Resort & Spa
Play like nobody's watching in Uluwatu's hottest New Year's Eve Pool Party. Come early to join a tasty New Year's Eve buffet dinner (starting from Rp850,000/ person), which includes access to the resort's stunning infinity pool and the exciting party. Add a selection of beers, wines and sparkling wines for a guaranteed fun night as the DJ spins his tunes way past midnight. Jalan Pantai Balangan I No. I Ungasan. Tel: +62 361 2003588
Desa Visesa Ubud
With three outstanding dining options to end the year, this Ubud resort can be the place for a soulful countdown celebration. Start the New Year's Eve feast (Rp1,300,000/person) with a pre-dinner cocktail at the garden of Taman Sari before heading to either Lesung Restaurant for an international fare, Lumbung Restaurant for an Indonesian buffet delight or Padi for a special set menu. End the last day of 2018 with a flute and hang drum performance at the elegant setting of Lumbung Restaurant. Jalan Suweta, Banjar Bentuyung Sakti, Ubud. Tel: +62 361 2091788

AYANA Resort and Spa, BALI and RIMBA Jimbaran BALI by AYANA
With 19 signature restaurants at both properties, making a choice on where to dine during the festive season is not an easy task. On Christmas Eve, among the few, you can opt for the buffet dinner (Rp550,000/person) at Padi Restaurant at AYANA, sophisticated set dinner menu (Rp850,000/person) at DAVA Steak & Seafood at AYANA or enjoy an Mexican set menu (Rp750,000/person) fiesta at RIMBA's UNIQUE Rooftop Bar & Restaurant. Couples and families alike will find the vast resorts suitable for either an intimate time for two or an invigorating time of merry making.
Couples can celebrate the New Year's Eve by having a Champagne Pesta Lobster (Rp10,000,000/couple incl. a bottle of Veuve Clicquot Ponsardin Champagne and two glasses of sparkling wine at AYANA's countdown parties) at the oceanfront Kisik Pier at AYANA. Bigger groups will find the New Year's Eve Buffet (Rp1,300,000/person) at To'ge at Rimba more suitable, especially when it comes with a bonus of a Latin party at UNIQUE. Karang Mas Estate, Jalan Karang Mas Sejahtera Jimbaran. Tel: +62 361 702222
Wapa di Ume Ubud
Celebrate Christmas Eve and New Year's Eve at Wapa di Ume Ubud to experience the soulful side of Bali. Held at the Di Ume Amphitheatre, the al fresco Christmas Eve dinner (Rp572,000/person) brings you a night of Balinese dance, music and a scrumptious set menu with dishes like Roasted Turkey and Pandan Caramel. Kick-start December 31 evening with a welcome cocktail and canapé as traditional Barong and Legong dance performances entertain you at the resort's amphitheatre. Order a plate of seafood or meat from various live cooking stalls and make a toast with sparkling wine. The New Year's Eve celebration is priced at Rp643,500/person. Jalan Suweta, Banjar Bentuyung, Ubud. Tel: +62 361 973178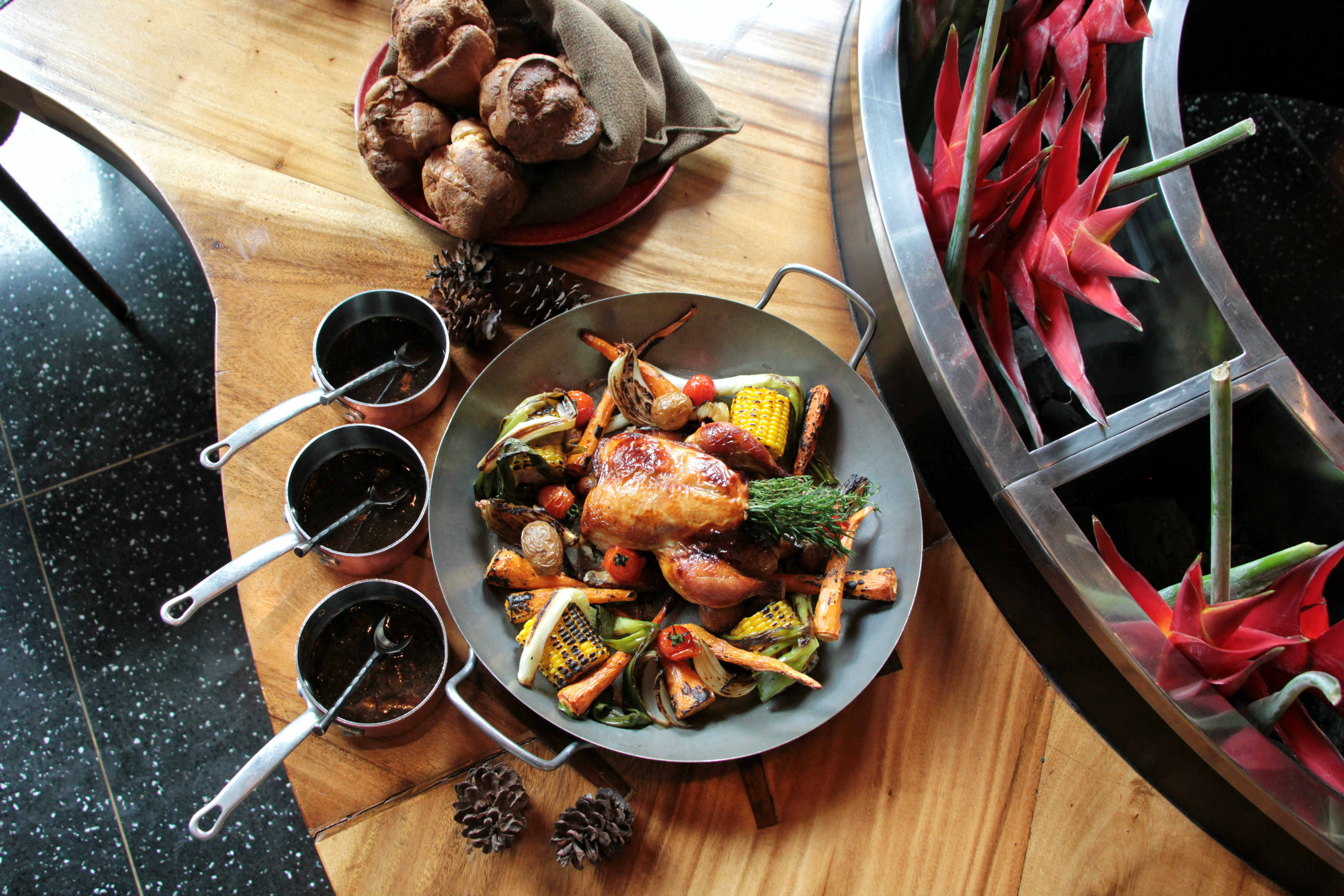 W Bali – Seminyak
Nosh to your heart's content on Christmas Eve at FIRE Restaurant or head to Starfish Bloo for a Pan-Asian and seafood dishes (from Rp800,000/person). Alternatively, opt to celebrate Christmas on December 25 with brunche at both family-friendly venues (starts from Rp1,200,000/person). The little ones will enjoy the appearance of Santa Claus and myriad activities.
Both restaurants will organise a delectable New Year's Eve buffet spread (starts from Rp2,600,000/person), while the W Lounge or Woobar hosts a glittering party with special guest DJs and spectacular firework show. Presale tickets are available at Rp1,000,000/person. Welcome the first day of 2019 with Jimbaran style seafood BBQ at Starfish Bloo (starts from Rp700,000/person) with a Retox and Repeat party by the pool side. Jalan Petitenget, Kerobokan, Seminyak. Tel: +62 361 300016
SHARE