Best roast pork belly in Singapore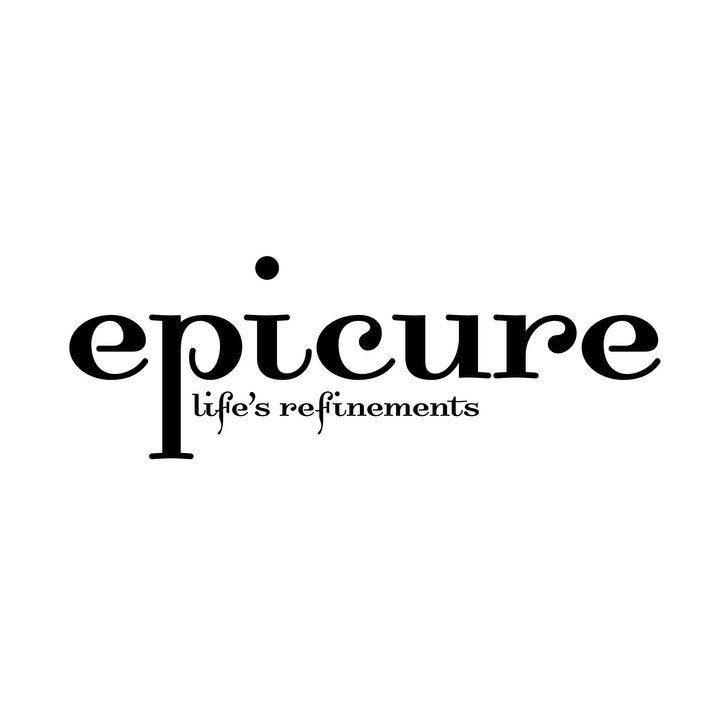 · 3 April 2022
·
Food
We singled out 10 spots for siew yoke that are worth your calories.
This issue, we check out the holy grail of Cantonese roast meats, siew yoke, or roasted pork belly. This dish is a favourite among many locals, with countless roast meat stalls offering crispy, roasted pork rice all across Singapore. Pork fat has recently made the news as an unlikely health food, ranking eighth in a list of nutritious foods (though you might want to take the finding with a pinch of salt). The cut used to make this indulgent dish is known as san cheng rou (three-layered meat), streaky pork with layers of fat and lean meat. Although somewhat similar to the German roast pork knuckle, the Cantonese-style pork's crackling is more brittle. This is because the skin's entire surface is pricked with countless holes and dried out before roasting, making it light and crispy.
Modern cooking methods include roasting the meat with a salt-crusted skin, which draws out moisture and keeps the skin dry and crisp. A light brushing of vinegar before roasting also helps to dehydrate the skin. For the ultimate crust, the skin is roasted under high heat till it blisters and chars; a serrated knife is then used to scrape off blackened bits to reveal a light, crunchy crackling. Siew yoke is usually served with a sharp mustard sauce to help cut through the richness of the meat. When prepared by hawkers, they are usually served as roast pork rice topped with spicy chilli sauce. This time, we went to town in search of that distinctively glorious melt-in-your-mouth fatty texture, capped by a salted and golden brown coat with a characteristic crunch.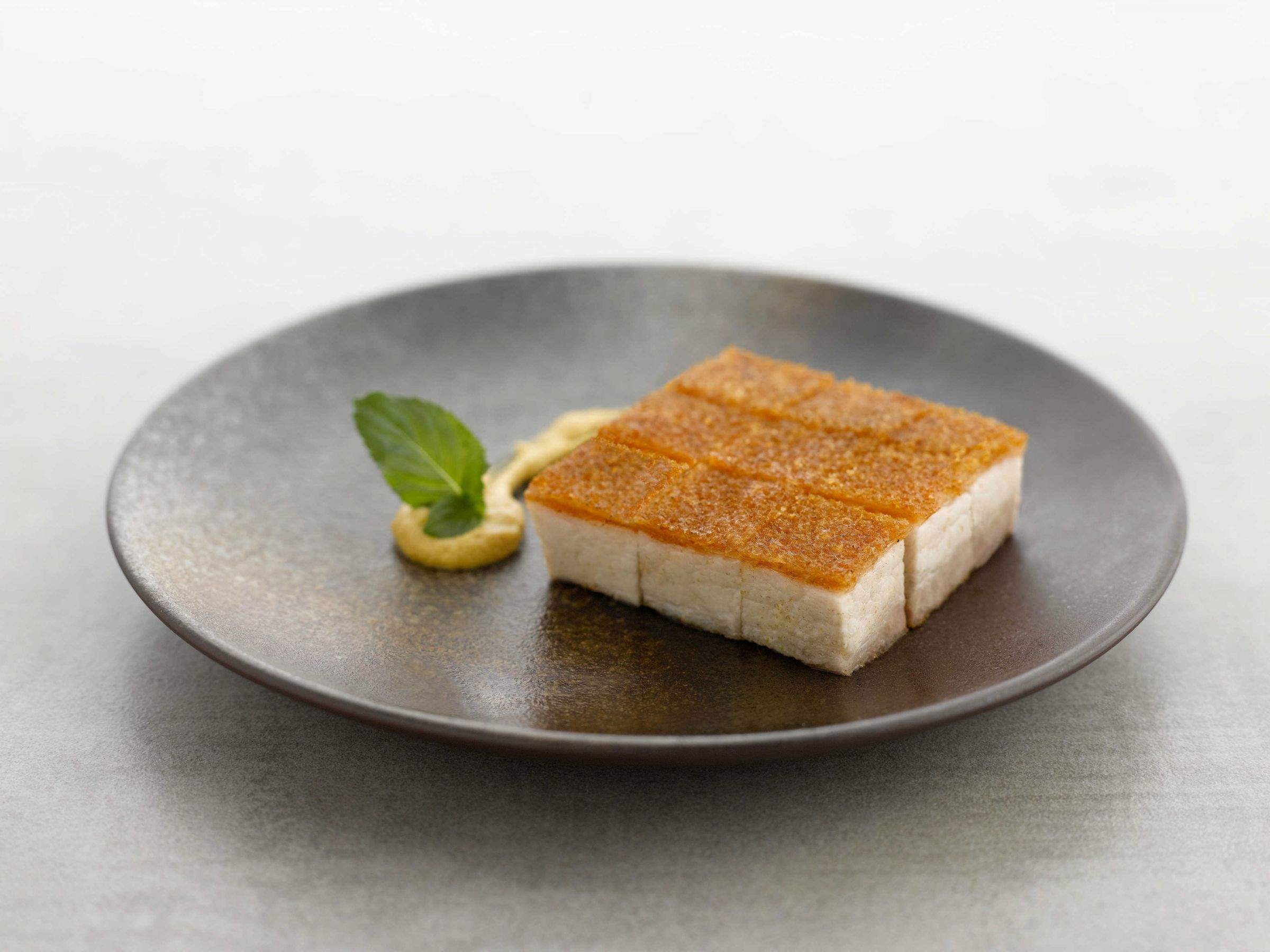 TungLok Signatures
You won't go wrong with TungLok Signatures' rendition of the classic roast pork. Beneath the thin, crisp crackling is a jellied layer and perfectly seasoned and tender meat. A smidge of grainy mustard gives an earthiness to the pork. Order a bowl of steaming white rice and you're all set for a comforting meal. #02-88 Central, Clarke Quay, 6 Eu Tong Sen Street. Tel: 6336 6022
Book a table at TungLok Signatures with Chope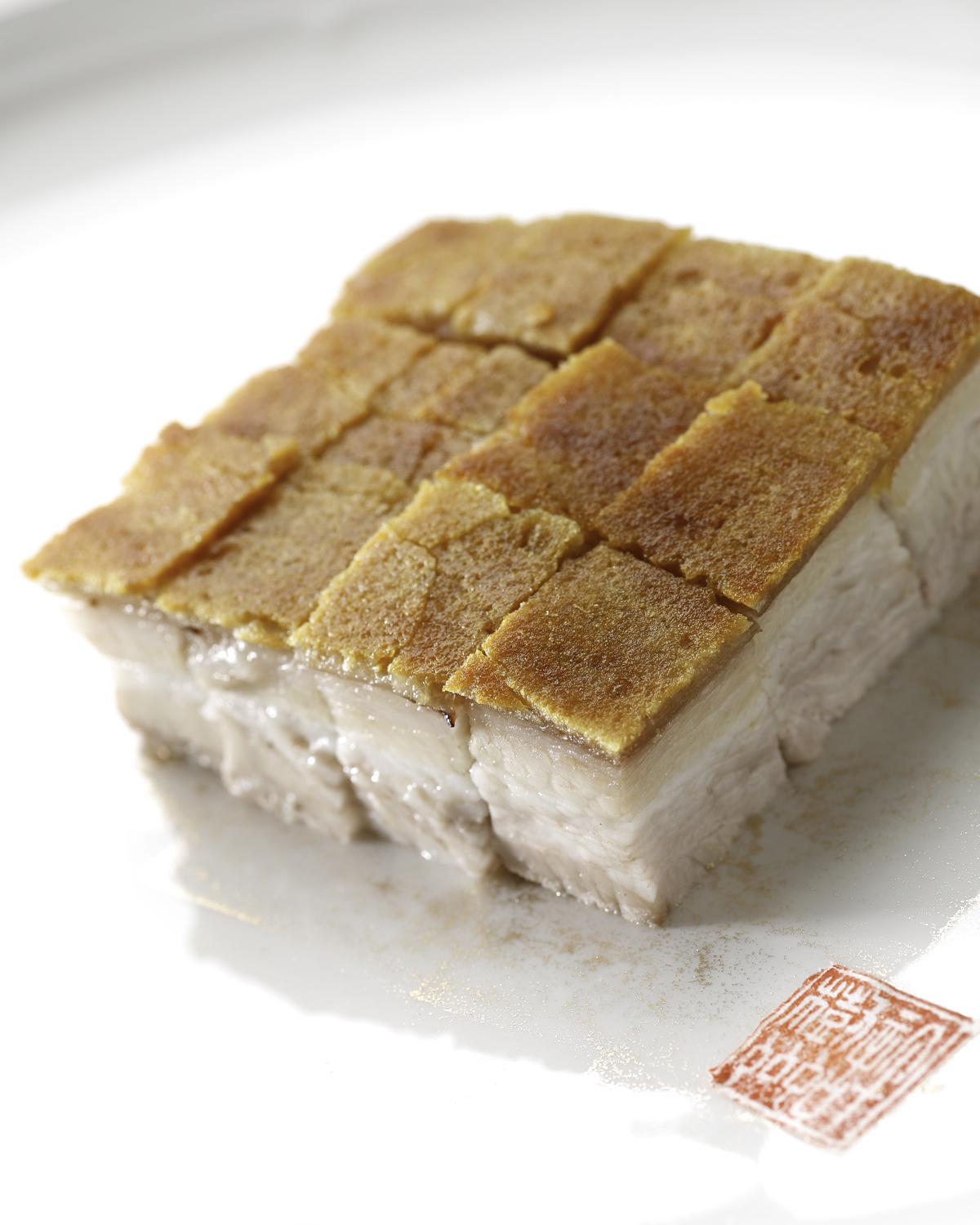 Xin Cuisine
We love the Crispy Roast Pork at Xin Cuisine, which is accompanied by a sharp mustard sauce. Tiny holes punctuate the skin of the pork belly and a slit against the grain of the bottom skin layer ensure that the spice rub evenly fuses through the pork and prevents it from curling up when roasted. After overnight curing, the meat is oven-roasted for two hours before it's finished in the grill. A quick brush of rice vinegar, oil and salt on the skin results in a golden rind and crispy crackling on the outside while ensuring that the meat is moist and juicy inside. Holiday Inn Singapore Atrium, 317 Outram Road. Tel: 6731 7173
Book a table at Xin Cuisine with Chope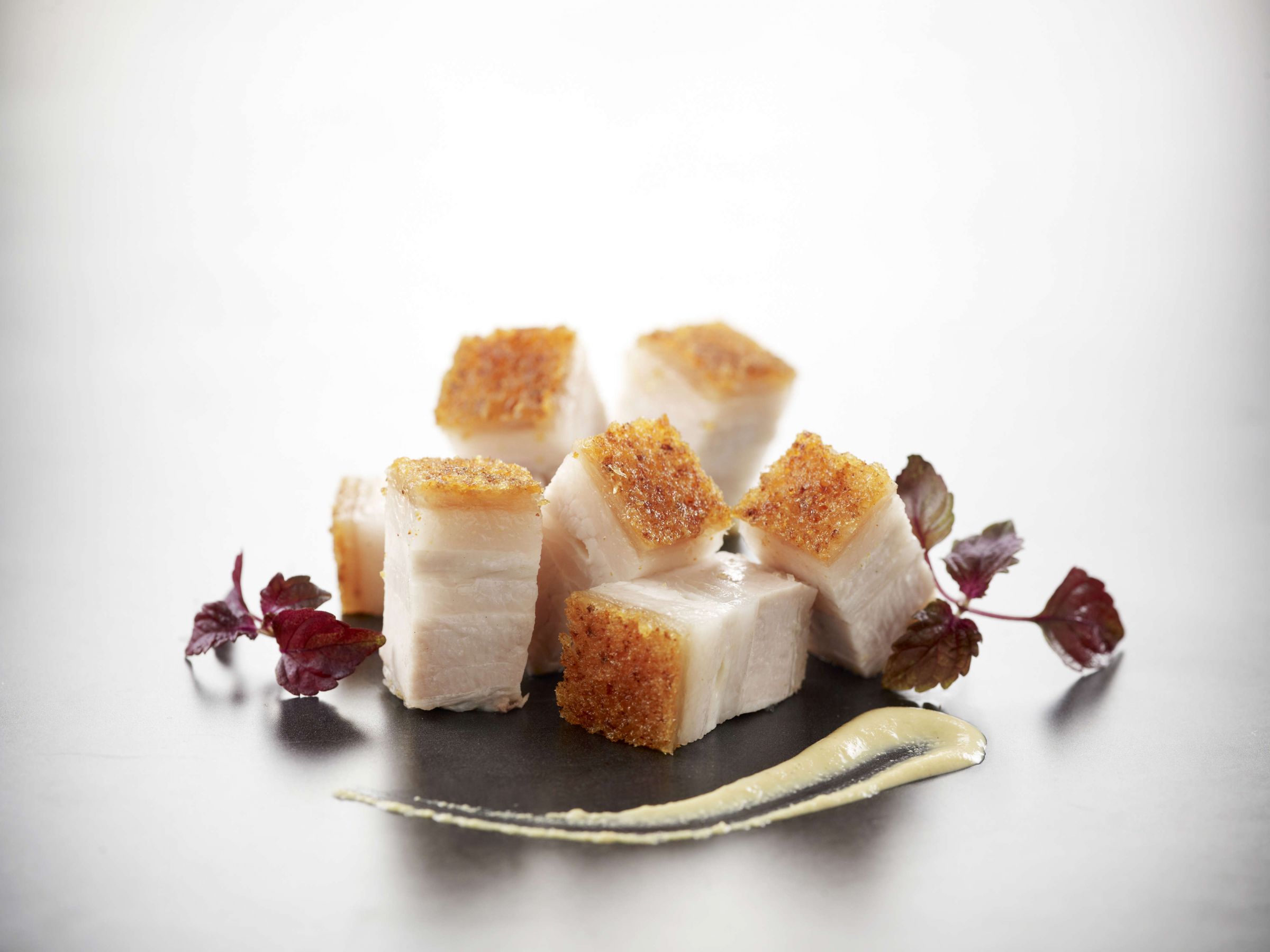 Song Garden Chinese Restaurant
The sumptuous five-layered pork belly at Song Garden offers just the right amount of palatable richness to reach for a second helping. The pork is first marinated in a secret homemade recipe, poached, and air-dried for at least eight hours, to render better taste and texture. The skin is brushed with vinegar before it's oven roasted to achieve a satisfying crunchy crackling. Finally, the siew yoke is carefully trimmed to get that well-balanced bite of lean and fat meat. Mercure Singapore Bugis, 122 Middle Road. Tel: 6521 9299
Hai Tien Lo
There's no denying the appeal of executive chef Lai Tong Ping's Crispy Barbecued Pork Belly. He prepares the dish in a classic Cantonese style – the meat is tenderised then rubbed with an aromatic five-spice powder and salt. What gives it its thin, crumbly and flavourful crust, however, is the removal of the top layer of skin before it's barbecued. The pork belly comes with a side of the restaurant's homemade chilli bean paste sauce to cut through the grease, all while accentuating the sweet, juicy meat. Level 3, Pan Pacific Singapore, Marina Square, 7 Raffles Boulevard. Tel: 6826 8240
Book a table at Hai Tien Lo with Chope
Golden Peony
Immersed in a blend of five-spice powder, chicken seasoning, ginger, cinnamon and white pepper for three hours, executive Chinese chef Ku Keung's Crispy Pork Belly leaves a delectably sweet aftertaste. The flavour is interwoven with layers of lard, meat and an addictively crisp crust, the latter due in part to a white vinegar marinade. Add a dab of mustard and enjoy it to the fullest. Level 3, Conrad Centennial Singapore, 2 Temasek Boulevard. Tel: 6432 7482
Book a table at Golden Peony with Chope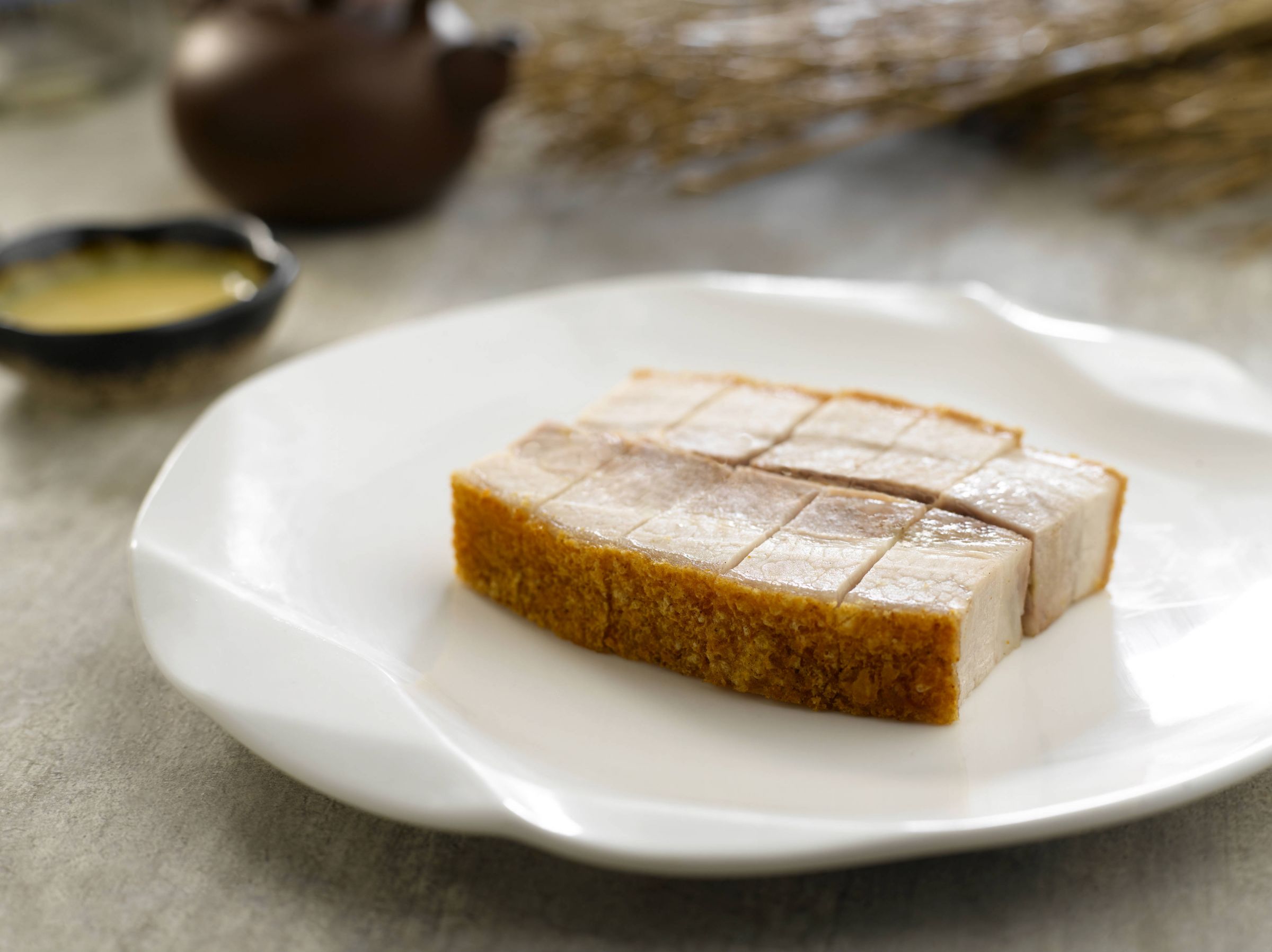 Crystal Jade Kitchen
We can't find fault with Crystal Jade Kitchen's Crispy Roasted Pork Belly. Using Australian pork, it's marinated for 24 hours in a fragrant blend of five-spice, galangal and fermented bean curd, giving each bite a distinctive burst of umami. #02-32 Plaza Singapura, 68 Orchard Road. Tel: 6336 2833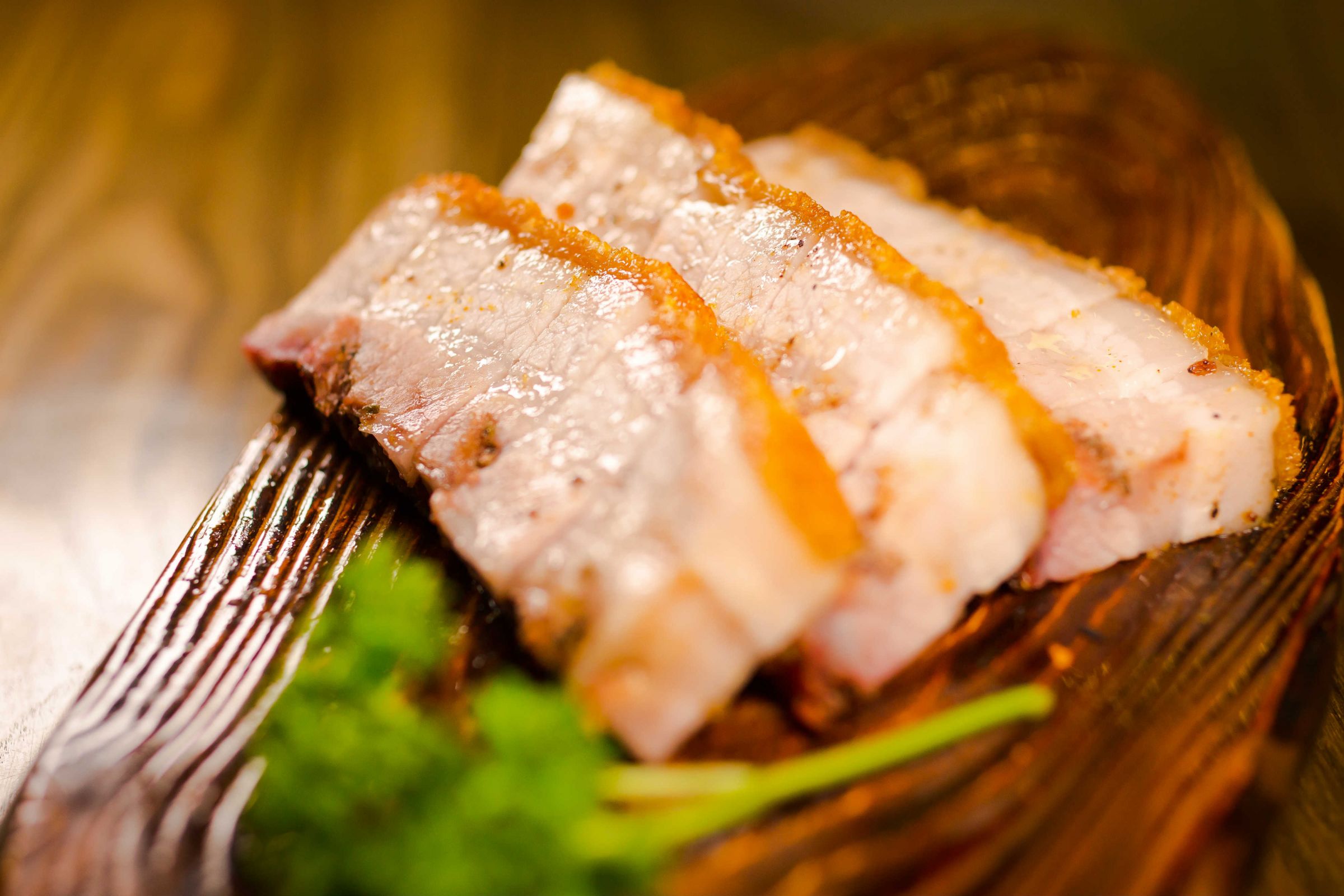 Char
Brothers Anthony and Alvin Ung, who are behind Char, depart from the traditional way of making the roast meat. Instead of five-spice powder, Char uses a marinade of western herbs such as oregano and thyme to slather on the meat. After marinating in the chiller for a day, the skin is then covered in salt, given a massage and left for another day in the chiller before a tedious roasting process during which holes are repeatedly poked into the skin. The result is crackling that snaps with a satisfying crunch and a rich and moreish meat. 363 Jalan Besar. Tel: 6842 7759
Shang Palace
Executive chef Mok Kit Keung excels in modern innovative Chinese creations as well as the classics. Case in point: the traditional execution of Roasted Crispy Pork Belly at Shang Palace results in a superbly crisp skin that shatters with each bite. Kudos to the alternating tiers of gelatinous, unctuous fat and succulent meat. Shangri-La Hotel, Singapore, 22 Orange Grove Road. Tel: 6213 4473
Book a table at Shang Palace with Chope
Li Bai Cantonese Restaurant
A crowd-pleaser at this Cantonese restaurant is executive Chinese chef Chung Yiu Ming's roast pork, which appeals with its textbook-perfect crackling. Although slightly thicker than usual, we love how the shatteringly crisp yet not overly greasy skin gives way to a juicy well-flavoured meat. The reason: the pork is marinated in their in-house sauce for 48 hours before it's oven-roasted to perfection. Lobby Level, Sheraton Towers Singapore, 39 Scotts Road. Tel: 6839 5623
Wah Lok Cantonese Restaurant
Many customers visit Wah Lok for their popular Baked Barbecue Pork Buns, but their siew yoke is less talked-about. A pity really, as it's an equally winning dish. The pork belly boasts a crispy bite with a layer of sinful but oh-so-good fat. Coupled with their lip-smacking XO sauce, it elevates the whole taste experience from good to great. Level 2, Carlton Hotel Singapore, 76 Bras Basah Road. Tel: 6311 8188
SHARE