Best Mac & Cheeses in Singapore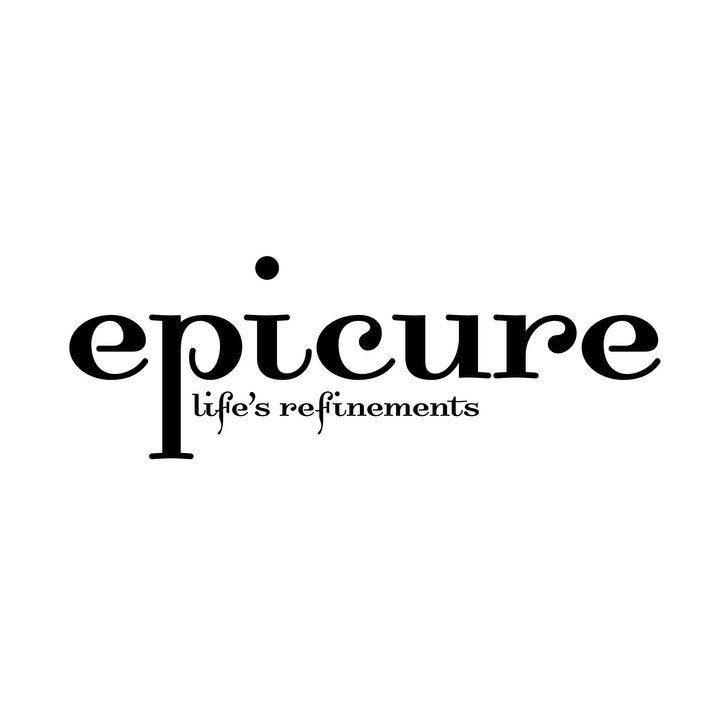 · 3 September 2016
·
Food
Mac & cheese is the ultimate all-American comfort food. The humble dish of macaroni pasta engulfed in a thick cheese sauce has undergone various incarnations – layered with ground beef, lobster, drizzled with truffle oil or garnished with caviar. The first recorded recipe appeared in a cookbook in 1824, where the three main ingredients were cheese, macaroni and butter, all to be layered together and baked in an oven. This popular dish is so loved that it even earned a holiday in its honour; 14 July is known as National Macaroni and Cheese Day.
LITTLE DINER
The Version 2.0 Baked Mac & Cheese Royale is baked until the top is golden brown andthe edges, bubbly and cheesy. Truffle oil is generously drizzled over, giving the dish an intense earthy flavour that shines through the rich Parmesan and mozzarella cheese. Black pepper cuts through the creamy dish, giving it an extra kick. Instead of bacon bits, Shimeji mushrooms are added, making the dish lighter and less salty. 789 Bukit Timah Road. Tel: 6466 4088. Book a table at Little Diner with Chope.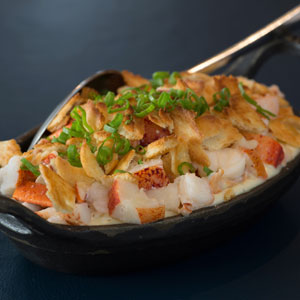 LUKE'S
The Lobster Mac & Cheese exudes a creamier taste by mixing Parmesan and cream cheese together. The elbow macaroni is al dente and the lobster meat is succulent and fresh. What amps up this dish is how the chef adds Ritz crackers on the top then gratinates the cheese until it is browned, contrasting against the softer and lighter mouthfeel from the pasta. 22 Gemmill Lane. Tel: 6221 4468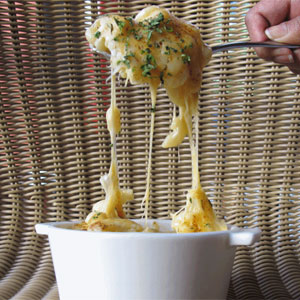 THE DISGRUNTLED CHEF
[CLOSED]
If The Disgruntled Brasserie at Dempsey's truffled macaroni and cheese is too much of a good thing, opt for their broccoli studded version at The Club outlet instead. There's plenty of richness from the four cheese mix – Gruyère, aged Cheddar, Parmesan and Comté – as well as a velvety creaminess from the cooked roux. Break through the crunchy carapace of breadcrumbs to reach smaller than usual macaroni shells, which translates to a better sauce to pasta ratio. 28 Ann Siang Road. Tel: 6808 2184.
MEAT SMITH
The macaroni in Meat Smith's Bacon Mac & Cheese is soft to the bite and has a rather smooth texture. Crunchy bacon bits complement the tubed pasta and thick and gooey cheese without being too overpowering. At press time, the restaurant has since changed this dish on their menu to Mac & Pimento Cheese, but judging from the quality of their bacon version, the alternative looks promising. 167/169 Telok Ayer Street. Tel: 6221 2262. Book a table at Meat Smith with Chope.
OVEREASY
Their Good Ol' Fashioned Mac & Cheese proves that there's nothing wrong with sticking to a satisfying classic – just pasta and Mornay sauce topped with Parmesan cheese and scallions. The smooth, creamy and mild-tasting sauce, along with tender pieces of macaroni make it easy to scarf down an entire large portion without feeling overwhelmed. #01-06 One Fullerton, 1 Fullerton Road. Tel: 6423 0701. Book a table at OverEasy with Chope.
LATTERIA MOZZARELLA BAR
This indulgent mac and cheese features mini fusilli and three different kinds of cheese – fresh buffalo mozzarella, smoked mozzarella and Parmesan. The sweetness from the pumpkin shell it's gratinated in balances the pungent, savoury cheese. There is also a hint of nutty aroma, due to the addition of nutmeg. 40 Duxton Hill. Tel: 6866 1988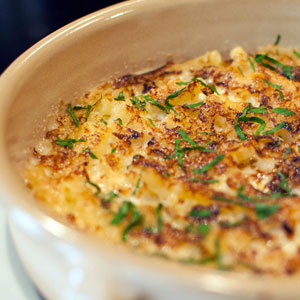 BEDROCK BAR & GRILL
This grill restaurant has gotten the formula of an ultra oozy mac & cheese down pat. Their popular Bedrock Mac n' Cheese goes all out with Parmesan and crumbly Gorgonzola mixed with a thinner variety of macaroni, which is a better cradle for the cheeses. And instead of sprinkling breadcrumbs to produce a crust, which tends to soak up too much liquid, Bedrock uses Parmesan for that additional toasted cheese flavour. #01-05 Pan Pacific Serviced Suites Orchard, 96 Somerset Road. Tel: 6238 0054
THE WHITE RABBIT
There's no shortage of truffle flavoured dishes here. Case in point: truffle en croute, roasted black truffle free range chicken, truffle fries, truffle mashed potatoes and truffle mac & cheese. The prized tubers are best savoured with the baked pasta, thanks in part to the way they enhance the earthiness of the forest mushrooms nestled within the gooey cheese. A blanket of baked, crunchy breadcrumbs completes the texturally interesting dish. 39C Harding Road. Tel: 6473 9965. Book a table at The White Rabbit with Chope.
RUTH'S CHRIS STEAK HOUSE
This international steakhouse has tweaked its macaroni and cheese for Asian palates. Instead of the popular Velveeta lobster signature served in America, this version employs a blend of Cheddar for creaminess, blue cheese for sharpness, Parmesan for a salty tinge and Pecorino for aroma. Shell pasta with deep crevices cradle this rich, savoury blend. Level 4 Marina Mandarin Hotel. Tel: 6336 9093. Book a table at Ruth's Chris Steak House with Chope.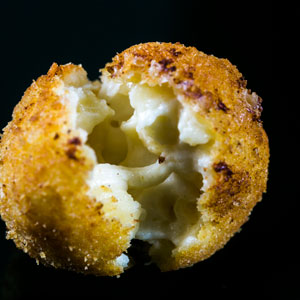 28 HONGKONG STREET
Instead of a traditional casserole-baked dish, the spiffy bar ups the ante with their scrumptiously satisfying Truffle Mac & Cheese Balls. The orbs of macaroni, béchamel and three cheeses (the varieties used are a closely guarded secret) are covered in panko crumbs and deep-fried till golden brown, releasing fragrant whiffs of truffle oil with every bite. 28 Hongkong Street. Tel: 6533 2001
SHARE