Best fish & chips in Singapore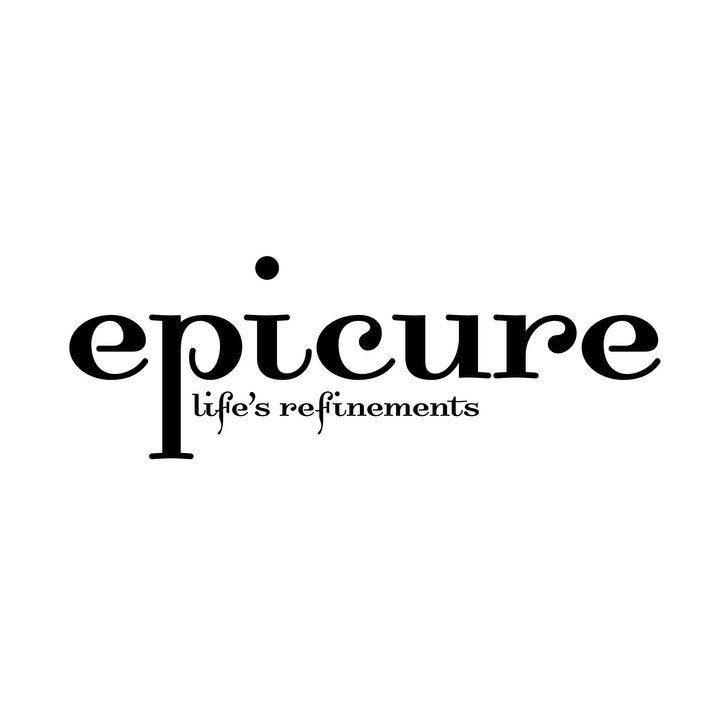 · 28 June 2011
·
Food
The bar nosh staple of the Brits is tricky to get right, requiring a flavourful yet crisp batter, well-cooked fish and thick-cut chips, all without being too greasy. Here's the pick of the lot.
BOOMARANG BISTRO & BAR
In a joint more known for its hearty Aussie-style brekkies and macho steaks, the Fish and Chips is the silent star. Its beer batter is fried to an enticing golden crisp, but what steals the show is the fish—the Aussie favourite catch of barramundi. It is a delight to savour: it's clean, flaky flesh bears a subtle, creamy taste. Go easy on the mayo; just a few dashes of vinegar are all you need to perk up the delicate flavours of the fish. 60 Robertson Quay, #01-15 The Quayside. Tel: 6738 1077
DISTRICT 10 BISTRO
Their signature Beer Battered Fish & Chips is reminiscent of what you'll find at English gastropubs—the Hoegaarden batter includes rice flour for added crunch, while the slivers of snowy dory flesh are deliciously moist. Though their side of garden mint mushy peas are a little on the dry side, the overall dish is still mighty pleasing. For a break from the norm, the Gourmet Beer Battered Fish & Chips features the freshest catch of the day, such as orange roughy, barramundi or cod. #01-514/515 Suntec City Mall, 3 Temasek Boulevard. Tel: 6822 2886. Book a table at District 10 Bistro with Chope.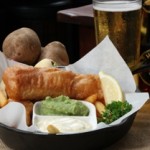 DURTY NELLY'S
[CLOSED]
We were half expecting this Irish joint to serve its chippies in a basket lined with faux newspaper, so we were rather surprised when the staff brought it to us in a pan. The batter of Nelly's Irish Styled Fish 'n' Chips is such a piquant, crunchy carapace that we would gladly mop up an extra side of batter bits to go with our beers. The dory fillets stand out for their bright, white flesh and tender profile, while the toothsome thick fries, when smeared with green pea mash, are an irresistible snack. This is one fish and chips you can chomp on every week. 6 Raffles Boulevard, #01-01/02/03 Marina Square. Tel: 6338 8023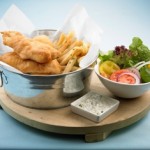 FREMANTLE SEAFOOD MARKET
Variety is Fremantle Seafood Market's biggest selling point. Not only can you pick from six different types of fish―Atlantic Cod and King Salmon to St. Pierre John Dory and New Zealand Wild Snapper―you can also decide if you want them cooked in a light, airy batter or coated with crunchy panko crumbs. There are no additional choices for the accompanying chips and homemade tartare sauce, but with perfectly fried thick-cut fries and piquant pickles swirled in thick mayonnaise, that is hardly a bad thing. 3E River Valley Road, #01-05 Clarke Quay. Tel: 6337 1838. Book a table at Fremantle Seafood Market with Chope.
GREENWOOD FISH BISTRO
Be careful not to burn your tongue when you try the Hervey Bay Whiting Fish & Chips which is served steaming hot. It possesses an undeniably crisp batter which encases lightly sweet, delicate flesh that flakes off easily. The fish is not salted, as chef Alan Lee believes that its natural salts and the savoury batter should be enough to impart a balanced flavour. No. 34 & 38 Greenwood Avenue. Tel: 6467 4950. Book a table at Greenwood Fish Bistro with Chope.
HOSTED ON THE PATIO
[CLOSED]
The fish and chips—two generous fillets perched on a heap of seasoned fries—is already one of the hottest lunch movers at this eight-month-old joint. Belly loin of snapper is the secret to the crispy, beer-battered dish. Former executive chef of Michelangelo's Group, Dennis Sim, flash fries the fatty cut so it retains a succulent texture, which flakes at the gentlest nip of a fork. 991B Alexandra Road #01-10. Tel: 6276 7337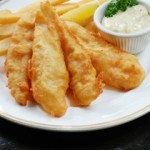 MOLLY MALONE'S
Since 1995, this Irish stalwart in the local pub scene has been the go-to place for good chippies, and its reputation has not faltered. The fillets of dory are soft and moist, and their crisp, aromatic beer batter holds rather well when slathered with the rich homemade tartare sauce. We love the plump fries, which are almost like potato wedges. 56 Circular Road, Tel: 6536 2029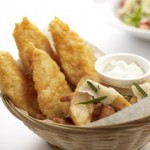 ORIOLE CAFE AND BAR
The beef cheek tagliatelle has always been our most favourite dish to order at this coffee-centric café, but the fish & chips is shaping up to be a close second. We are talking about four fairly luscious, 12cm-long fish fillets, and thick potato wedges served in a nondescript bread basket. The batter is crispy with only a smidgen of oil, the fish is all flaky-fresh goodness, and the tartar sauce faintly sweet without being cloying. Just dive right in. 96 Somerset Road, Tel: 6238 8348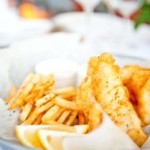 [PRE.LUDE]
This rooftop bar serves a mean fish and chips, starring not one, but three types of fish—seabass, cod and Saint Pierre John Dory from New Zealand. Chef Jonathan Koh replaces the traditional tartar sauce with a saffron aioli, a light dip that complements the different textures of the three fishes. Served with garlic fries, a mildly tart companion to the savoury dish, [Pre.lude]'s rendition earns props for its creativity. Rooftop, The Waterboat House, 3 Fullerton Road. Tel: 6538 9038
PS.CAFE @ HARDING
What makes a good fish and chips? It's the light crispy batter, fresh fish that flakes apart to release puffs of steam into the air, hot hand-cut fries and let's not forget the dipping sauces. The Fish & Chips at PS Café (Harding Road) scored highly in all categories and even exceeded our expectations. The threadfin fillet is coated with beer batter and served with veggie sticks and two dipping sauces—a homemade tartare and a saucy kaffir lime alio to add an extra kick to the traditional British fare. 28B Harding Road. Tel: 9070 8782
SHARE