There's truth in truffles
· 8 July 2020
·
Food
PS.Cafe's path to social responsibility continues with Italian-based truffles producer Geofoods.
Remember PS.Cafe's famous truffle fries some 20 years ago? Now diners are able to re-create their favourite bites with the cafe's in-house brand of truffle oil, the PS.Cafe's Tartufo Bianco, which showcases the prized white truffle of Alba. Made with a base of extra virgin olive oil, white truffle pieces and truffle aroma, this is a premium truffle oil made with the finest produce.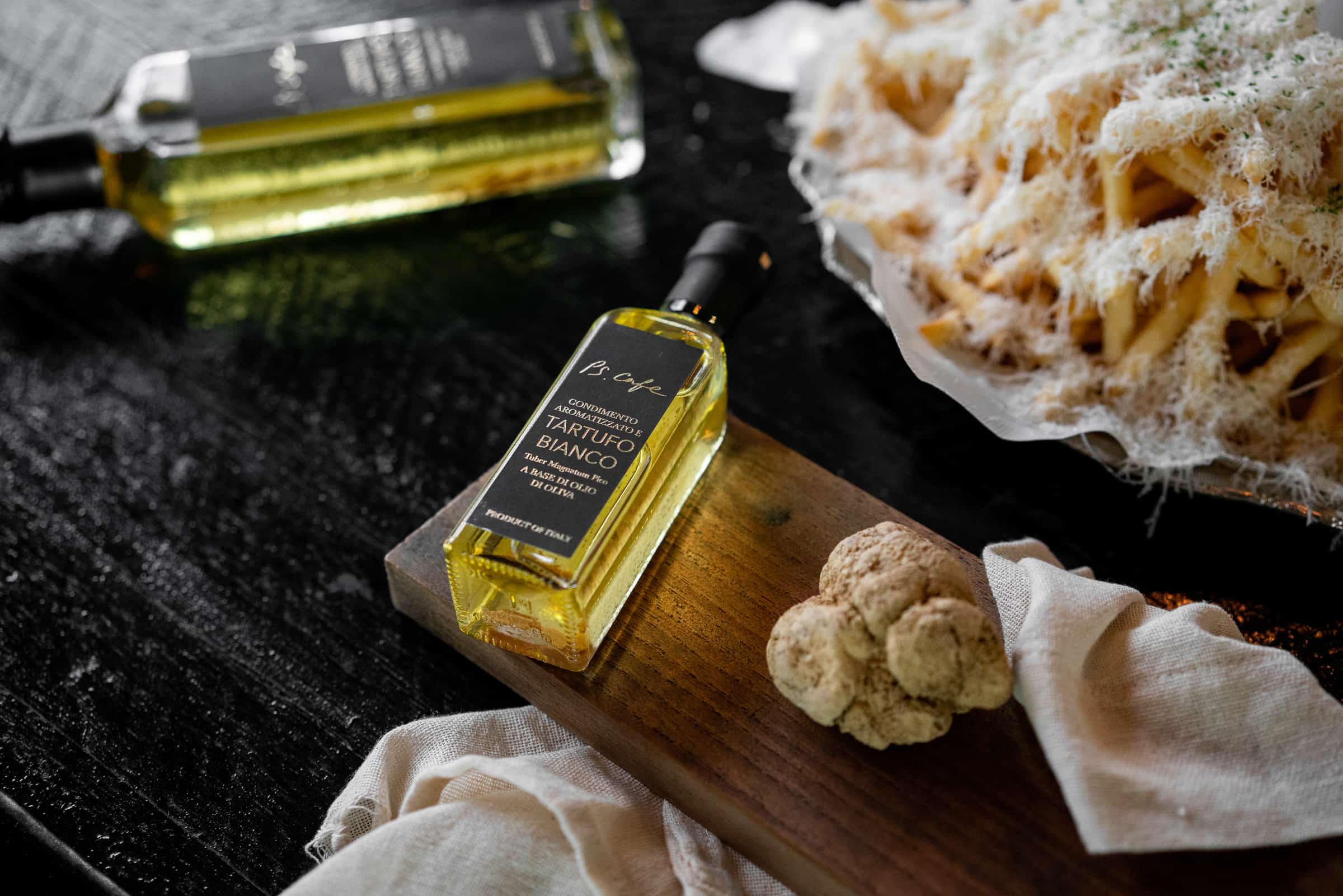 PS.Cafe has partnered Geofoods, a specialised producer based in Umbria, the region known for a variety of white and black truffles. "We collaborated with Geofoods because they are a socially responsible producer with extensive knowledge and respect for truffles. They understand the various soils, characteristics and environments, allowing them to select the finest truffles. The truffles are then processed quickly using natural methods without adding any preservatives or colourings," says Edward Lee, Business Director of PS.Gourmet Pte Ltd.
Geofoods' close network of truffle hunters in Umbria serves them well in understanding and respecting the terroir from which they harvest, a mindset that PS.Cafe is committed to upholding. "It does take time and continuous effort but our commitment to sustainability goes beyond just our producers. It shapes our business decisions from choosing who we work with to how we operate on a daily basis," says Lee.
With this firm conviction, PS.Cafe will continue to navigate the uncertain future by staying true to its cause. Lee added that while the past few months have been a permanent disruptor, it is important to learn and to continue to adapt, with safety and welfare for its team and guests as the top priority.
For a taste of PS.At Home, whip up comfort dishes with PS.Cafe's Tartufo Bianco, starting with the: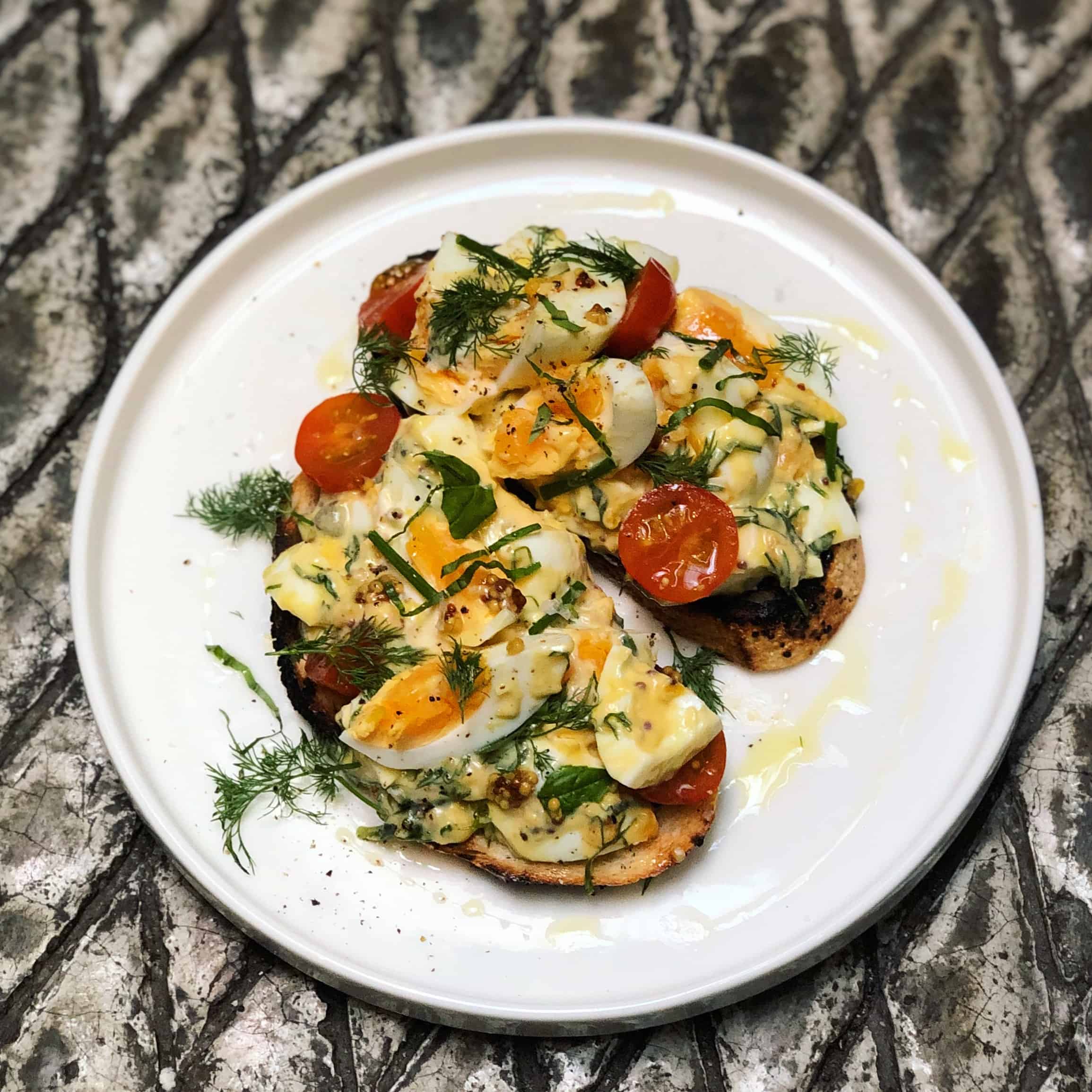 TRUFFLED EGG SALAD & MIXED HERB CROSTINI
Prep time 30 min
Serves 4
20ml PS.Cafe White Truffle Oil
4 slices of Sourdough
8 large eggs (room temperature)
80g Japanese mayonnaise
20g whole grain mustard
20g basil (thinly sliced)
10g chives (cut into 1/2 inch sticks)
5g dill (picked and roughly chopped)
1 teaspoon fresh lemon juice
Extra virgin olive oil (for drizzling)
Sea salt
Freshly cracked pepper
1) Bring a pot of water to boil. Use a table spoon to gently submerge all 8 eggs into the pot. Boil for 8 minutes and remove the eggs from pot. Run under tap water to cool the eggs and peel them. With a knife, cut the eggs into segments and place them in a mixing bowl. The yolks should be just set and still orange in the center.
2) Add the truffle oil, mayonnaise, whole grain mustard, prepared herbs, lemon juice and olive oil. Mix it all together and season to taste with sea salt and freshly cracked black pepper. Be careful not to over mix the salad and mash up the eggs, it is meant to be chunky.
3) Toast a slice of sourdough, spoon a large dollop of egg salad on top, add a few cherry tomatoes and drizzle with extra virgin olive oil. Season with sea salt and freshly cracked black pepper.
SHARE