The best of hawker and zi char favourites in one venue
· 19 February 2021
·
Dining
Yum Sing! is the latest hot spot for destination dining, bringing together both young and old for a vibrant modern-retro experience.
Before the days of television and shopping malls, amusement parks in the '60s were the go-tos for all-round entertainment from cabaret and opera shows to social dancing, boxing matches and fairground rides. Some might remember the glory days of New World, Great World and Gay World which provided much celebration and merriment for locals and Europeans.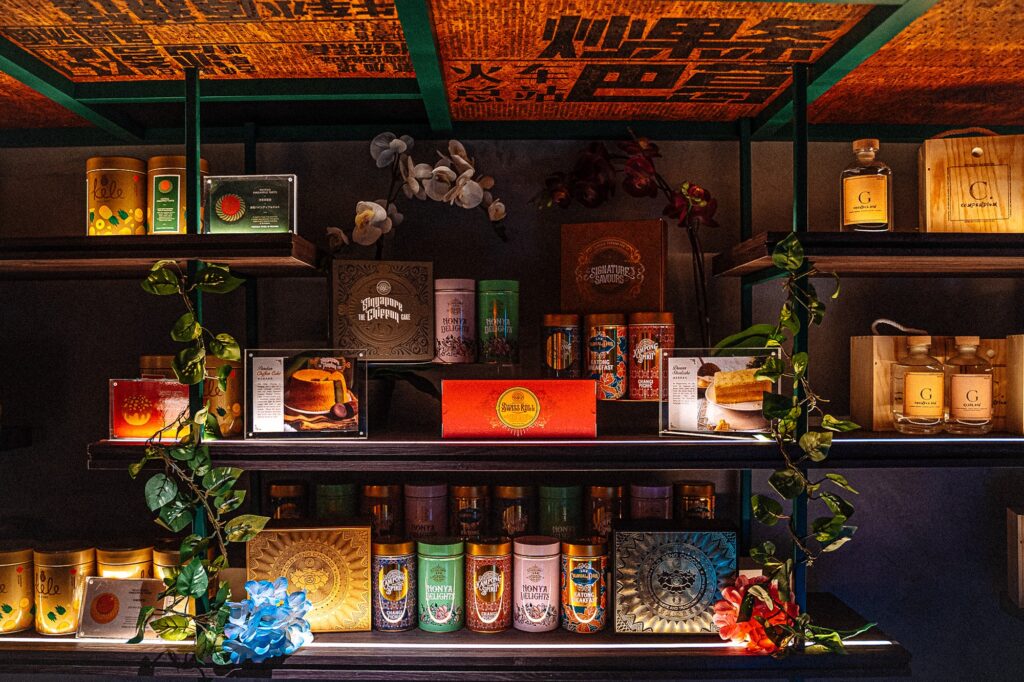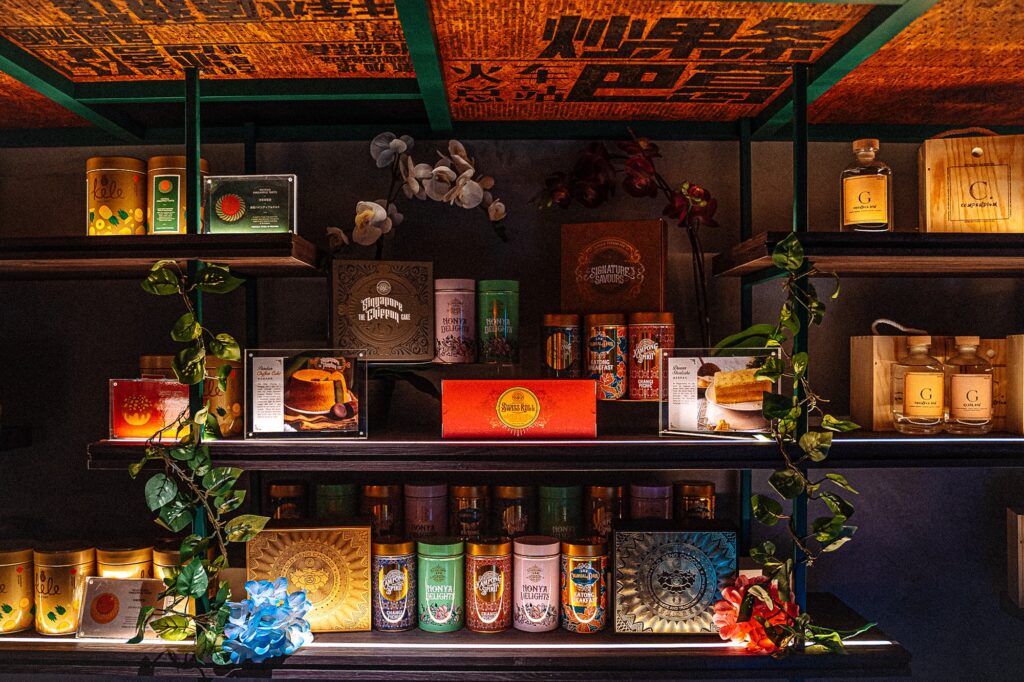 Step into Yum Sing!, a new 128-seater dining and bar venue in Clarke Quay and you will find a revival of sorts in its offering, with a decadent menu of local hawker favourites and local-inspired cocktails to get your spirits up. Setting the mood at the entrance to Yum Sing! is a '60s-style 'provision shop' with a range of retails items such as pineapple tarts, chilli sauce and kopitiam-style cups and saucers by local businesses. Designed by Genius Loci, the attention to materials and details of the era set the right mood; from the recycled timber panels sourced from old shop houses to the repurposed advertisements boards.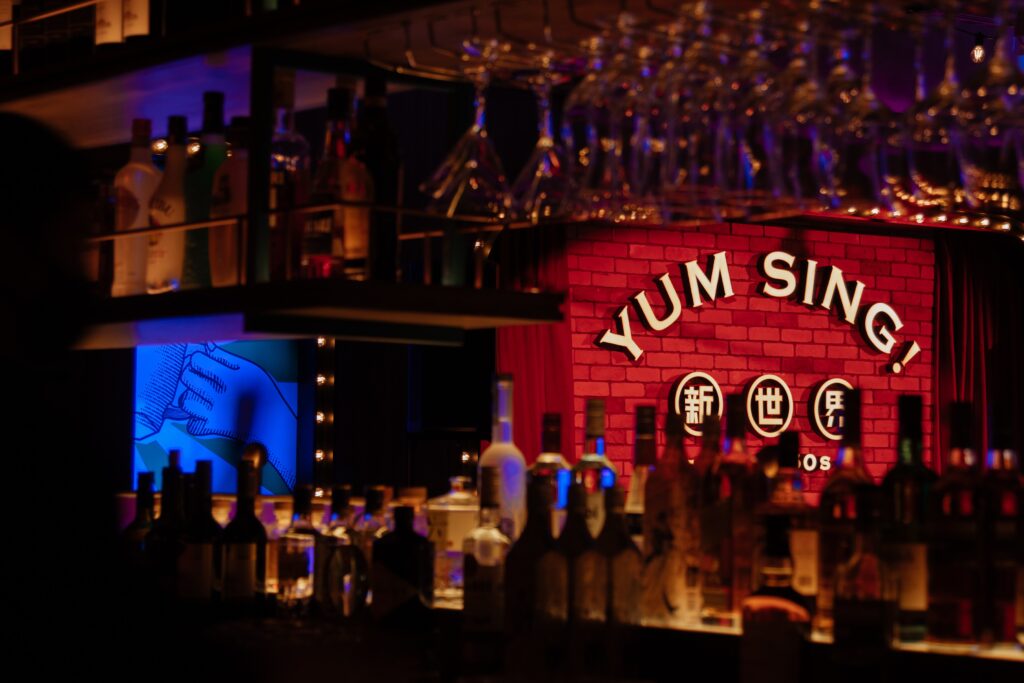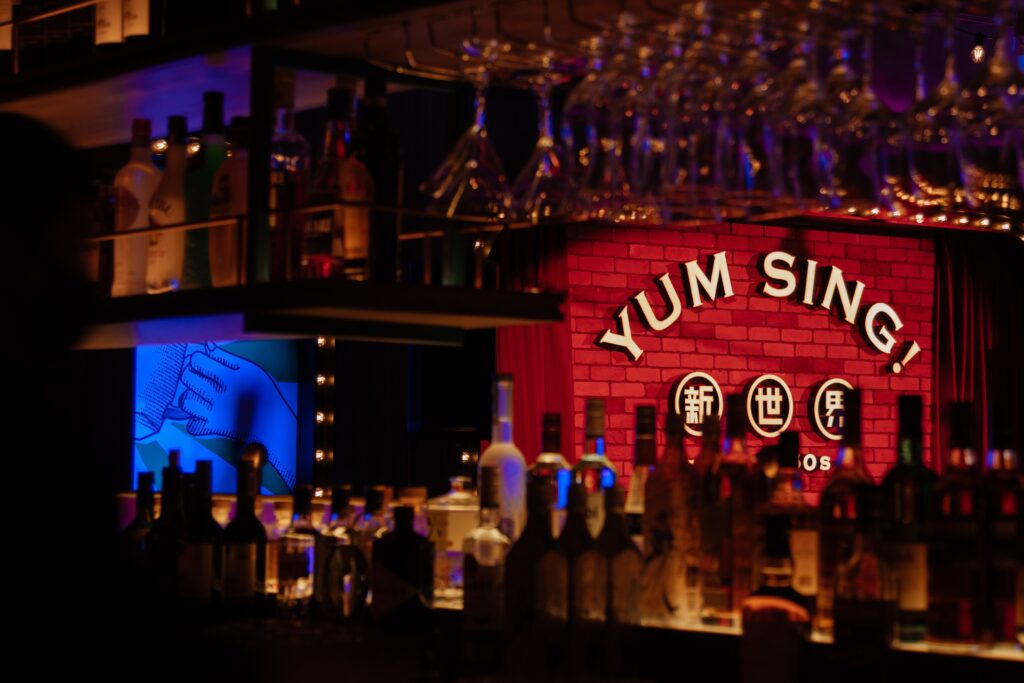 In the centre of the restaurant is a bar that beckoned to us to start the evening with a refreshing Yum Sling of gin, fresh coconut, pineapple and orange juice with a touch of old ginger; or for something stronger, the Kopi-O-tini would certainly wake you up. The equally potent Kaya Toast Cocktail of coffee gin served with a slice of traditional kaya toast is also worth a try as a dessert at the end of the meal – if you still have room for it.
The main dining hall is designed to engage the senses, and it certainly required me to be still for a moment to take it all in; from the ceiling fixture resembling a performance tentage with huge flying merry-go-round horses; and the big performance stage lit up by a giant neon signage to the visually arresting wall mural depicting the wizened smiling faces of a samsui woman and a 'satay man'. Created by Ceno2, a Singaporean graffiti fine artist, the black and white mural creates a striking juxtaposition in that bold, colourful interior, making a statement for oversized art as a talking point.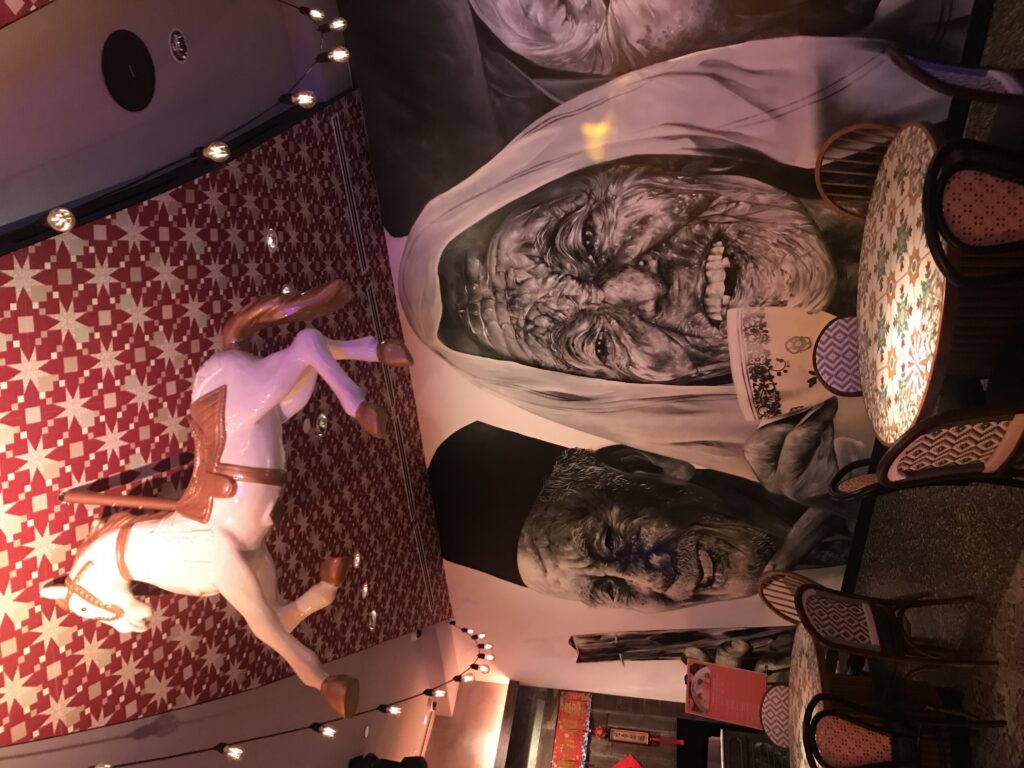 Yum Sing! is not just about merriment either, although that does create a most convivial atmosphere for sharing food with friends and family. Local gastronomy is taken seriously, and when it comes to creating authentic tastes and culinary tradition, none are quite as fastidious as Putien's CEO and Founder Fong Chi Chung, who created the Yum Sing! concept to celebrate the group's 20th anniversary. The Yum Sing! team and culinary consultant Jeremy Nquee had spent months researching and fine-tuning the menu of local favourite dishes.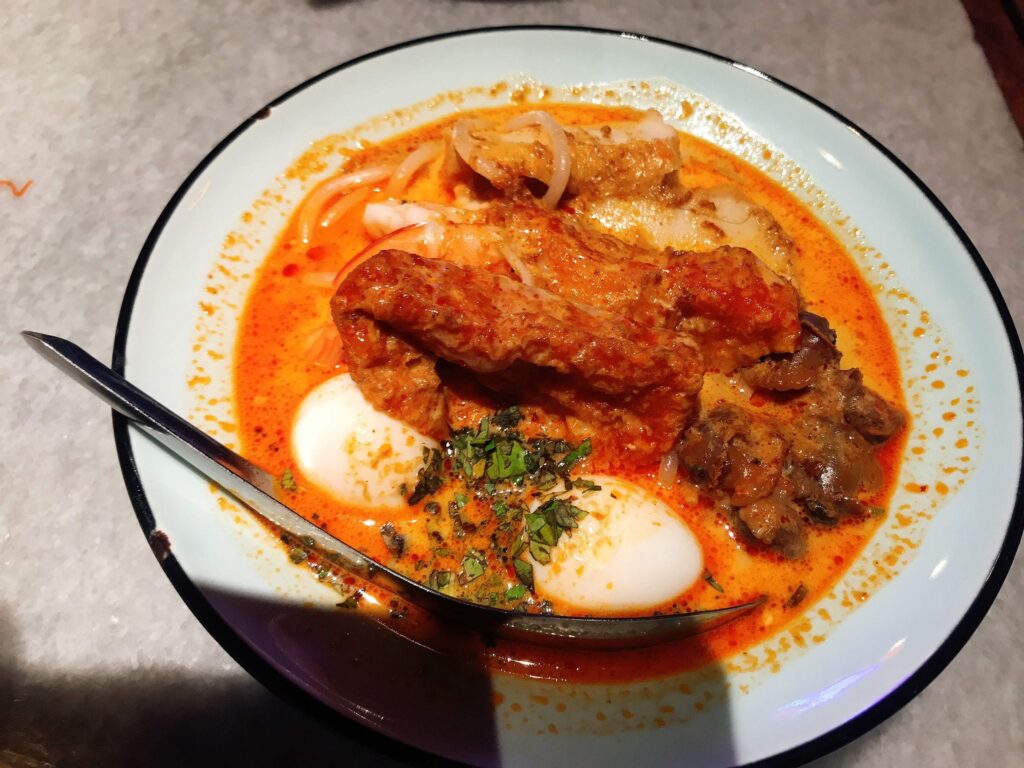 From chilli crab, char kway teow, laksa and satay to Hainanese chicken rice, prawn paste chicken wings, oyster omelette and rojak, diners can satiate all their cravings in one venue instead of traipsing around town. Served in tapas-style portions, you are meant to indulge as much as you want, and that we did. I believe my table had tasted almost all the dishes on the menu, ending with the chilli crab that won us over with its piquant chilli sauce. What's unique at Yum Sing! is that the customary yu sheng for Chinese New Year is offered all year round for diners to toss to prosperity during Lo-Hey and Yum Sing hour at 8pm every night.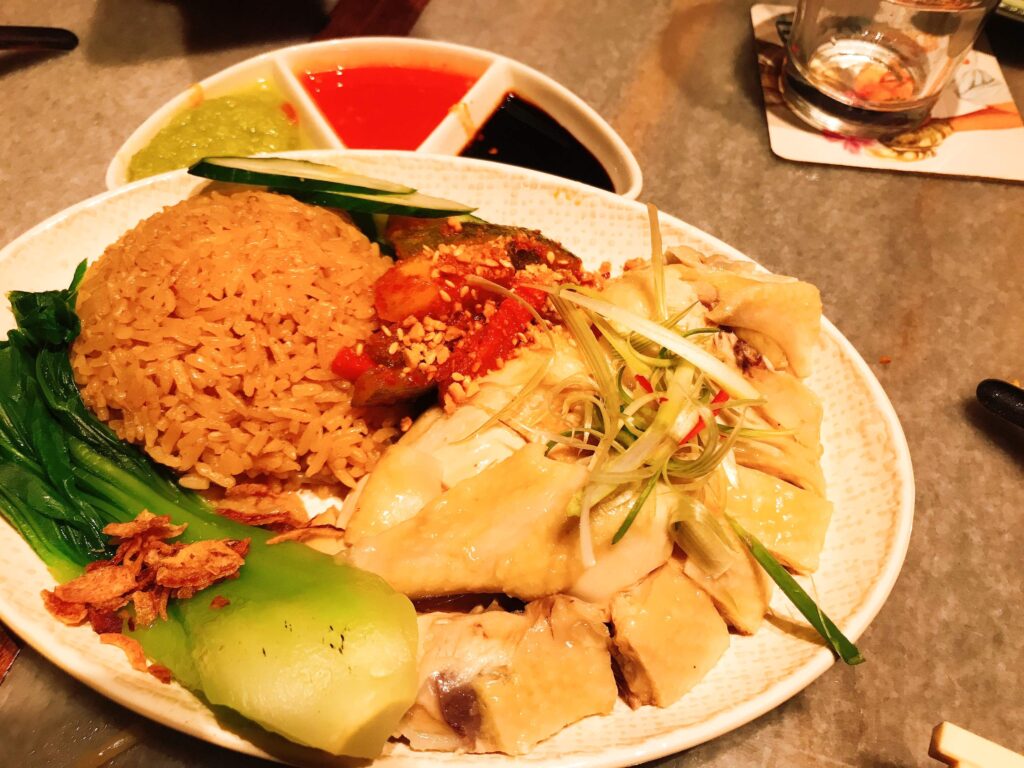 Think of the dishes that you crave at your favourite hawker or "zi char" stall; Yum Sing! will likely have it, and importantly, meet expectations with its flavour. Prepping our appetites were the sharing dishes, and my favourites were the Rojak, Coffee Pork Ribs, Satay, Oyster Omelette, Sambal Sotong and Salted Egg Prawns. For carbs, I was extremely pleased with the Laksa, Char Kway Teow and the Hainanese Chicken Rice, which used premium GG poulet free range chicken. Ending the feast was Chendol, served with finely shaved ice and generous portions of green jelly and kidney beans.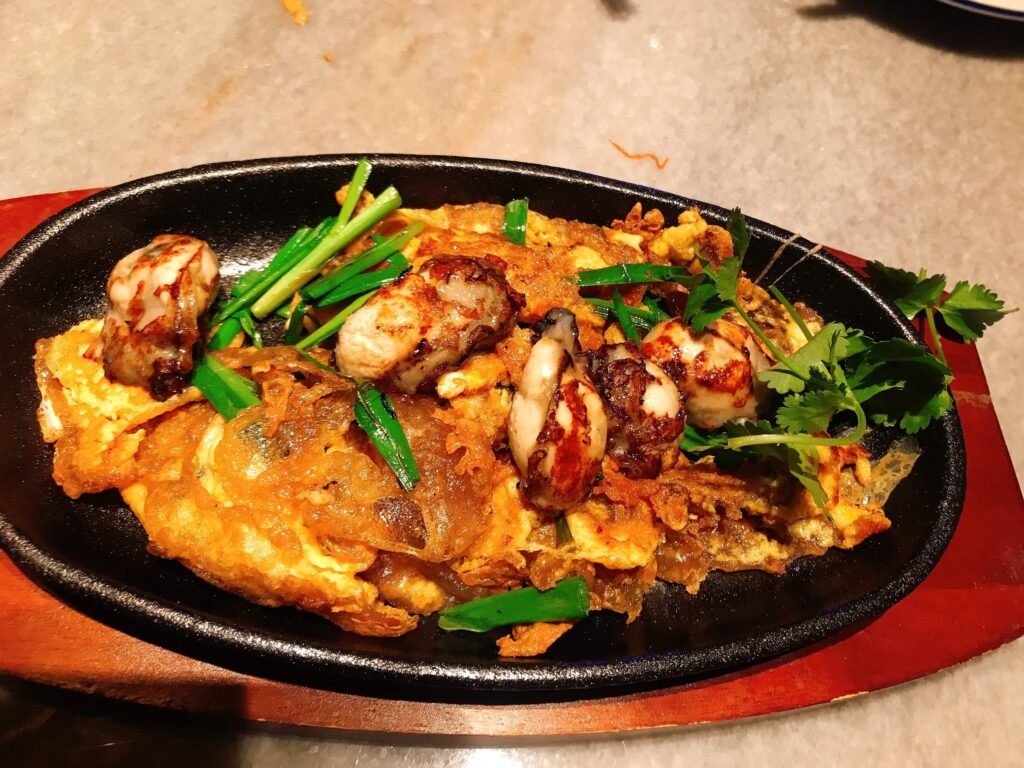 Head out to Yum Sing! if you want to have a fun, boisterous and vibrant evening, made perfect with great food and drinks. I would go again with a bunch of old friends or even with family; I have a feeling my feisty aunties in their 80s would love the experience as well.
Block B, #01-06/07, Clarke Quay, 3 River Valley Road. Tel: 6261 6463.
SHARE