Zucchini frittatas
These savoury morsels can be made ahead of time and frozen, making it an ideal appetiser to serve at dinner parties. When ready to serve, just defrost for five minutes and pop it in the oven to reheat.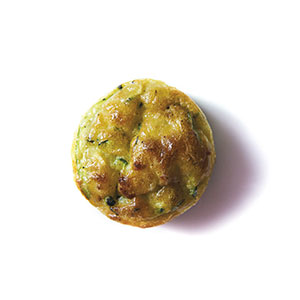 Serves 30 Prep time 25 minutes
Cook time 15 minutes
4 green zucchinis, grated
2 white onions, grated
100g cream cheese
100g feta cheese
½ cup Parmesan cheese
5 eggs
1 tsp baking powder
1 cup canola oil
salt and pepper, to taste
2 cups self raising flour
Mix all the ingredients (except self raising flour) in a large bowl. Add the flour in small batches, just enough for the consistency to resemble loose batter. Adjust as necessary due to varying water content in the zucchinis.
Divide mixture into small silicon moulds (1.5-inch diameter) and bake at 180°C till tops are slightly golden brown, about 13 to 15 minutes.