Wok-charred sea eel with rice wine
Fu gui cai, with its blooming bouquet, signifies the outward spread of good fortune. To prepare, blanch quickly in hot water till slightly wilted and use as a cushy bed for slivers of wok-charred eel.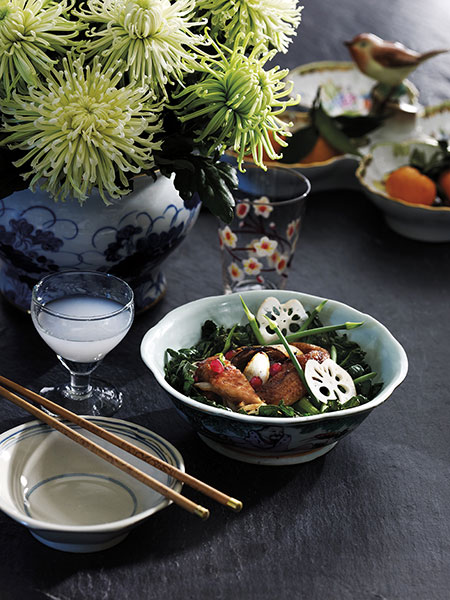 Serves 4
Prep time 10 minutes
Cook time 15 minutes
black bean sauce
3 cloves fresh garlic, chopped
45g fresh ginger, finely chopped
3 tbsp hoisin sauce
2 tbsp light soya sauce
2 tbsp fermented salted black beans, washed, soaked and smashed
300g sea eel, cleaned and cut to bite-sized pieces
1 tbsp cornflour
2-3 tbsp groundnut oil
2 tbsp Shaoxing wine
2 fortune (fu gui cai) vegetables, blanched
Combine all the ingredients for the black bean sauce in a bowl and set aside. Coat the eel lightly in some cornflour.
Heat the groundnut oil in a wok over high heat. Add the eel, let it settle for less than a minute, then stir-fry. When the eel starts to fully cook and turns golden brown, add the Shaoxing wine.
Lightly stir-fry the eel for less than 2 minutes until the rice wine dries up. Set aside on a plate.
Bring the black bean sauce to a boil then let simmer. Add eel to the sauce and cook for 1 minute.
To serve, place the blanched fortune vegetables on a plate and ladle the eel on top.