White bitter gourd with plum salt
The bitterness of these white jade gourds from Taiwan are mellowed by sweet Chinese red dates and the warm scents of cinnamon. It's best paired with deep fried foods and should be consumed within one month before it starts to disintegrate.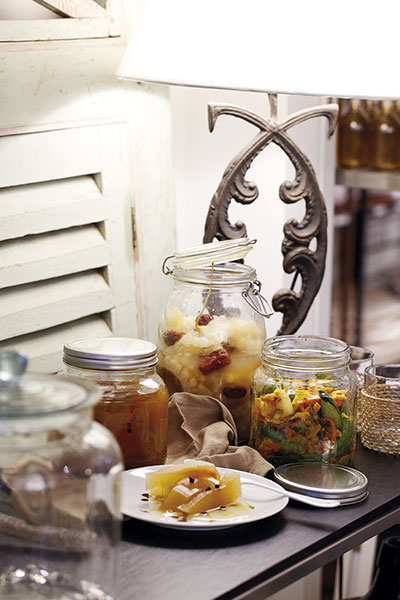 Serves 6-10
Prep time 15 minutes
Cook time 40 minutes
700ml water
½ litre white wine or cider vinegar
1kg sugar
1kg white bitter gourd, cut into halves, deseeded
50g old ginger, smashed as a whole piece
40g red wolfberries
15 red Chinese dates
5-inch-long cinnamon sticks, broken into 1-inch pieces
8 tbsp plum salt
Cut the bitter gourd to 1.5cm-thick pieces (half-rounds).
Bring the water, vinegar and sugar to boil in a pot, then add in the white bitter gourd and the rest of the ingredients.
Place the mixture to cook on medium heat for about 3-5 minutes or until the bittergourd turns translucent.
Bottle as shown, then let it sit for at least 1 week before using.