Warm gruyere cheese tart with grapes, smoked chicken and spinach
This savoury tart makes for a great communal dish. The Swiss cheese is the perfect ingredient partner as it's sweet yet subtly salty with a grainy mouthfeel.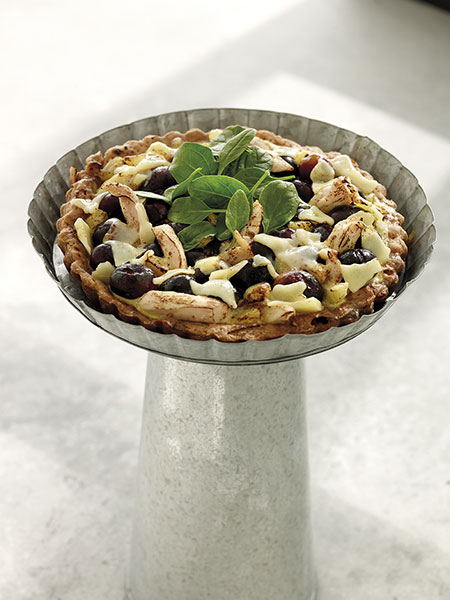 Serves 4
Prep time: 25 minutes
Cook time: 25 minutes
pâte brisée
250g plain flour
150g cold butter
Pinch salt
Pinch sugar
1 whole egg
1tbsp cold milk
Put flour into a whisking bowl or onto a clean work surface. Make a well in the middle of it.
Add in cold butter, salt, sugar and egg into the well and work the mixture until it is grainy and crumbly in texture.
Add in milk and keep working on the dough until it is smooth.
Wrap the dough with cling film and store it in the fridge until slightly harden and ready to roll.
350g pâte brisée
1 whole egg
3 egg yolks
300ml double cream
Pinch nutmeg powder
Pinch salt and pepper
150g smoked chicken, sliced to bite size
½cup black grape, peeled and deseeded
1cup freshly grated Gruyere Cheese, available from Greengrocer
garnish
50g fresh spinach
Roll out the pastry (pâte brisée) into a 2cm thick sheet.
Lightly grease with butter and flour a 10cm diameter baking tin.
Line the tin with the pastry and make small prick holes all over it evenly with a fork.
Preheat the oven at 190°C and blind bake the pastry (place a sheet of baking paper over the pastry and use uncooked rice or beans to weigh it down) for 15 minutes.
Remove the baking paper and rice or beans from the tin and further bake for 5 minutes.
Leave the tin to cool for about 15 minutes before adding in the filling.
To make the filling, combine egg, yolks, cream, nutmeg powder and season with salt and pepper to taste.
Add smoked chicken, grapes, and gruyere cheese to the egg mixture.
Fill the prebake pastry case evenly with tart filling to the brim.
Bake the tart in the oven for 15 minutes at 170°C or until it cooked.
Unmold the tart onto a wire rack to cool.
Serve tart with spinach as garnish.