Wagyu strip loin with kaffir lime leaf pesto
Wagyu Strip Loin with Kaffir Lime Leaf Pesto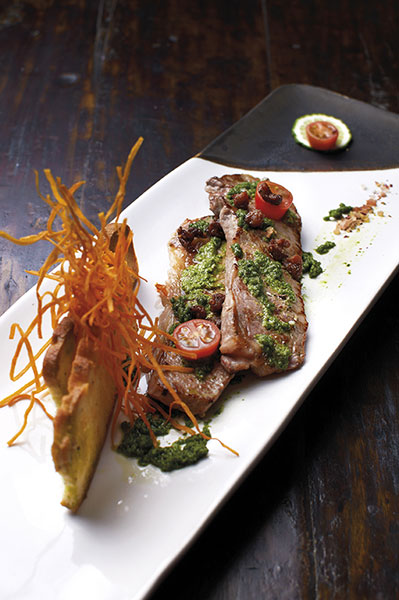 Serves 1
Prep time 30 minutes
Cook time 15 minutes
kaffir lime pesto
200g kaffir lime leaves, finely chopped
30g garlic
50g cilantro
20g cashew nuts
sea salt, to taste
1 tsp dried chilli powder
50ml grapeseed oil
Place all the ingredients in a food processor. Process at high speed until mixture becomes a paste with a thick consistency.
200g wagyu beef strip loin
sea salt, to taste
5 tomato cherries, all halved
1 focaccia
Season wagyu beef with sea salt on both sides. Place the beef in a non-stick pan on high heat, and cook until a caramelised crust has formed or to your preferred doneness.
Remove the beef from the pan and add the tomato cherries. Cook them till they turn soft and release a little of their juice. Add the beef back into the pan and sauté it for half a minute with the tomato cherries.
Plate the beef and tomato cherries. Spread the kaffir lime leaf pesto on beef and focaccia. Serve.