Valrhona chocolate ganache
VALRHONA CHOCOLATE GANACHE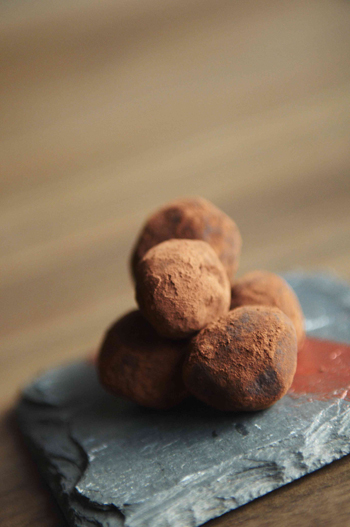 Serves 25 Prep time 10 minutes
Cook time 10 minutes
200ml whipping cream
185g Guanaja Valrhona chocolate (70 percent cocoa), roughly chopped into small blocks cocoa powder, for dusting
• Boil cream in a pot; at 80°C for five minutes or until small bubbles appear.
• Pour over chopped chocolate.
• Set aside for five minutes to allow the heated milk to melt the chocolate.
• Using a silicone spatula, emulsify the milk and chocolate until the consistency is smooth, silky and glossy.
• Transfer liquid to a piping bag and refrigerate for 10 minutes until it becomes semi-solid.
• Pipe out round balls and dust with cocoa powder to serve.