Tuscany panzanella with cumin crusted chicken
This is a twist on the classic Tuscany bread salad. Chicken spiced with cumin and served with peppers, cucumber, capers and toasted pitas in the salad evoke flavours of the Mediterranean spice trade.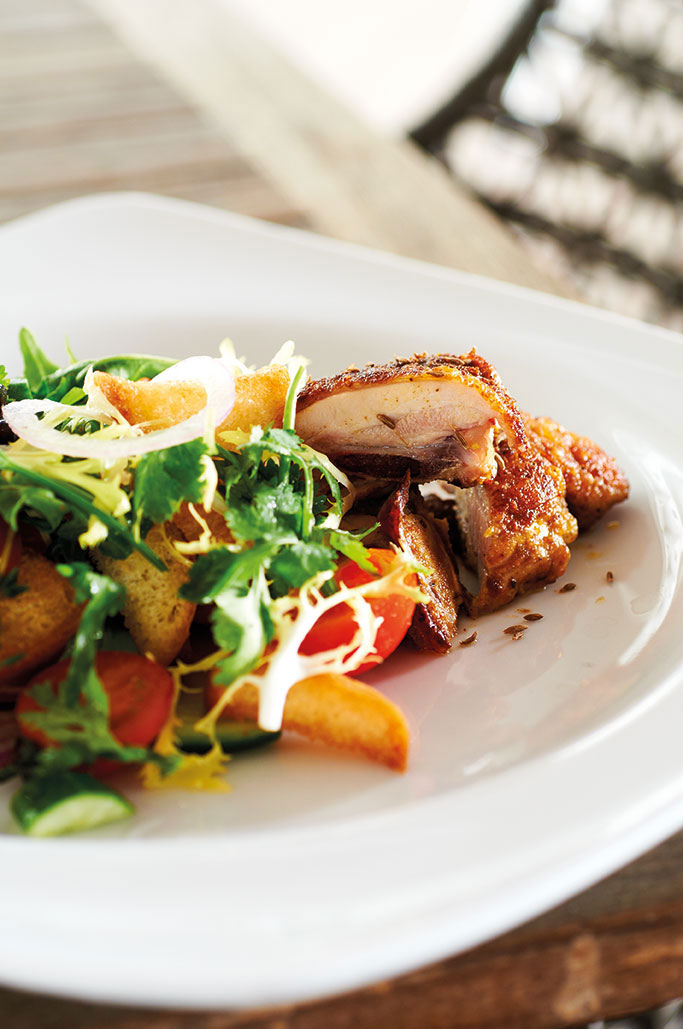 Serves 4 Prep time 40 minutes
Cook time 15 minutes
salad
30ml extra virgin olive oil
1 baguette, cubed
kosher salt to taste
2 large tomatoes, cut into 1-inch cubes
1 cucumber, de-seeded and sliced ½-inch thick
1 each of red, yellow, green bell peppers,
de-seeded and cut into 1-inch cubes
½ red onion, halved and thinly sliced
20 large basil leaves, coarsely chopped
3 tbsp capers, drained
vinaigrette
1 tsp garlic, finely minced
½ tsp Dijon mustard
3 tbsp vinegar
120ml olive oil
½ tsp kosher salt
¼ tsp freshly ground black pepper
chicken
4 chicken legs
2 cloves garlic, minced
10g turmeric
10g cumin
10g coriander
salt and pepper to taste
1 egg
20g custard powder
10g potato flour
Heat oil in a large pan. Add baguette cubes and salt; cook over low to medium heat, tossing frequently, for 10 minutes, or until nicely browned. Add more oil as needed.
In a large bowl, mix the tomatoes, cucumber, bell peppers, red onion, basil, and capers.
Whisk all the vinaigrette ingredients together.
Add the bread cubes and toss with the vinaigrette. Season liberally with salt and pepper.
Combine chicken with garlic, turmeric, cumin, coriander and seasonings. Rub mixture onto chicken to coat. Add egg, custard powder and potato flour. Cover and refrigerate overnight.
Heat oil in a deep fryer at 170ºC.
Transfer chicken from marinade to a tray and coat with flour.
Fry the chicken in hot oil until golden brown.
To serve, cut fried chicken into 10 pieces, arrange salad on large platter and place chicken atop.