Turkey stuffed with chestnuts, spinach, and pork salsiccia with apple sauce
Here's a beautiful turkey to anchor that festive family reunion. A Genovese classic, the bird is homey, flavourful and succulent.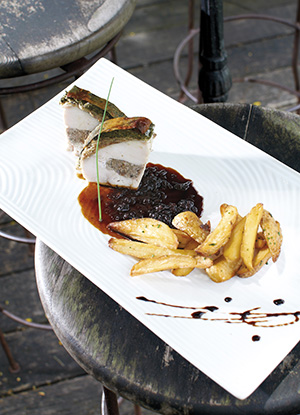 Serves 4 Prep time 50 minutes
Cook time 1 hour 30 minutes
stuffed turkey breast
200g frozen spinach, blanched and dried
2 eggs
50ml cooking cream
20g softened buttersalt and pepper, to taste
150g whole chestnuts, steamed and mashed
100g minced pork
1 turkey breast, skin on (approximately 1.5kg)
Blend the spinach with eggs, cream, butter, salt and pepper. Spread the mixture between 2 sheets of baking paper and leave to chill in the freezer. Repeat the process for the chestnuts.
Make a roulade with the minced pork by rolling it tightly in cling wrap until it has a diameter of approximately 1cm.
Slice the turkey breast into two, taking care to keep the skin intact. Place the layer of frozen spinach and chestnuts onto the skin and fold back the two halves of the turkey breast.
Make a small 1cm-wide incision into the middle of the turkey breast and stuff the minced pork roulade into the space.
Wrap a band of aluminium foil onto the bottom portion of the turkey breast to maintain its shape while cooking. Make sure to leave the rest of the turkey exposed to the heat. Bake in a pre-heated 160°C oven for 1 hour.
apple sauce
1 green apple, cubed
10g softened butter
10ml white wine
100ml fond de veau (brown) sauce
Sauté apple cubes with butter in a pan. When softened, deglaze with white wine.
When the mixture has reduced, add the brown sauce and heat through. Let cool and blend to smoothen.
Serve the turkey in thick slices with apple sauce on the side.