Triple shot rum, armagnac and whisky with fig ice cream
Rather than have your liquor straight up, temper it with a little sweetness: booze infused ice cream with dried figs and crunchy salted caramel pieces.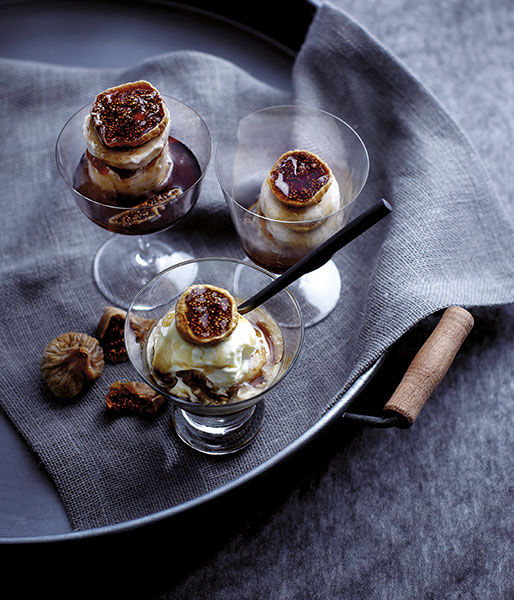 Serves 4 Prep time 15 minutes+ 24 hours chilling time
Cook time 25 minutes
caramel sugar praline
1½ cup brown granulated sugar
2 tbsp fleur de sel sea salt
fig ice cream
6 cups whole milk
4½ cups granulated sugar
12 tbsp salted butter
1 tsp sea salt
3 cups heavy cream
2 tbsp vanilla extract
1 cup dried figs, presoaked in warm water and diced into 1cm bits
15 egg yolks
½ cup rum + 1 tbsp for serving
½ cup Armagnac + 1 tbsp for serving
½ cup whisky + 1 tbsp for serving
For the caramel praline, spread the brown sugar onto a nonstick pan to melt.
When the sugar turns to golden brown syrup, add in the salt then spread onto a tray lined with silicon mat to cool and harden.
Combine the milk and caramel sugar praline in a pot over a water bath of about 40°C to 60°C. Stir in butter and salt until butter is melted, then gradually mix in the heavy cream, vanilla extract and figs. Remove from heat and continue to stir while allowing mixture to cool.
Put yolks in a mixing bowl and whisk in warm cream caramel ice cream mixture.
Immediately cool down ice cream mixture by popping it into the fridge for an hour.
Pour the chilled ice cream mixture into the ice cream maker and follow the manufacturer's instructions.
Divide the soft serve ice cream into 3 portions, and mix ½ cup of rum, ½ cup of Armagnac and ½ cup whisky into each portion. Freeze the ice cream overnight until frozen solid.
Serve the ice cream in a high ball glass with a tbsp of liquor.