Tomato and gruyere tarts
TOMATO AND GRUYERE TARTS
Serves 4 Prep time 15 minutes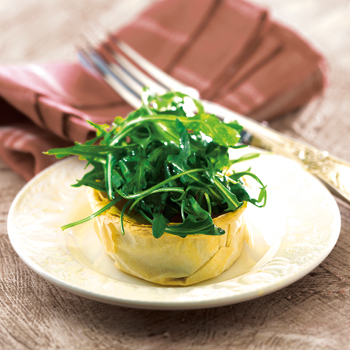 Cook time 30 minutes
1 pack filo pastry
25g butter, melted
Dijon mustard
3-4 ripe tomatoes, sliced and seasoned
100g gruyère cheese, cut into thin strips
rocket to serve
olive oil
balsamic vinegar
• You will need four individual loose bottomed tart tins, each about 3-4 inches in diameter.
• Take a sheet of filo pastry, (keep remainder covered with a damp cloth.) Cut into squares large enough to line your tins with some sticking up over the edges. Brush each square with melted butter and aim to have three to four layers per tin. Prick the base of each with a fork.
• Bake the tarts blind at 180°C until golden brown, about 10 minutes but check after 5. Place baking beans on top of greaseproof paper to help prevent the pastry rising. When cooked, trim the edges of the pastry level with the top of the tins.
• Spread a thin layer of mustard over the bottom of each tart. Add a layer of tomatoes, then cheese and repeat once more. Bake for about 20 minutes or until lightly browned and bubbling. Serve with rocket tossed in a little olive oil and balsamic vinegar.