Tom yum-roasted capon with assorted root vegetables
We recommend this as an alternative to traditional turkey. The unabashed spiciness of red tom yam paste permeates right through the bird so you can skip the lengthy marinating process. A touch of butter results in tender roasted meat while honey caramelises the skin to a glistening crisp.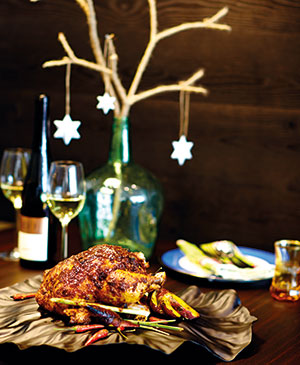 Serves 4 Prep time 15 minutes
Cook time 2 hours 15 minutes
tom yam marinade
100g unsalted butter
5 tbsp red tom yam paste
3 tbsp regular or Thai palm honey
5 tbsp lime juice
2 tbsp fish sauce
pinch salt
1 large fresh capon (approximately 3.5kg)
5 sprigs coriander root, cleaned
4 stalks lemongrass, bruised
assorted root vegetables
150g sweet potatoes, scrubbed and cut into large chunks
150g purple yam, scrubbed and cut into large chunks
100g purple potatoes, scrubbed and cut into large chunks
salt and freshly cracked black peppercorns
Pre-heat the oven to 160°C.
Combine all the ingredients for the tom yam marinade in a large bowl and mix well. Apply a generous coat of marinade on the capon.
Scatter the coriander root and lemongrass stalks around the base of a deep roasting tray. Lay the marinated capon on top and bake for 1 hour and 45 minutes on the lowest rack of your oven. (Test for doneness by twisting the drumstick bone, it should come apart easily.)
Place the root vegetables in a steamer basket and steam for 20-30 minutes until tender.
Transfer the steamed vegetables to the capon tray in the last 15 minutes of the roasting process and season with salt and freshly cracked black pepper just before serving.