Tiradito nikkei with New Zealand wild snapper
A harmonious cross between Peruvian ceviche and Japanese sashimi, tiradito Nikkei features fish that is thinly sliced instead of cubed. The citrus-based tiger's milk is also enhanced with soy accents.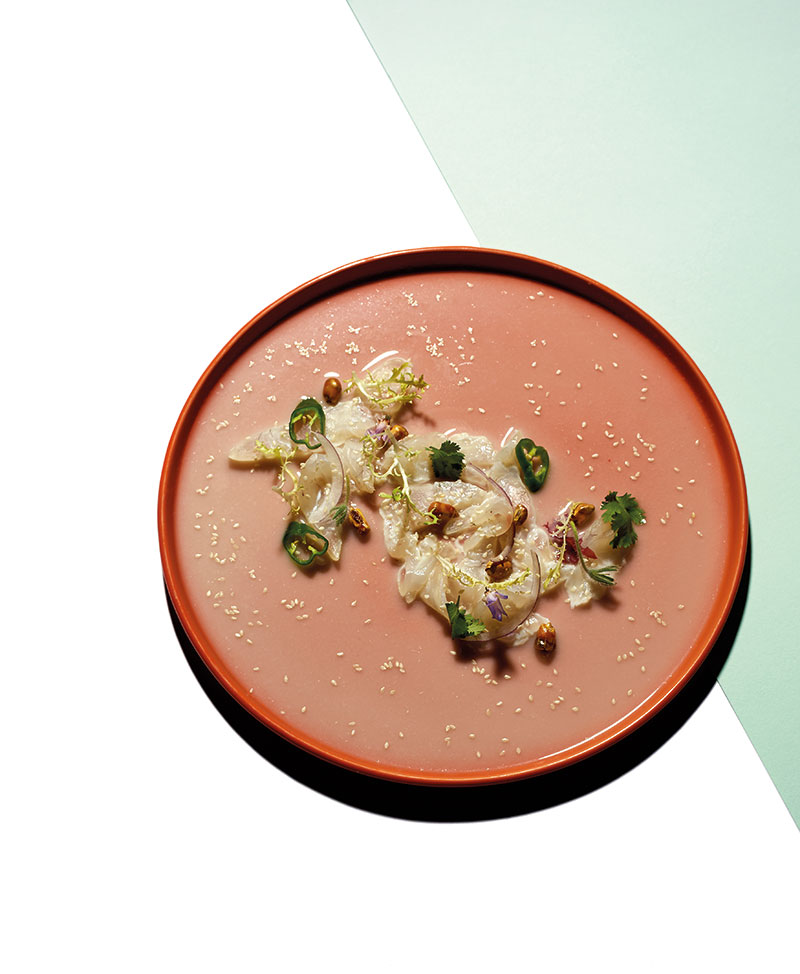 Serves 4
Prep time 20 minutes + 45 minutes chill time
400g wild snapper fillet, sashimi grade
Slice fish thinly and arrange on a platter. Keep chilled.
Nikkei tiger's milk
25g celery, finely chopped
30g white onions, finely chopped
5g ginger, minced
150ml fresh lime juice
150ml fish stock
150ml fresh white fish, finely chopped
10g salt
5g sugar
white pepper, to taste
1 tbsp shoyu
1 tbsp mirin
Mix all ingredients and chill for 45 minutes.
Blend mixture in a Thermomix or blender, then strain through a fine colander.
Adjust seasonings to your liking.
Remove sliced fish from the chiller and season with salt and pepper.
Pour tiger's milk over sliced fish.
garnish
thinly sliced red onions
tosaka seaweed
coriander leaves
frisée
white sesame seeds
cancha chulpe (Peruvian dried corn)
Garnish tiradito with red onions, seaweed, coriander leaves and frisée. Allow it to marinate for a minute before finishing with a sprinkling of sesame seeds and cancha chulpe.