Teochew steamed golden pomfret with plum sauce
It's Singapore's version of seabass and supermarket chains are stocking more of it from local farms. The meat is delicate and breaks easily, so take extra care when deboning the fish.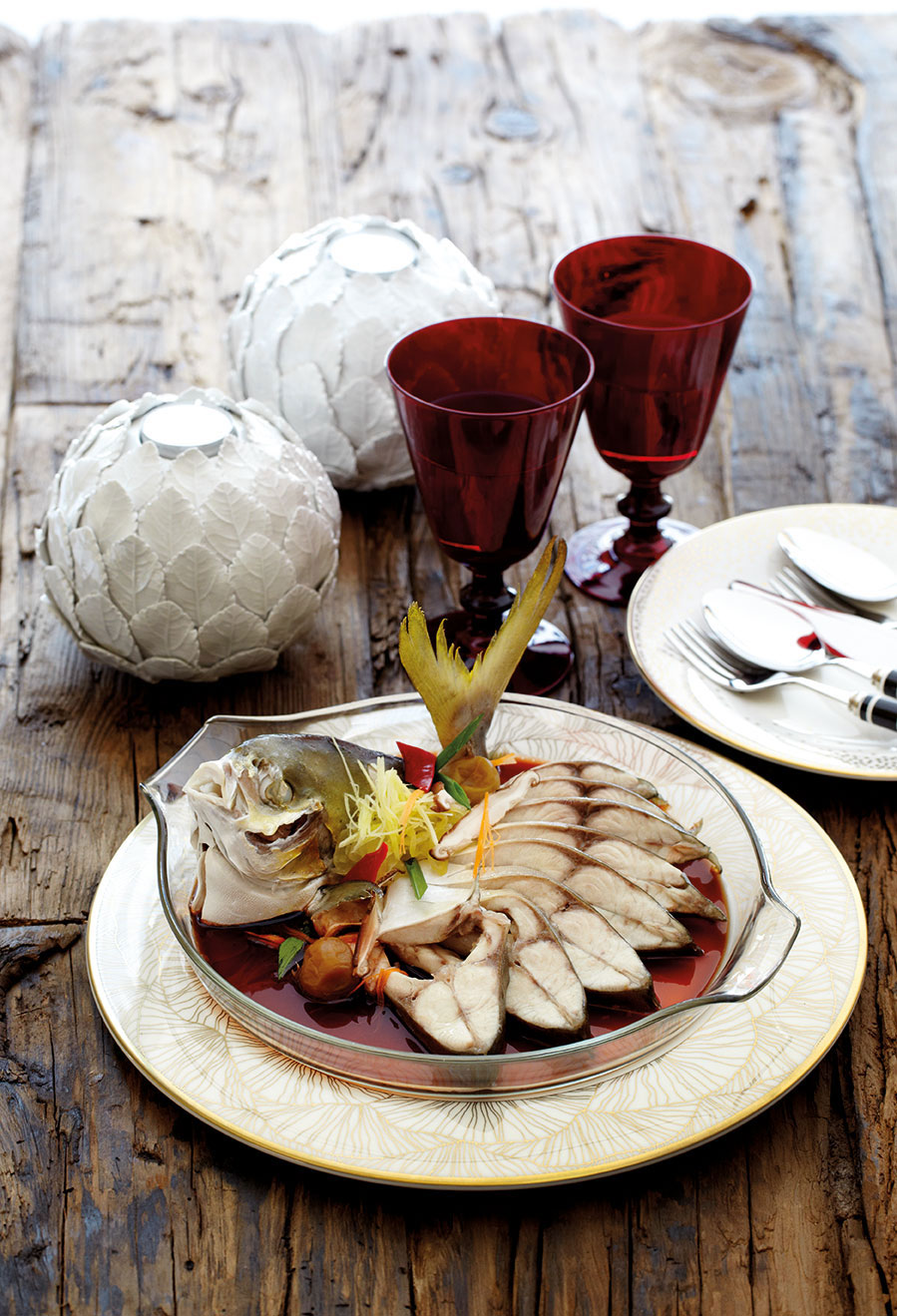 Serves 4 Prep time 10 minutes
Cook time 15 minutes
1 big golden pomfret, with the head and tail intact (available at NTUC and Sheng Siong)
2 ripe tomatoes, sliced into quarters
1 tbsp garlic, hand-minced for a more prominent tang
45g salted vegetable
2 plums, deseeded and mashed into
a paste
pinch salt
pinch pepper
10g coriander leaf and root
2 tsp Shaoxing wine
2 tbsp oil
2 tsp ginger, minced
1 tbsp soya sauce
garnish
1 stalk spring onion, sliced and soaked in cold water to let it curl
1 red chilli, sliced, and soaked in cold water to let it curl
30g cooked carrot, sliced
• Cut off the tail and head, then slice the pomfret width-wise into thin fillets and arrange onto a platter. Place
sliced tomatoes, minced garlic, salted vegetable, plums, salt, pepper and coriander leaf on top of the fish, then drizzle Shaoxing wine over it.
• Heat a steamer to boil, then steam the pomfret for 5–9 minutes, depending on the size of the fish. The pomfret is cooked if the flesh breaks easily when poked with a chopstick.
• Once the fish is cooked, heat oil and add ginger to fry for 30 seconds, then add in soya sauce. Pour it slowly and gently over the cooked pomfret.
• Garnish with spring onions, chilli and cooked carrots and serve.